Metal
Good thrash metal is hard to come by these days. So many new bands jumped on the bandwagon of ugly ass Reebok high tops, tight pants, little vests with all the coolest patches fresh from ebay and even the poofy hair. Even quite a few of the older bands came back and tried another go at it. Most of the bands in both of these groups failed in my opinion.
Ноември 2011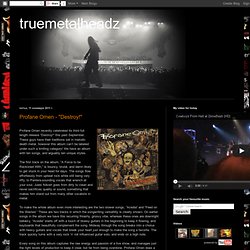 Where Metal Lives!
Metal Underground.com - some music was meant to stay underground
Metal Travel Guide - Worldwide Rock and Heavy Metal Location Guide!