MVC
Home / MVC 5 Minute Video ASP.NET MVC gives you a powerful, patterns-based way to build dynamic websites that enables a clean separation of concerns and that gives you full control over markup for enjoyable, agile development. ASP.NET MVC includes many features that enable fast, TDD-friendly development for creating sophisticated applications that use the latest web standards. Install Visual Studio Express 2012 for Web Free Have nothing?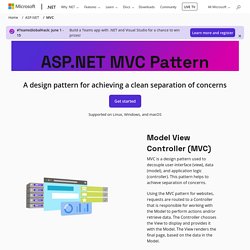 How to: Specify the Web Server for Web Projects in Visual Studio
When you run a file-system Web project in Visual Studio, you can specify the Web server that Visual Studio uses to run (test) the application. You can choose from the following Web servers: Visual Studio Development Server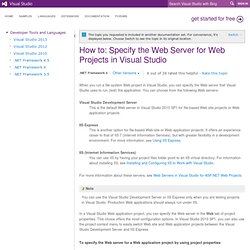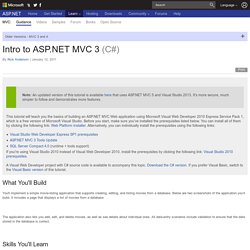 Intro to ASP.NET MVC 3 (C#)
Home / MVC / Tutorials / Chapter 9. Getting Started with ASP.NET MVC3 / Getting Started with ASP.NET MVC 3 (C#) / Intro to ASP.NET MVC 3 This tutorial will teach you the basics of building an ASP.NET MVC Web application using Microsoft Visual Web Developer 2010 Express Service Pack 1, which is a free version of Microsoft Visual Studio. Before you start, make sure you've installed the prerequisites listed below.