MVC
MVC. How to: Specify the Web Server for Web Projects in Visual Studio. The topic you requested is included in another documentation set.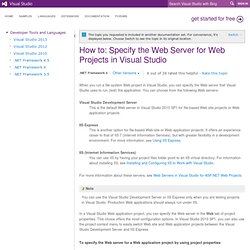 For convenience, it's displayed below. Choose Switch to see the topic in its original location. Intro to ASP.NET MVC 3 (C#) Note: An updated version of this tutorial is available here that uses ASP.NET MVC 5 and Visual Studio 2013.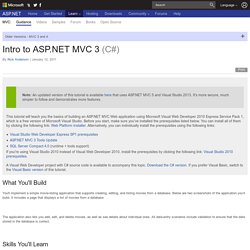 It's more secure, much simpler to follow and demonstrates more features. This tutorial will teach you the basics of building an ASP.NET MVC Web application using Microsoft Visual Web Developer 2010 Express Service Pack 1, which is a free version of Microsoft Visual Studio. Before you start, make sure you've installed the prerequisites listed below.
---