Flash Dev
Flash Platform * Manual bitmap caching. Use the BitmapData class to create custom bitmap caching behavior.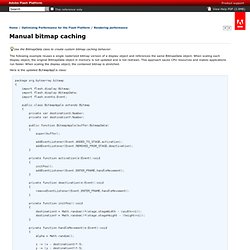 The following example reuses a single rasterized bitmap version of a display object and references the same BitmapData object. When scaling each display object, the original BitmapData object in memory is not updated and is not redrawn. This approach saves CPU resources and makes applications run faster. When scaling the display object, the contained bitmap is stretched. Loading images and Library assets with ActionScript 3. While the previous example is simple and functional (and you can continue to create new Loader object instances each time you add an external image), there are other, more robust strategies you can use.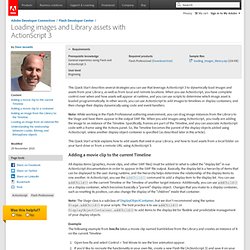 Creating Loader objects that are more flexible and efficient requires a thorough understanding of the loading process. Within the Loader object instance, the bitmap data from the referenced image is placed within a Bitmap object. Grant Skinner - FOTB2011. Epicycloid Again. Tutorial: AS3. The basics of tile sheet animation (or blitting). | 8bitrocket. In this article we will discuss the anatomy of a basic AS3 Flash blit operation, which is useful for rendering game graphics at high speeds.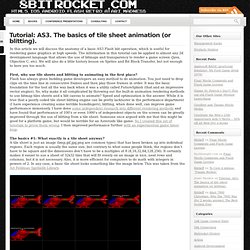 The information in this tutorial can be applied to almost any 2d development language that allows the use of bitmaps and transparency to render a game screen (Java, Objective C, etc). We will also do a little history lesson on Sprites and Bit Block Transfer, but not enough to bore you too much. Flash CS5 Tutorial on Actionscript 3 Touch Events for Mobile or Touch-Enabled Devices « CartoonSmart.com Blog. Is everyone liking this new once a day release of videos?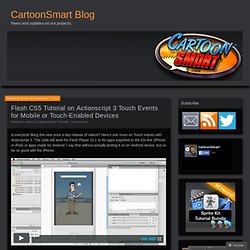 Here's one more on Touch events with Actionscript 3. The code will work for Flash Player 10.1 or for apps exported to the iOs line (iPhone or iPad) or apps made for Android. Text Fields and Formats. By Blue_Chi | Flash CS3 | ActionScript 3.0 | Beginner This tutorial will teach you the basics for dealing with text and text formatting in ActionScript 3.0.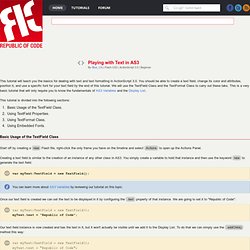 You should be able to create a text field, change its color and attributes, position it, and use a specific font for your text field by the end of this tutorial. We will use the TextField Class and the TextFormat Class to carry out these taks. ActionScript 1:1 with Doug Winnie - Fundamentals of functions (episode 8) Community Translation Your transcript request has been submitted.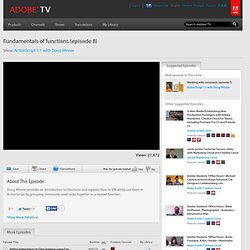 Adobe TV does its best to accommodate transcript requests.
---