TACTICAL
AmericanSpecialtyAmmo.com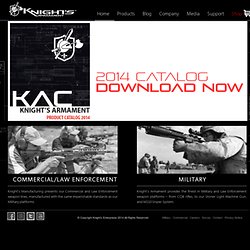 Welcome to Knight's Armament Company, Rail Adapter Systems, Modular Accessories, Stoner Rifles, UNS - (Private Browsing)
Knight's Armament, Stoner Rifle, Sound Reduction, Sound Suppressor, SR-15, SR-16, SR-25,Rail Adapter Systems, RAS, RIS, URX, Electro-Optics, Night Vision, Sniper Vision, Scopes, Guns, Military Weapons, PDW, Personal Defense Weapon, 1913 Rails, M4 RAS, M4 RIS, M5 RAS, M5 RIS, KAC, QD Attach, Quick Disconnect, 1913 RAS, Scope Mounts, Rail Mounts, M203 Grenade, Master Key, Semi Automatic Sniper System, MK-11 MOD 0, UNS, UNS LR, UNS SR, UNS Thermal, UNS FIST, Universal Night Sight, 1913 Mil Standard, Personal Defense, KAC 6X35mm, 35mm, Weapon
Home Page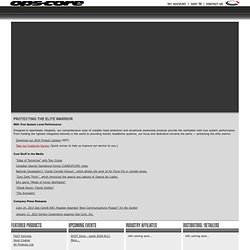 With True System Level Performance Designed to seamlessly integrate, our comprehensive suite of scalable head protection and situational awareness products provide the warfighter with true system performance. From fielding the lightest integrated helmets in the world to providing holistic headborne systems, our focus and dedication remains the same — protecting the elite warrior.
Home Page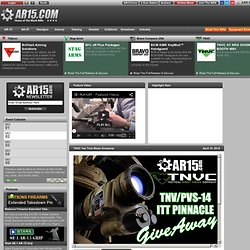 It's that time of the year again and we will be dropping everything to head to SHOT Show and provide coverage. It will be interesting to see what is new and exciting with so many changes having taken place in the industry the past year. We have seen companies (ourselves included) packing up and moving away from anti-gun states.
Henry Repeating Arms | Fine Rifles Made in America and Priced Right
Why choose the XCR?
LWRC International, LLC
Heizer Defense - Creators of DoubleTap™
Features:DoubleTap's are manufactured 100% in the USA utilizing only the best materials available. Each pistol is fully CNC machined, no stampings, no MIM parts, no plastic parts, no castings and feature a Lifetime warranty. All internal parts as well as the barrels are machined from 17-4 PH stainless steel, not less expensive 416 stainless. Frames are machined from aircraft grade 7075 Aluminum or 6al4v Titanium with a MIL-STD finish. Simply put a DoubleTap is the thinnest at 5/8 inch wide, and lightest at 13 ounce Tactical Pocket Pistol on the market allowing you to carry it anytime anywhere and offered in big bore calibers for that emergency last ditch life and death scenario.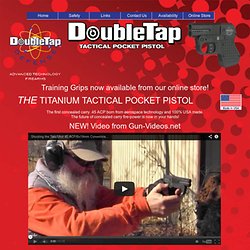 GEMTECH Suppressors | Coming Soon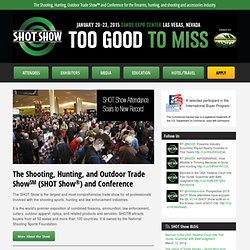 The SHOT Show is the largest and most comprehensive trade show for all professionals involved with the shooting sports, hunting and law enforcement industries. It is the world's premier exposition of combined firearms, ammunition, law enforcement, cutlery, outdoor apparel, optics, and related products and services. SHOT® attracts buyers from all 50 states and more than 100 countries. It is owned by the National Shooting Sports Foundation. More About the Show
NSSF SHOT Show - Shooting, Hunting, Outdoor Trade Show - SHOT Show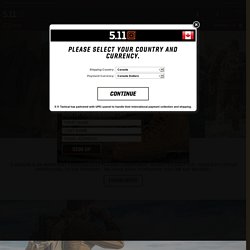 Privacy Policy Our Commitment to Privacy: Your privacy is important to us.
Night Vision, Green Lasers for Law Enforcement and Military | Laser Genetics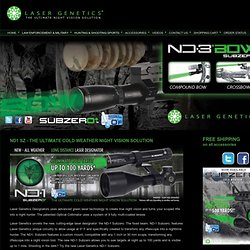 Laser Genetics Designators uses advanced green laser technology to create true night vision and turns your scoped rifle into a night hunter. The patented Optical Collimator uses a system of 9 fully multi-coated lenses Laser Genetics unveils the new, cutting-edge laser designator: the ND-1 Subzero.
Welcome to Project Sentry Gun, home to the most versatile sentry gun system on the web! On this site we have published complete directions on how to make your own sentry gun, which autonomously tracks, aims, and shoots at targets, using: An airsoft or paintball gunA webcam to find targetsA computer to process the video feed and aim the gunServo motors aim the gun and squeeze the triggerA controller to interface between the computer and the servo motors We are a unique project in that everything we do is completely open-source. This includes 100% of our code, as well as our electrical schematics, and even the CAD design files for our Standalone Controller.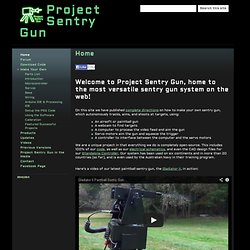 Project Sentry Gun
Body Armor | Tactical Body Armor | Holsters | Duty Gear | Police Supplies | Forensics Supplies - SAFARILAND™
Night Vision Goggles, Night Vision Equipment, Weapon Sights - Morovision Night Vision
Combat Optical Sports Hunting Store
Night Vision Goggles, Scopes, Monocular Systems, and Video Surveillance by Nightline, Inc.
unnamed pearl
Cals Sporting Armory | Go further for less!
Inc.
GLOCK "Safe Action Pistols"
<div class="global-site-notice noscript"><div class="notice-inner"><p><strong>JavaScript seems to be disabled in your browser.</strong><br /> You must have JavaScript enabled in your browser to utilize the functionality of this website. </p></div></div> Crimson Trace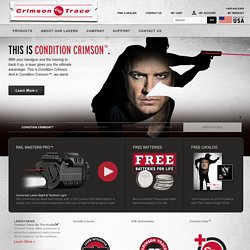 Crimson Trace | Laser Sight Grips for Guns
Lone Wolf Distributors - Main Page
Sig Arms Handguns (Pistols) sig sauer elite dark p229 semi-auto - www.MidwestHuntersOutlet.com
CornerShot Site
Israeli Weapons Ltd.
redjacketarms.com
Western Sport Online