Technology - cloud
飛資得資訊股份有限公司 - ::::::::
Coreseek 是一款中文全文检索/搜索软件,以GPLv2许可协议开源发布,基于Sphinx研发并独立发布,专攻中文搜索和信息处理领域,适用于行业/垂直搜索、论坛/站内搜索、数据库搜索、文档/文献检索、信息检索、数据挖掘等应用场景,用户可以免费下载使用;同时针对有实际需要的客户,我们还提供专业的搜索技术与本地化的Sphinx技术支持服务(客户中,记录量最大已超过30亿条,文本容量最大已超过5TB)。我们也提供了QQ群、MSN群,广大用户可以在线及时沟通交流。 Coreseek 全面支持: FreeBSD6/7/8,Mac OS X 10.6,RHEL5、CentOS-5、Fedora-12/13、gentoo-10、openSUSE-10/11、slackware-13.0/13.1、debian-5、ubuntu-9/10、archlinux-2010,WindowsXP、Windows2003、Windows7、Windows Server 2008等,32与64位操作系统均可使用,可支持MySQL、MariaDB、PostgreSQL、SQL Server、Oracle等多种数据库系统,并提供Python万能数据源以支持任意来源的数据,马上下载使用。 全文检索能为您提供那些好处 为您的应用实施全文检索,您可以:
Coreseek开源中文检索引擎-Sphinx中文版 - 首页 - 论坛搜索、信息检索、文献检索、站内搜索的专业系统
浪淘金(北京)科技有限责任公司
百分点科技
pare Managed Dedicated Hosting Solutions : Basic, Enhanced and Performance Series - Rackspace Asia Pacific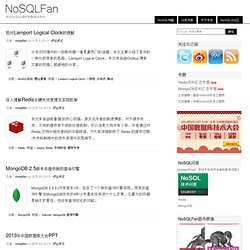 NoSQLFan - 关注NoSQL相关技术、新闻
我对Lamport Logical Clock的理解 作者:nosqlfan on 九月 3, 2013 · 分布式环境中的一致新问题一直是最热门的话题,本文主要介绍了其中的一种比较简单的思路,Lamport Logical Clock。本文来自@GoAce 博客文章的投稿。感谢他的分享。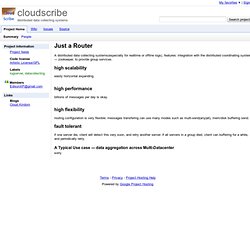 cloudscribe - distributed data collecting systems
A distributed data collecting systems(especially for realtime or offline logs). features: integration with the distributed coordinating system --- zookeeper, to provide group services. high scalability easily horizontal expanding. high performance
An SOA, BPM, Decision Management and Cloud Computing Guide for the Enterprise Community.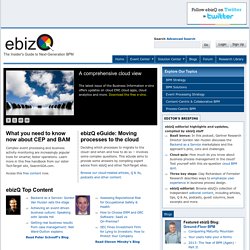 Quick Guide: What is BPM? Learn More Quick Guide: What is Event Processing? Smart event processing can help your company run smarter and faster. This comprehensive guide helps you research the basics of complex event processing (CEP) and learn how to get started on the right foot with your CEP project using EDA, RFID, SOA, SCADA and other relevant technologies.
A Cloud as an Interface
Install Quick Start Tools Ubuntu: sudo apt-get install wget curl OSX: sudo port install wget curl Get CloudI Running $ wget http://sourceforge.net/projects/cloudi/files/latest/download -O cloudi-1.3.0.tar.gz $ tar zxvf cloudi-1.3.0.tar.gz $ cd cloudi-1.3.0/src $ .