CSS
CSS3 Tutorial
When styling a web site with CSS you might have realised that an inch on a screen is not an actual inch, and a pixel is not necessarily an actual pixel. Have you ever figured out how to represent the speed of light in CSS pixels? In this post, we will explore the definition of CSS length units starting by understanding some of the physical units with the same name, in the style of C.G.P. Grey.
CSS Length Explained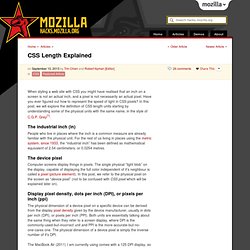 CSS3 Animations Archives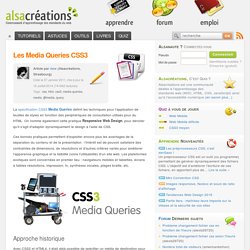 La spécification CSS3 Media Queries définit les techniques pour l'application de feuilles de styles en fonction des périphériques de consultation utilisés pour du HTML. On nomme également cette pratique Responsive Web Design, pour dénoter qu'il s'agit d'adapter dynamiquement le design à l'aide de CSS. Ces bonnes pratiques permettent d'exploiter encore plus les avantages de la séparation du contenu et de la présentation : l'intérêt est de pouvoir satisfaire des contraintes de dimensions, de résolutions et d'autres critères variés pour améliorer l'apparence graphique et la lisibilité (voire l'utilisabilité) d'un site web. Les plateformes exotiques sont concernées en premier lieu : navigateurs mobiles et tablettes, écrans à faibles résolutions, impression, tv, synthèses vocales, plages braille, etc.
Les sources présentées sur cette page sont libres de droits et vous pouvez les utiliser à votre convenance. Par contre, la page de présentation constitue une œuvre intellectuelle protégée par les droits d'auteur.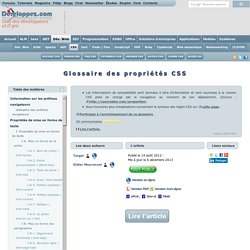 Propriétés CSS - Sommaire
CSS is commonly known as cascading style sheets which can be defined as basically a style sheet language and it is used for describing the presentation semantics which in lay man's language is the looks and formatting of a document that is initially written in markup language. CSS has to perform the basic purpose of separating the content that the document has from the presentation of the document presentation that includes elements such as colors layouts and fonts. If you are working with CSS , it is very important to have a good set of tools so that you can easily speed up the process and not only does it speed up the process but using these tools can also help simplify the work to a very great extent which is also of great help. A lot of these tools are available on the internet because they are in huge demand because they help in time management they are straight forward and precise and do a good amount of work in comparatively lesser time.
14 Highly Useful Online CSS3 Generators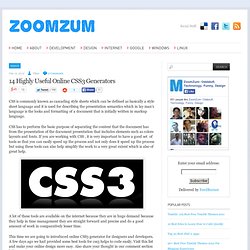 Color equivalents table
Centrer en CSS
Tutoriel grille verticale en CSS par Smashing Magazine
La propriété CSS width est certainement celle qui porte le plus mal son nom. En effet, elle représente la taille de la composante de contenu uniquement, pas largeur de l'élément. A vrai dire, l'appellation content-width lui conviendrait parfaitement et serait bien moins source de problèmes, mais voilà, elle s'appelle bel et bien width, et c'est ça le drame. Il est dangereux de croire que width correspond à la largeur de l'élément puisque dès que des marges internes (paddings) ou bordures (border) y sont ajoutées, la taille totale de l'élément ne correspond plus du tout à width. Et c'est d'autant plus problématique que l'on voit pulluler partout des width: 100%… ce qui crée potentiellement des éléments qui déborderont joyeusement de leur parent dès lors que le moindre padding ou la moindre bordure seront appliqués. width: 100% c'est le mal !
Width: 100%, tu es le Mal !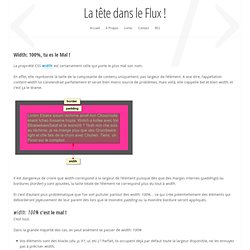 [Présentation] Adapter un design au Web Mobile grâce aux CSS
Discover What's New in CSS 4
CSS 3 is still slowly making its way onto the web, but the World Wide Web Consortium (W3C), the governing body that oversees the development of web standards, is already plotting the future of CSS with CSS 4. The W3C recently released the first draft of CSS 4, adding dozens of new rules to make web developers' lives easier. The CSS 4 spec is brand new and no web browser actually supports any of these rules yet, but if you're curious what the next few years will mean for CSS, the first draft offers a sneak peek at what's in store for web developers. The biggest news in the current draft of CSS 4 is support for the much-requested parent or "subject" selector. In CSS, rules are typically applied to the innermost selected element.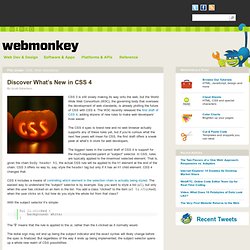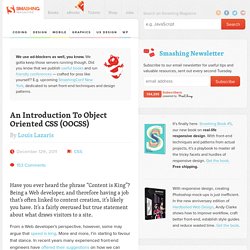 Have you ever heard the phrase "Content is King"? Being a Web developer, and therefore having a job that's often linked to content creation, it's likely you have. It's a fairly overused but true statement about what draws visitors to a site. From a Web developer's perspective, however, some may argue that speed is king. More and more, I'm starting to favour that stance. In recent years many experienced front-end engineers have offered their suggestions on how we can improve the user experience by means of some performance best practices.
Avec ces temps de "crises", la politique du moins-disant pour les appels d'offres ou autres consultations a tendance à grandir. Concrètement l'offre la moins chère est dans la grande majorité des cas préféré à celle proposant le meilleur rapport qualité/prix. Bien sur, cela à son lot de conséquence, salaire bas chez les prestataires, baisse de la qualité, produit ne répondant pas au besoin, planning explosé, faillite de l'entreprise et j'en passe.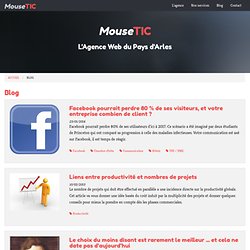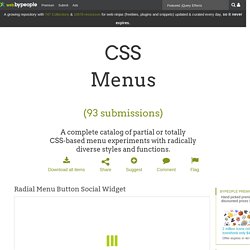 Here on webdesignshock.com we're always on the lookout for the latest and everything fresh in web designs plug-ins, tools, etc. for all our web knowledge enthusiastic readers, although sometimes it's not necessarily time to highlight the new but to acknowledge an on growing plug in use trend that solidify its acceptance amongst users, thanks to its outstanding features. Having said this, a successful website nowadays is considered to be one that responds to the time constraints and thirst for information demands of web surfers. In this sense, the hit of a site depends to the amount of information supplied vs. the speed that it's provided in.
CSS menu, 180 best resources
CSS + HTML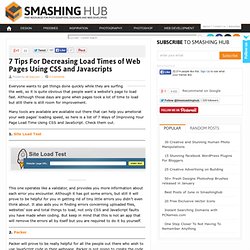 7 Tips For Decreasing Load Times of Web Pages Using CSS and Javascripts
Everyone wants to get things done quickly while they are surfing the web, so it is quite obvious that people want a website's page to load fast. Although those days are gone when pages took a lot of time to load but still there is still room for improvement. Many tools are available are available out there that can help you ameliorat your web pages' loading speed, so here is a list of 7 Ways of Improving Your Page Load Time Using CSS and JavaScript. Check them out. 1.
Les classes conditionnelles en HTML
Les cancres du Web, Internet Explorer 6, 7 et parfois 8, nous mènent souvent la vie dure. Même quand on s'abaisse à leur niveau, il leur arrive de ne pas comprendre, ou d'y mettre de la mauvaise volonté. La solution classique (comprendre: à l'ancienne) est d'utiliser des hacks CSS.
Stylisez votre site avec CSS3 !
ALL HTML - Propriétés et valeurs des CSS