Web Server
HTTP Server Version 2.0 Documentation. HTTPD - Apache2 Web Server. Apache is the most commonly used Web Server on Linux systems.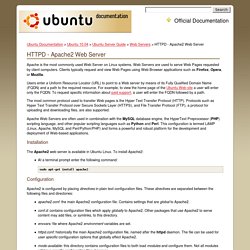 Web Servers are used to serve Web Pages requested by client computers. Clients typically request and view Web Pages using Web Browser applications such as Firefox, Opera, or Mozilla. Users enter a Uniform Resource Locator (URL) to point to a Web server by means of its Fully Qualified Domain Name (FQDN) and a path to the required resource. For example, to view the home page of the Ubuntu Web site a user will enter only the FQDN. To request specific information about paid support, a user will enter the FQDN followed by a path.
Install the Apache 2 Web Server on Ubuntu 10.10 (Maverick. Warning This document is an older, unmaintained guide.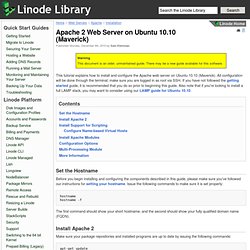 There may be a new guide available for this software. How To Build A Linux Web Server With An Old Computer [Part 1] This how-to article is broken down into 4 major steps: 1.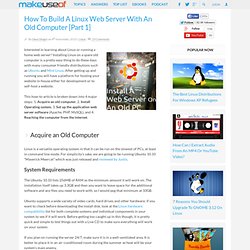 Acquire an old computer, 2. Install Operating system, 3. Set up the application web server software (Apache, PHP, MySQL), and 4. How to Set Up Your Own Web Server. How to set up a Linux/Apache/MySQL/Php (LAMP) environment using Ubuntu server If you have an old Windows-compatible PC lying around, it's a fun exercise to set it up as a web server.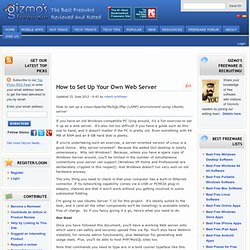 It's also not too difficult if you have a guide such as this one to hand, and it doesn't matter if the PC is pretty old. Even something with 64 MB of RAM and an 8 GB hard disk is plenty. If you're undertaking such an exercise, a server-oriented version of Linux is a good choice. Geek to Live: How to set up a personal home web server.
---