On Blogging
Use Forums to Boost Your Blog's Value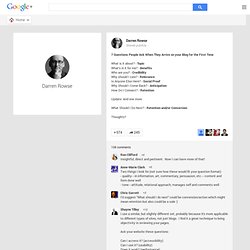 Darren Rowse - Google+ - 7 Questions People Ask When They Arrive on your Blog for…
I use a similar, but slightly different set, probably because it's more applicable to different types of sites, not just blogs. I find it a great technique to bring objectivity in reviewing your pages. Ask your website these questions: Can I access it? (accessibility)Can I use it? (usability)Does it work?
The web is a busy place… it's become tough to get noticed I think that's why so many folks have become obsessed with the idea of "viral" content. When something takes off, it's fun to watch… but are there any commonalities between those things that seem to take-over the internet for a short while?
The Psychology Of Going Viral: 12 Proven Ways to Craft Content That Gets People Talking (About You)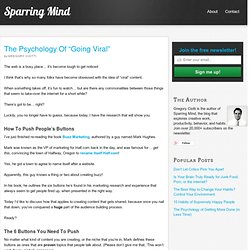 6 Steps to a Loyal Blog Following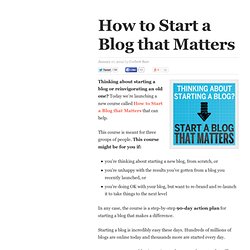 Thinking about starting a blog or reinvigorating an old one? Today we're launching a new course called How to Start a Blog that Matters that can help. This course is meant for three groups of people. This course might be for you if: you're thinking about starting a new blog, from scratch, or you're unhappy with the results you've gotten from a blog you recently launched, or you're doing OK with your blog, but want to re-brand and re-launch it to take things to the next level In any case, the course is a step-by-step 90-day action plan for starting a blog that makes a difference.
How to Start a Blog that Matters