Vegan
Waring JEX328 Health Juice Extractor: Kitchen & Dining. No Bean Hummus. Nutrients You Need And The Raw Foods That Have Them. Here's a handy list of essential vitamins and minerals and which raw foods contain them.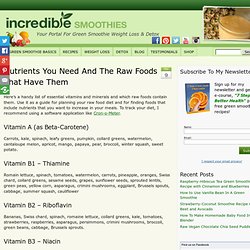 Use it as a guide for planning your raw food diet and for finding foods that include nutrients that you want to increase in your meals. To track your diet, I recommend using a software application like Cron-o-Meter. Vitamin A (as Beta-Carotene) Raw Organic Coconut Aminos. Our Price: Weight 0.50 lbs.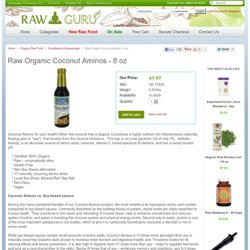 Bulk Spices Nuts Chocolates and Bulk Candy at Bulkfoods.com. About Teeccino Herbal Coffee. Living and Raw Foods:  Sprouting: a brief overview. Copyright (c) 1995 by Thomas E.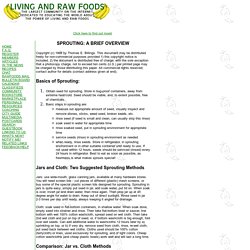 Billings. This document may be distributed freely for non-commercial purposes provided 1) this copyright notice is included, 2) the document is distributed free of charge, with the sole exception that a photocopy charge, not to exceed ten cents (U.S.) per printed page may be charged by those distributing this paper. Coconut Cream Concentrate. Buy 1 Get 1 FREE (32 oz.)!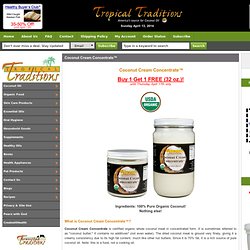 Until Thursday April 17th only Ingredients: 100% Pure Organic Coconut! Power Food - Soaking and Sprouting. We are going to keep this easy.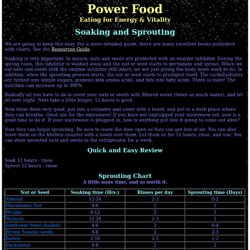 For a more detailed guide, there are many excellent books published with charts. See the Resources Guide . Soaking is very important. In nature, nuts and seeds are protected with an enzyme inhibitor. NSI Nutraceutical Sciences Institute - Vitamins, Supplements, Herbs and Nutritional Formulas. Organic Cacao Nibs - Certified Organic, Raw, Kosher - Navitas Naturals. Nature's Chocolate Chips Cacao nibs are made from pure cacao beans that come straight out of the tropical cacao fruit.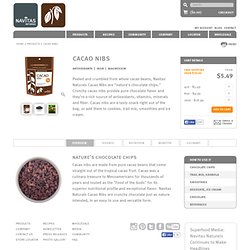 Cacao was a culinary treasure to Mesoamericans for thousands of years and touted as the "Food of the Gods" for its superior nutritional profile and exceptional flavor. Navitas Naturals Cacao Nibs are crunchy chocolate just as nature intended, in an easy to use and versatile form. How to use it Chocolate Chips Trail Mix, Granola Smoothies Desserts, Ice Cream Chocolate Beverages. I Love Raw Food. Eating Healthy with Easy Raw Food Recipes: Ginger Miso Dressing! I have been trying to come up with ways to dress a salad that don't involve tons of oil and/or nuts lately.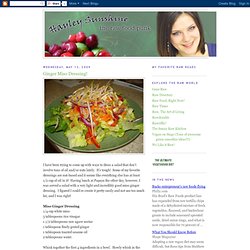 It's tough! Some of my favorite dressings are nut-based and it seems like everything else has at least 1/2 cup of oil in it! Having lunch at Papaya the other day, however, I was served a salad with a very light and incredibly good miso ginger dressing. I figured I could re-create it pretty easily and not use too much fat, and I was right! Raw Food Rehab - Adding LIFE to your years and years to your life!
Avocado Mango Broccoli Salad. Avocado Mango Broccoli Salad Years ago, there was a dessert that I would occasionally treat myself to.
It involved a brownie, a scoop of ice cream, a little cast iron skillet, hot fudge and a hot caramel sauce. The brownie and the caramel sauce were heated in the oven until sizzling. Socially Conscious, Totally Fabulous. Application Of Food Combining - Mono Meals And Mono Diets. 4.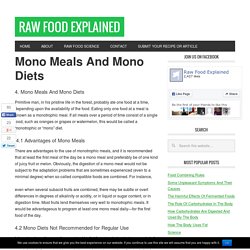 Mono Meals And Mono Diets Primitive man, in his pristine life in the forest, probably ate one food at a time, depending upon the availability of the food. Eating only one food at a meal is known as a monotrophic meal. If all meals over a period of time consist of a single food, such as oranges or grapes or watermelon, this would be called a monotrophic or "mono" diet. 4.1 Advantages of Mono Meals. Addicted To Veggies: Easy Raw Vegan Bread (nut free!)
After roughly four batches of ho-hum and so-so attempts at making a good simple recipe for raw bread, I finally have it ready to share!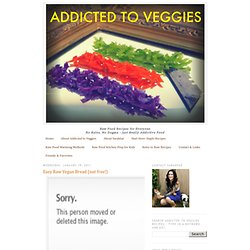 Since the Holidays came to a close earlier this month I've been working on writing up a "formula" of sorts for my basic structured daily meal plan. One very important component thus far has been bread, and incorporating that into at least two meals a day. Thanks to the ease and affordability of this recipe I can now include home-made raw bread into my meals with no problem! One thing I love about this bread is how easy it is to make it sweet or savory with just a little bit of tweaking - as long as you are careful of the water content you really can't go wrong. So without further ado - here is my simple, no frills raw bread recipe! The Post Punk Kitchen: Vegetarian cooking & vegan baking with no. Raw Food Life - the Science of Raw Food! Would you like to live in a world without war or poverty ... where everyone respects the lives, liberty and property of everyone else?
Would you like to see justice, equality and freedom for all become a reality? Learn about how to form "Octologues" -- groups that use consensus (vs. majority rule) and an ethical code of behavior to increase our power and ability to get things done. Together we can restore our freedoms locally and create a non-coercive model to replace our corrupt political institutions. Click this button to learn about the recipe for peace, prosperity and freedom. Fat Free Vegan Recipes. Living and Raw Foods: The largest community on the internet for.
The Raw Food World - Vibrant Health through A Raw Food Lifestyle. Raw Food Diet Conversion Chart. You are interested in a raw food diet. Now you have to decide what to eat. To help you with the transition from cooked to raw, here's a raw food conversion chart. The chart has the following categories: FoodBeveragesCondiments and SpreadsSpecial TreatsSupplementsGeneral Guidelines.
---