Humor
retroCRUSH
I'm really excited to return to the Sacramento Punch Line on April 30th for another great retroCRUSH COMEDY BOOMBOX show! I've hand picked all performers and will be opening and hosting the entire event. Longtime retroCRUSH friend, and frequent podcast guest Keith Lowell Jensen will be headlining a ridiculously stacked event that includes Kristen Frisk, Des Henderson, DJ Sandhu, Mark Burg, Daniel Humbarger, Ben Rice, and Jaime Fernandez, Chris Emery, Tyler Kinney, and Alec Roberts. This isn't some "Hey, who wants to be on my show" affair, but a great collection of super funny people that I've assembled like the best box of chocolate candy. We'll also be joined by the ridiculously awesome Amy Anne who'll be singing for us! You can buy tickets in advance at The Sacramento Punchline website, which you can click RIGHT HERE.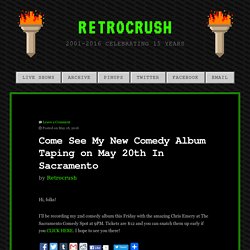 The Sneeze - Half zine. Half blog. Half not good with fractions.
April 7, 2011 A Kick to the Nuts of My Feet Oh no, there's a hole in my socks. And not just a hole in any socks, but in my good orange and black "LIVE FREE OR DIE" socks that I kind of think give me super powers.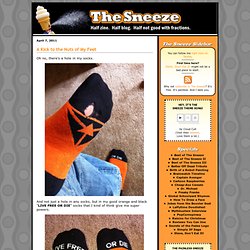 Comics, Quizzes, and Stories
Hyperbole and a Half
Power is intoxicating. Everyone loves having the ability to make their decisions into reality — to think "this should be something that happens," and then actually be able to make that thing happen. It is also dangerous. And it is especially dangerous when applied to four-year-olds. Four-year-olds lack the experience to wield power responsibly. They have no idea what to do with it or how to control it.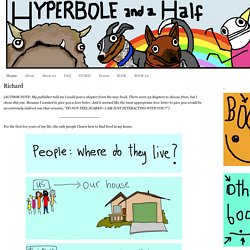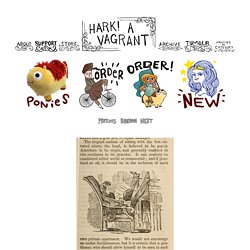 Friends: Lynn AllinghamJohn AllisonAmy AshDawn and Margie BeatonMarc BellSally BloodbathJohn CampbellScott CampbellRyan CarleyAnthony ClarkRebecca ClementsMelanie ColosimoDomitille CollardeyJillian Comeau, Kim Carson and Michelle SkeldingAaron DiazThe Doug Wright AwardsJess FinkEric FeursteinBrian FukushimaSarah GliddenMeredith GranLisa HanawaltDustin HarbinChristopher HastingsEmily Horne and Joey ComeauJimmie KilpatrickJon KlassenSteve LambkeHope LarsonJoe ListDavid MalkiPhil McAndrewCarolyn MerrimanCarly MonardoVicki NerinoAndre RichardRyan NorthRyan PequinNeil RoughJeffrey RowlandGabby SchulzSmart and BirdDeana SobelNathan StapleyHenry SvecMatthew TraffordJulia WertzBritt WilsonStephanie WeirathmuellerSteve WolfhardYou've Changed RecordsChip Zdarsky Good comic shops that have taught me a thing or two: The Beguiling, TorontoStrange Adventures, HalifaxLegends Comics and Books, VictoriaDesert Island, Brooklyn
311