Humor
retroCRUSH
I found this 1943 ad for Cannon Towels and think it's fantastic! I wonder if there were more in the series of "True Towel Tales". It's a mixture of patriotism, sex appeal, and all American wholesomeness that really works well. It's naughty enough to thrill the readers back home, but still has enough innocence to get away with it. Plus, you gotta figure a towel good enough to dry off a bunch of stinky soldiers after they were bathing with crocodiles has gotta be good. It's also interesting that crocodiles are referred to as "crocks" instead of "crocs".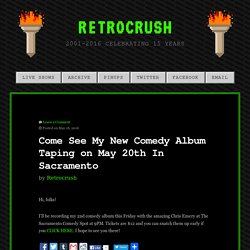 The Sneeze - Half zine. Half blog. Half not good with fractions.
April 7, 2011 A Kick to the Nuts of My Feet Oh no, there's a hole in my socks. And not just a hole in any socks, but in my good orange and black "LIVE FREE OR DIE" socks that I kind of think give me super powers.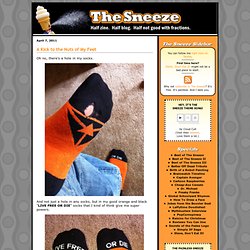 Comics, Quizzes, and Stories
Hyperbole and a Half
Power is intoxicating. Everyone loves having the ability to make their decisions into reality — to think "this should be something that happens," and then actually be able to make that thing happen. It is also dangerous. And it is especially dangerous when applied to four-year-olds. Four-year-olds lack the experience to wield power responsibly. They have no idea what to do with it or how to control it.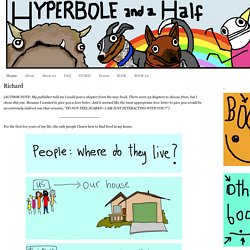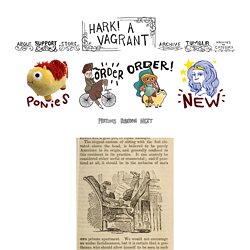 Friends: Lynn AllinghamJohn AllisonAmy AshDawn and Margie BeatonMarc BellSally BloodbathJohn CampbellScott CampbellRyan CarleyAnthony ClarkRebecca ClementsMelanie ColosimoDomitille CollardeyJillian Comeau, Kim Carson and Michelle SkeldingAaron DiazThe Doug Wright AwardsJess FinkEric FeursteinBrian FukushimaSarah GliddenMeredith GranLisa HanawaltDustin HarbinChristopher HastingsEmily Horne and Joey ComeauJimmie KilpatrickJon KlassenSteve LambkeHope LarsonJoe ListDavid MalkiPhil McAndrewCarolyn MerrimanCarly MonardoVicki NerinoAndre RichardRyan NorthRyan PequinNeil RoughJeffrey RowlandGabby SchulzSmart and BirdDeana SobelNathan StapleyHenry SvecMatthew TraffordJulia WertzBritt WilsonStephanie WeirathmuellerSteve WolfhardYou've Changed RecordsChip Zdarsky Good comic shops that have taught me a thing or two: The Beguiling, TorontoStrange Adventures, HalifaxLegends Comics and Books, VictoriaDesert Island, Brooklyn
311