Agile
Agile software development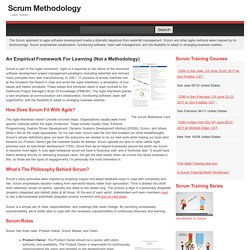 For many developers in the software industry, the agile methodology is nothing new. Most folks know that agile was a direct response to the dominant project management paradigm, waterfall, and borrows many principles from lean manufacturing. In 2001, as this new management paradigm began to pick up momentum, agile was formalized when 17 pioneers of the agile methodology met at the Snowbird Ski Resort in Utah and issued the Agile Manifesto. Their manifesto is now considered the foundational text for agile practices and principles.
These are my own personal recollections. I'm probably wrong about some of it. If any of the other folks involved have a clearer memory of the events, please don't hesitate to comment. In the spring of 2000 Kent Beck called a meeting at the Rogue River Lodge near his home in Medford, Oregon. He called it the . In attendance were: myself, Ron Jeffries, Ken Auer, Martin Fowler, and several others who had been instrumental in getting the XP movement off the ground.
The Founding of the Agile Alliance
Announcing Agile2014 Orlando! July 28th - August 1Gaylord Palms, Orlando, FL, USA Registration IS NOW OPEN ATTN: Members -- If you're already planning to attend, please register now.Super-Early Bird Member Pricing: $1,649Save $750 off Non-Member pricing! If you are not a Member yet, learn about Membership and join online!