Montage photo
Les montages photo: c'est amusant, c'est très ludique, vous pouvez faire de cartes de vœux, agrémenter un blog, incruster des photos dans d'autres pour créer des effets en tous genres, graver de mots dans des photos, mettre votre photo à la une d'un journal! Voilà une sélection de 23 sites qui font le travail, beaucoup d'entre eux ont déjà fait office d'une revue dans ce site, c'est donc une compilation, cela dit non exhaustive, mais qui est mise à jour régulièrement. Pictures4fun.net 3 options pour ce site, qui permet d'incruster des photos dans une scène, d'encadrer vos photos et de mettre votre photo dans un magazine Photofacefun.com Une belle gamme d'incrustation de photo, comme indiqué dans la collonne de gauche de la capture d'écran (pub, art, célébrité, dessins, cadres, mode, films….)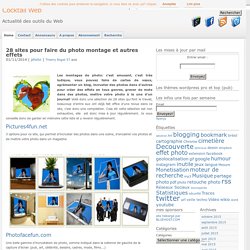 PicFast.com
FunFacer
You don't need fancy graphic programs to do fun stuff with your pictures. There's an easy way to add photo effects online - Loonapix.com! Any social network avatar becomes better if you change your photograph a little bit. People usually pay a lot of money for professional photo editing effects, while you have a chance to use all those photo effects free of charge! Browse our galleries, look what we can do and choose what you like. You can use all of our cool photo effects without any training or special skills.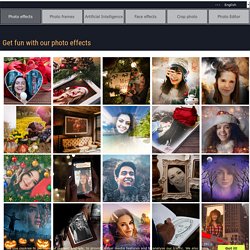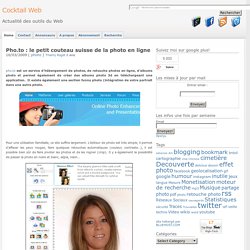 pho.to
pho.to est un service d'hébergement de photos, de retouche photos en ligne, d'albums photo et permet également de créer des albums photo 3d en téléchargeant une application. Il existe également une section funny photo (intégration de votre portrait dans une autre photo. Pour une utilisation famillialle, ce site suffira largement.
C'est un peu du déjà vu, mais Picartia nous offre un petit plus. Picartia est un service qui permet de décomposer votre photo en une mosaîque mais cette fois-ci avec un thème de photo. Voilà un exemple explicite avec un zoom encadré en rouge sur la photo et le thème bikini (on est pas fait de bois)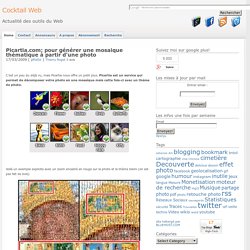 Picartia.com (mosaïque)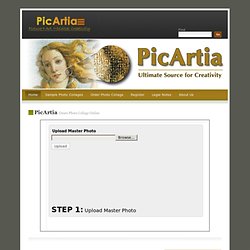 PicArtia helps you to create your photo mosaic online for free. It is popular for being fast, easy and free! Photo Mosaics are great gifts for friends, family members and even yours.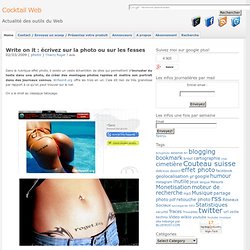 Write on it
Dans la rubrique effet photo, il existe un vaste échantillon de sites qui permettent d'incruster du texte dans une photo, de créer des montages photos rapides et mettre son portrait dans des journaux connus. Writeonit.org offre les trois en un. Cela dit rien de très grandiose par rapport à ce qu'on peut trouver sur le net. On a le droit au classique tatouage. Le teeshirt:
Il ne se passe pas une semaine sans qu'un nouveau site apparaisse sur le sujet d'incrustation de photos dans une photo, généralement votre portrait, ce qu'on appelle "funny photo" en anglais et évidement dans des environnements flatteurs pour le massage de l'égo. (affiche, célébrité, belles filles….) Vous trouvez une compilation de ce genre de photomontage sur 22 sites pour faire du photo montage et autres effets
Deefunia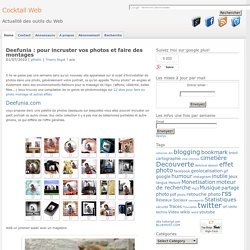 To Create a funny photo, a calendar or create a frame for your photo. You first need to select a template displayed and then you will have to upload your photo from your computer. After that you will see your result shortly and you can also share it with friends.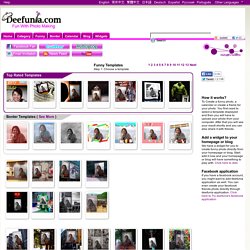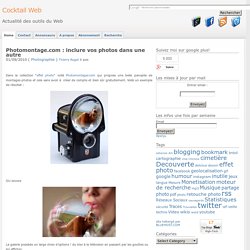 Photomontage.com
Dans la collection "effet photo" voilà Photomontager.com qui propose une belle panoplie de montages photos et cela sans avoir à créer de compte et bien sûr gratuitement. Voilà un exemple de résultat : OU encore La galerie possède un large choix d'options ! du kiwi à la télévision en passant par les gouttes ou les affiches.
PhotoMontager.com: Make great photo montages for free!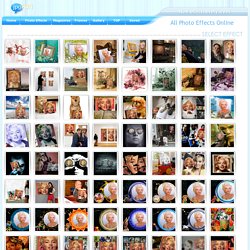 On our site you can make a lot of interesting and funny images using your photoes and this site. Variants of visual effects are very different,everyone can make an image he needs. The EFFECT LIST section makes possible to imagin yourself on billbords, on newspapers, on "wanted" posters like it was in "wild wild west", on 100 dollars bill, on the posters with famous celebrities and any any other awesome effects.
Pictures4fun
We like photo fun and playing with photos as much as you do. You don't need to be an expert to play with your photos, so it's time for some good fun. :) On our website you can generate photo effects, use your photo in magazine covers or picture frames and send various greeting cards. You are able to download the generated photo effects to your computer or send them to friends via email, facebook or twitter. If you like to use the photo effect as avatar for IM, you may also download the effect in the corresponding format.
Select an area of the image Next Kiss me