Inde
2 Trains - Hospet/HPT to Vasco Da Gama/VSG - India Rail Info - Database of Indian Railways Trains & Stations
1 avis1520 La note pour le trajet en avion Bombay/Mumbai - Goa est donnée à titre indicatif. Si le nombre d'avis donné pour ce trajet est faible, la note n'est pas forcément représentative. Comparez tous les vols pour un billet d'avion ou E ticket avec EASYVOLS, puis réservez au MEILLEUR PRIX un vol sur une compagnie régulière en classe affaire ou économique, sur une low cost ou une compagnie charter entre Bombay/Mumbai et Goa.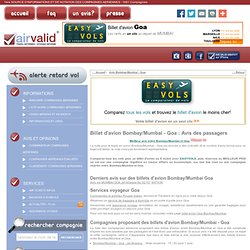 Billet d'avion Bombay/Mumbai - Goa - AirValid ®
Cheap Tickets India, Low Air Fares Booking, International Airline Tickets, Online Flights Booking - iXiGO.com (easyGO) Air Travel Site
Database of Indian Railways Trains & Stations - India Rail Info
Getting around India by train... Without a shadow of a doubt, the best way to see India is not on a plane at 35,000 feet, but at ground level on the incredible Indian railway system. In fact, no visit to India is complete without experiencing the bustle of Indian railway stations and a safe & comfortable journey on an Indian express train with the tea seller's welcome cry of 'Chai, chai, garam chai' coming down the aisle.
Train travel in India - a beginner's guide
Indian Railways | Indian Rail Reservation | Central Railways Reservations | Western Railways Enquiry | Northern Indianrail | Southern IndianRailways | Eastern Train Railway Reservation | IRCTC Timetable PNR Status India
Indian Railways Time Tables, PNR, Route, Fares, Arrivals/Departures, Running Status - eRail.in (Better Way To Search Trains)
First up you'll need to undestand the mad world of train station naming in India at times. The stations you need in Goa, are Vasco De Gama (so named in the timetables) and Margao (named Madgaon by Indian Railways) All trains for Hampi use the Hospet Railhead (there's NO station at Hampi itself) So the train details look like this Margao - Hospet Runs Tues, Thur, Fri and Sun ONLY 8048 VSG HOWRAH EXP MAO 08.00 HPT 14.48 travel time 06.48hrs Costs 2AC Rs 609 3AC Rs 447 SL Rs 170
Train from Goa to Hampi and back - Lonely Planet travel forum
Thanks for the alternative, but will say no thanks to a bus! Have only done one very memorable sleeper bus trip in 3 past visits to India - Bundi to Indore - & it will be my last! Had always taken trains, and love travelling Sleeper Class, but the bus trip was a horror. It will be forever on known as "the bus from hell"....no room for one of our packs in the luggage it was us (too big Aussies) a pack, 2 day packs & a big camera bag, perched in a bunk about the right size for one. We rocked & banged all night, especially when the bus left the bitumen whenever another vehicle came toward us. Whenever one of us needed to roll over we had to tap the other on the shoulder & synchronise our movements!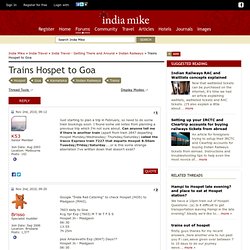 Trains Hospet to Goa
Hampi and the ruins of Vijayanger
Destinations > Asie du Sud (sous-continent indien) > Vol Cochin-Madras? (Chennai)
salut, j'ai réservé ce WE un vol entre Bombay et Cochin sur www.makemytrip.com regardes aussi sur www.yatra.com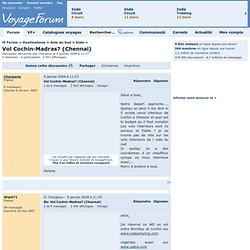 bons plans pour le Kérala :
Destinations > Asie du Sud (sous-continent indien) > Quinze jours pour visiter le Kerala et Goa?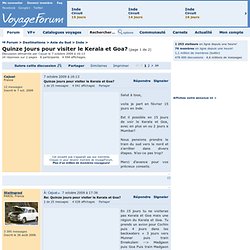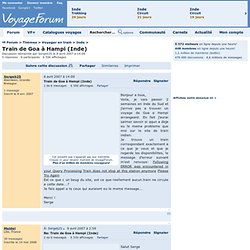 Il y a une liaison par train de Vasco Da Gama (via Madgaon) à Hospet tous les jours sauf les lundis.
Thèmes > Voyager en train > Train de Goa à Hampi (Inde)
gone India Railways
Whilst using the train is a lot of fun, the logistics can be a bit daunting for the first timer. The following sections attempt to make things a little simpler!! Finding the train you need. The trains in India are usually identified by name or train number with no reference to intermediate stations. There are several ways to find the train you need, we recommend the purchase of Trains At a Glance, (see the side bar for the online version!)
Goa is also well connected by rail. If you want to know about the Trains to Goa, here's some information for you. The high-speed Konkan Railway has a daily train which hardly takes around 8-9 hours. Other trains between Mumbai and Panaji take around 10-12 hours.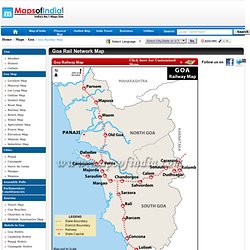 Goa Railway Map, Goa Railways, Goa Railway Station
Getting Around Indian Railways
irtc.co.in
bombay-goa - Sous-Continent Indien