Outils pour développer
La conception sous forme de grille | pour ma paume
Something that makes a website great is when it is compatible in multiple browsers regardless of version. Technically this is referred to as cross-browser compatibility . Wikipedia defines cross-browser as: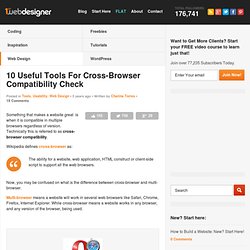 10 Useful Tools For Cross-Browser Compatibility Check
27 Great CSS Frameworks You Must Check Out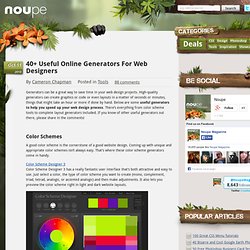 Oct 11 2010 Generators can be a great way to save time in your web design projects. High-quality generators can create graphics or code or even layouts in a matter of seconds or minutes, things that might take an hour or more if done by hand. Below are some useful generators to help you speed up your web design process .
21 Absolutely Useful Firefox Add-ons For Web Designers And Developers « Artatm
Mozilla Firefox has always been the first and foremost choice of the internet users. Due to this the development community of Mozilla always try to come up with things that are useful for the users to work with. One of the best things about the Mozilla firefox Add-ons is the ease of use. You can have the add-on do whatever browser could do. For web designers and developers the amount of time saved and information gathered by these Plugins makes Firefox the programmers best friend.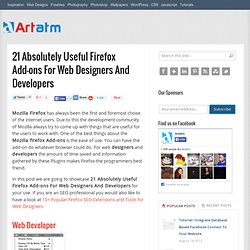 30 Free Online Tools for Web Developers | VisonwidGet
Ultimate List Of Web Design Checklists: Get Work Done!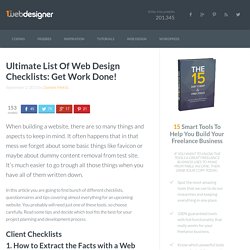 When building a website, there are so many things and aspects to keep in mind. It often happens that in that mess we forget about some basic things like favicon or maybe about dummy content removal from test site. It's much easier to go trough all those things when you have all of them written down.
Avant-propos : Cet article a été rédigé par Frédéric de Villamil en tant que Guest Blogging . Frederic est rédacteur sur son blog professionnel sur lequel il publie périodiquement des articles de fond sur l 'ergonomie we b, la qualité , les bonnes pratiques de développement , la gestion de projets ou l'accessibilité . Réaliser un bon site ou une bonne application Web ou mobile n'est pas très compliqué, atteindre l'excellence l'est beaucoup plus. La différence entre les deux réside dans une infinité de petits détails qu'il faut repérer d'une page à l'autre, d'un écran à l'autre, ou parfois simplement d'un bloc à l'autre, pour donner à l'ensemble un soucis de cohérence et de solidité.
Multipliez la qualité de votre site Web par 10 en moins de 20 minutes
Resource Hive