Various
Precision Biomarker
Alphametrix Biotech
Biotracker - Biodatabase for everyone With the ever increasing amount and diversity of information being analyzed and managed... Exploring Next Generation Genomic Services AlphaMetrix provides a comprehensive range of services and can rely on several... Agilent High Sensitivity DNA Kit
Bioke
Beckman Coulter Genomics
Dhamacon
DNA Vision
Expression Analysis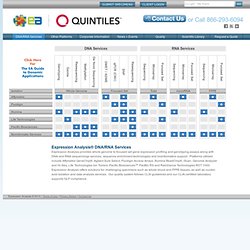 Expression Analysis provides whole genome to focused set gene expression profiling and genotyping assays along with DNA and RNA sequencings services, sequence enrichment technologies and bioinformatics support. Platforms utilized include Affymetrix GeneChip®, Agilent Sure Select, Fluidigm Access Arrays, Illumina BeadChip®, iScan, Genome Analyzer and Hi-Seq, Life Technologies Ion Torrent, Pacific Biosciences™ PacBio RS and RainDance Technologies RDT 1000. Expression Analysis offers solutions for challenging specimens such as whole blood and FFPE tissues, as well as nucleic acid isolation and data analysis services. Our quality system follows CLSI guidelines and our CLIA-certified laboratory supports GLP compliance.
GenexBio
Genomic ServicesPreferred partner for Gene Expression, Genotyping, BioBanking, Data Analysis for Preclinical R&D and Clinical Trial Support Programs. Gold Standard Genomic Reference PlatformsPeer reviewed in over 200 publications, Gene Logic offers the only proprietary Discovery and Validation platforms with premium quality Gene expression data on clinical samples with extensive annotation on both normal and disease human and animal tissues. ToxExpress® Program - Toxicity analysis suite with over 14,000 untreated, vehicle and drug-treated animal tissue samples BioExpress® System - Most comprehensive gene expression data for over 22,000 clinically relevant samples ASCENTA® System - Web based Biomarker discovery platform based on validated gene expression data Genesis Enterprise System® Software - Examine expression data and sample attributes simultaneously and perform a wide variety of analyses
GeneLogic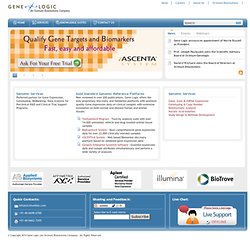 Genotypic envisions to become a global leader in genomics through continuous innovation, diligent service to our customers, and developing ingenious approaches in biological research. Events / Workshops Dr. Deepti Saini from Genotypic presented a poster at the Indo-Aus Conference on Biotechnology at Manipal University, Manipal during 11-13 April, 2014. Genotypic Technology will participate as a sponsor and exhibitor in the workshop on Molecular Techniques: Cell to DNA (MTCD-2014) organized by the Department of Biological Sciences, BITS Pilani, Pilani Campus during 10-12 April 2014. Dr Raja Mugasimangalam, CEO, Genotypic Technology will be delivering a lecture on "Transcriptome sequencing of rare plants (herbs, vegetables and medicinal plants)" on 9th April 2014, 3:15 PM at Agricultural Research Organization (ARO) - Volcani Centre, Bet-Dagan, Israel.
Genotypic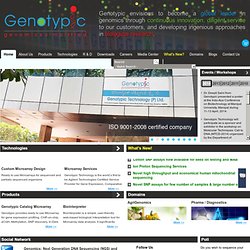 Hokkaido System Science Co.,Ltd.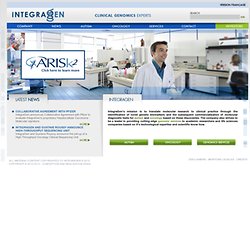 IntegraGen's mission is to translate molecular research to clinical practice through the identification of novel genetic biomarkers and the subsequent commercialization of molecular diagnostic tests for autism and oncology based on these discoveries. The company also strives to be a leader in providing cutting edge genomic services to academic researchers and life sciences companies based on it's technological expertise and scientific know how.
Intragen
Oxford Gene Technology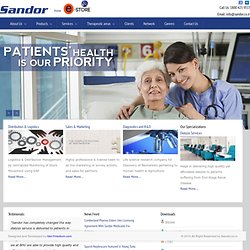 Sandor
Home Call Us: 1800 425 9515 Email: info@sandor.co.in Our Specializations Distribution & Logistics
Since 1994, SeqWright has provided reliable genomic analysis, DNA sequencing and molecular biology services. Our goal is to enable our clients to reach their research and clinical trial goals as quickly and economically as possible while strictly adhering to the highest standards of quality anywhere in the industry. SeqWright takes great pride in consistently providing high quality results with fast turn-around times; meeting and frequently surpassing our clients stringent requirements. We provide complete start-to-finish project management with customized analysis and data reporting.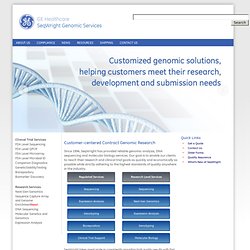 SeqWright
Service XS
Tataa Biocenter - TATAA BIOCENTER
Tepnel Life Sciences
VIB MicroArray Facility - Belgium
Welgene Blotech