Others
NanoString® Technologies develops innovative products that unlock valuable and clinically actionable genomic information from small amounts of tissue. We are committed to providing tools that enable scientists and clinicians to translate today's leading research into clinically actionable tests that improve patient care. The nCounter® Analysis System and related consumables have been adopted by academic, government and commercial research laboratories worldwide. NanoString Technologies (or: "The Company") obtained CE Mark in September 2012, and FDA 510(k) clearance in September 2013, for the Prosigna™ Breast Cancer Assay representing our initial offering in the molecular diagnostics market.
NanoString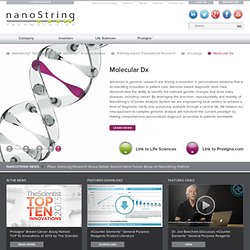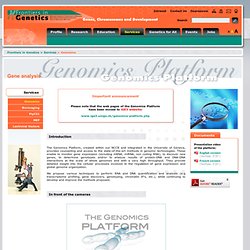 The Genomics Platform, created within our NCCR and integrated in the University of Geneva, provides counselling and access to the state-of-the-art methods in genomic technologies. These enable to monitor gene expression (including mRNA, miRNA, non coding RNA), to discover new genes, to determine genotypes and⁄or to analyze results of protein-DNA and DNA-DNA interactions at the scale of whole genomes and with a very high throughput. They provide detailed insight into the cellular processes involved in the regulation of gene expression and global genome organization. We propose various techniques to perform RNA and DNA quantification and analysis (e.g transcriptome profiling, gene discovery, genotyping, chromatin IP's, etc.), while continuing to develop and improve the methods proposed. ›› French version of the video(YouTube, 5'25'') This video was achieved in March 2011.The Genomics Platform is directed by Dr Mylène Docquier since August 2011.
NCCR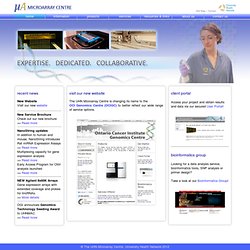 University Health Network Microarray Centre
recent news New Website Visit our new website New Service Brochure Check out our new brochure >> Read more NanoString updates In addition to human and mouse, NanoString introduces Rat miRNA Expression Assays >> Read more Multiplexing capacity for gene expression analysis >> Read more Early Access Program for CNV analysis launched >> Read more NEW Agilent 8x60K Arrays Gene expression arrays with extended coverage and probes for lincRNAs. >> More details
VIB MicroArray Facility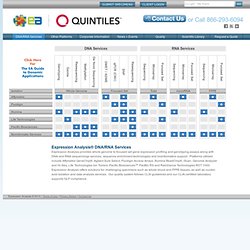 Expression Analysis
Expression Analysis provides whole genome to focused set gene expression profiling and genotyping assays along with DNA and RNA sequencings services, sequence enrichment technologies and bioinformatics support. Platforms utilized include Affymetrix GeneChip®, Agilent Sure Select, Fluidigm Access Arrays, Illumina BeadChip®, iScan, Genome Analyzer and Hi-Seq, Life Technologies Ion Torrent, Pacific Biosciences™ PacBio RS and RainDance Technologies RDT 1000. Expression Analysis offers solutions for challenging specimens such as whole blood and FFPE tissues, as well as nucleic acid isolation and data analysis services. Our quality system follows CLSI guidelines and our CLIA-certified laboratory supports GLP compliance.