Online
Perry Marshall
Thanks for using our free tool - you seem to have stumbled across something that's restricted in this version. You can upgrade really easily to our free trial (7 days of the full tool for absolutely nothing!) and you'll be able to use all of these features. Just click here to take the trial and you'll be able to get more results, save and manage your work and get even greater detail from your research. Take the trial today!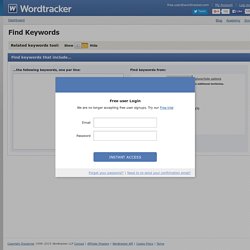 Herman Drost If you are looking for a fast way to market your products or business, then Google AdWords is a great solution. You can set up an AdWords campaign within a few minutes and be making good money within days.
Sitebuild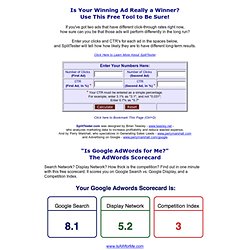 Is Your Winning Ad Really a Winner? Use This Free Tool to Be Sure! If you've got two ads that have different click-through rates right now, how sure can you be that those ads will perform differently in the long run?
SplitTester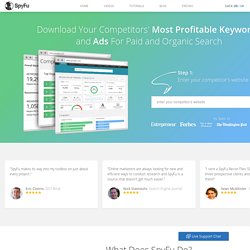 SpyFu exposes the search marketing secret formula of your most successful competitors. Search for any domain and see every place they've shown up on Google: every keyword they've bought on Adwords, every organic rank, and every ad variation in the last 6 years. Learn how to connect with these domains, too. Find online and traditional leads methods -- social media, email, phone, and address -- you can't find anywhere else.
OptimusPrimus.de — Schnell erfahren: Werbetext Tipps, Tricks und
Was ich in Punkto Google AdWords mache: Jeder Account braucht eine individuelle Einrichtung & eigene Vorgehensweisen im MarketingAdWords Einrichtung, Verwaltung und ständige Konto OptimierungGoogle RemarketingProduct Listing Ads / Produktanzeigen (Google Shopping Ergebnisse)Dynamisches Remarketing für ShopsTag Manager Einrichtung /Nutzung für Shops via Makros & Zugriff auf DatalayerTag Manager Einrichtung /Nutzung für Webseiten ohne ShopGeotargeting (lokal werben) wo sinnvollSinnvolle Werbeformen innerhalb AdWords testen & nutzenSplittests (ist selbstverständlich)Troubleshooting & TurnaroundMarktsegmente mit hohen Klickpreisen (10€+ pro Klick trotz Keyword-Qualitätsfaktor 8+)Landingpages zur Optimierung von Keyword-Anzeigentext-Landingpage-Conversionusw. Einfach anfragen! Meine große Fehleinschätzung Noch vor wenigen Jahren waren es die kleinen und mittelständischen Unternehmen, die hochflexibel auf Marktänderungen eingehen konnten.