Random interests
Family Fresh Cooking. New Contest : Answer simple questions & chance to win some cool prizes - Page 2 - Contests - Roger Federer Fans 2. Fed: I have subscribed to the newsletter my great fans.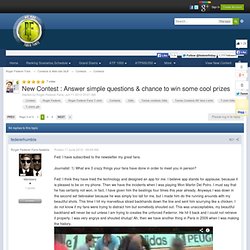 Journalist: 1) What are 3 crazy things your fans have done in order to meet you in person? Fed: I think they have tried the technology and designed an app for me. I believe app stands for applause, because it is pleased to be on my phone. Then we have the incidents when I was playing Won Martin Del Potro. Complete Spanish Guide. Sign Up. Connect to people with similar interests Stay connected.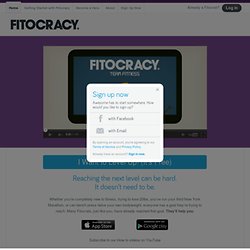 Pick up tips. Track thousands of exercises quickly. Keep an eye on your progress. Fitocracy connects you to the combined knowledge of over half a million of the world's best fitness coaches, nutrition experts, and other folks from a wide variety of fitness backgrounds. Quotey.
Wanelo - Find unique products and stores you have never heard of. Tennis. Yummly | The best site for recipes, recommendations, food and cooking. Beautiful Animals. DIY Bracelets - Honestly WTF. Punchfork — The best new recipes from top food sites. Share Book Recommendations With Your Friends, Join Book Clubs, Answer Trivia.
---