Nerdy Humor
Star Wars Cupcakes. - StumbleUpon. Death Note by SilentReaper on deviantART. Geek-sign.jpg from unrealitymag.com. Batman-superman-spiderman.jpg from awesomenator.com. Update_for_your_computer.jpg from kuvaton.com. Awesome Wi-Fi Network Names [Humorous Image] - How-To Geek ETC. Stormtrooper-rip.jpg from nerdapproved.com. IMG_0091.jpg from gadgetspage.com. The TIE Fighter Pilot Who Saved The Day in 'Star Wars' In the original Star Wars movie, the Rebels almost didn't make it.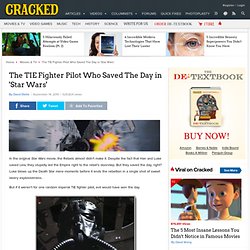 Despite the fact that Han and Luke saved Leia, they stupidly led the Empire right to the rebel's doorstep. But they saved the day, right? Luke blows up the Death Star mere moments before it ends the rebellion in a single shot of sweet lasery explosiveness. But if it weren't for one random imperial TIE fighter pilot, evil would have won the day. The savior of the Rebellion. 7 Classic Star Wars Characters Who Totally Dropped the Ball. Here at Cracked we don't hesitate to hold our leaders accountable for bad decisions.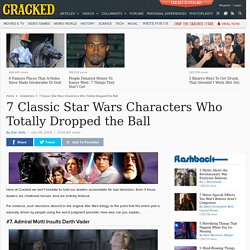 Even if those leaders are childhood heroes. And are entirely fictional. For instance, such decisions abound in the original Star Wars trilogy, to the point that the entire plot is basically driven by people using the worst judgment possible. Destroythedeathstarp1.gif from holytaco.com. Banksy_02.jpg from igorstshirts.com. Death Star Destroys Enterprise - a Film &TV video. 7 Quotes That Could Have Saved The Star Wars Prequels. 8 Lines That Would Have Ended Star Wars Real Fast. The 10 Jerkiest Things Obi-Wan Kenobi Ever Did. While the Rebellion would have you believe that Obi-Wan Kenobi was an excellent mentor, a highly-regarded General, and arguably one of the greatest Jedi Masters ever, the truth is, he was a bit of a douche.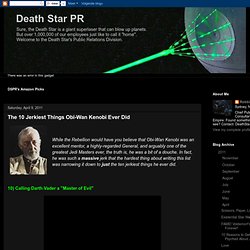 In fact, he was such a massive jerk that the hardest thing about writing this list was narrowing it down to just the ten jerkiest things he ever did. 10) Calling Darth Vader a "Master of Evil" What if Darth Vader was a good father ? - 12 illustrations from Darth Vader and Son. How Return of the Jedi Should Have Ended. If I May - Set Phasers To LOL: Sci Fi and Fantasy LOLs. Kristen Wolfe: Dear Customer Who Stuck Up For His Little Brother. You thought I didn't really notice.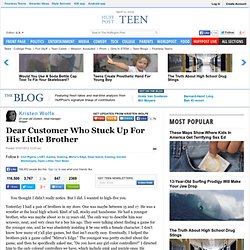 But I did. I wanted to high-five you.
Gandalfordumble.png from geeksaresexy.net. - StumbleUpon. - StumbleUpon. Random funny pictures. 20 Facts You May Not Know About Harry Potter | 2010-12-19-669a8da8.gif from foxtrot.com.
---