Comics
#7 - JL8 Comic
Gamer- Lol Hit
The Incredible Hulks Most Amazing Feats
I WILL DESTROY YOU!
- StumbleUpon
Oh Deadpool.jpg
TOUR BAR & This is about as true as it gets..
Bug - Bedside Manner
DEMONOLOGY 101: an online comic about high school and other forces of evil By Faith Erin Hicks
- StumbleUpon
Webcomic at the Speed of Light - Hunting Trip (2/3)
- StumbleUpon
- StumbleUpon
Gnome Trouble - StumbleUpon
Bagels vs Donuts [Comic Strip]
MiscPix on each Click!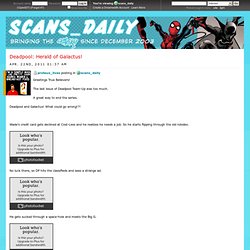 scans_daily | Deadpool: Herald of Galactus!
Greetings True Believers!
That Darn Deadpool: Now on 21 Variant Covers This Month
Feb 9th 2010 By: Caleb Goellner Not to sound like an old-timer, but I can recall an age when appearing on a cover (yes, even a variant) meant a character, however limited their role, would at least grace a storyline in some small capacity. That age is dead and Deadpool killed it.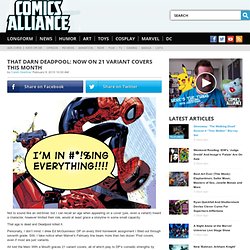 The story of Superman if he ever decides to put his powers to good use - 22...
repair troll
DOGHOUSE | How We Treat Our Cars vs How We Treat Ourselves
Calvins Dad: The Original Troll Scientist
66c046907863012ee3c400163e41dd5b from uclick.com
"A Birthday Wish" by Caldwell Tanner - CollegeHumor Article
Bug - Letter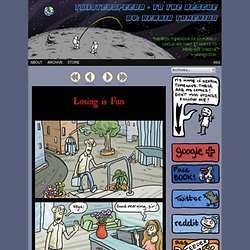 Losing is Fun
From Wikipedia: ( http://en.wikipedia.org/wiki/Dwarf_Fortress ) Slaves to Armok: God of Blood Chapter II: Dwarf Fortress, also called Slaves to Armok II: Dwarf Fortress, but most commonly known simply as Dwarf Fortress, is a freeware computer game by Bay 12 Games for Microsoft Windows, Linux, and Mac OS X set in a high fantasy universe that combines aspects of roguelike and city-building games and is primarily known for its unique level of complexity and difficulty.
THE EARTH EXPLODES
Real Life Comics - The Online Comic &1999-2010 Greg Dean
comic372.png from cycomics.com
dragons.jpg (JPEG Image, 560x700 pixels) - Scaled (92%)
2011-02-18-beartato-morningmotivation.png from nedroid.com
whenwolf.png from explosm.net
Virtual Shackles - Will it Metablend?
The hardest part of any game | The Meta Picture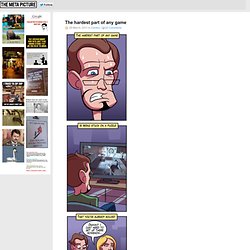 Yes, this can be frustrating.
2010-03-25-TheTwistEnding.jpg from buttersafe.com
2011-04-01-254_That-Great-Old-One.png from optipess.com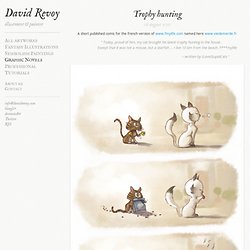 06 august 2011 Classified in : Graphic Novels Hi , here is a first comics I did to illustrate a short story on the french website 'VDM' http://www.viedemerde.fr/inclassable/5246154 .