Accelerator
Noodlecrumbs | All Ideas
BoomStartup Accelerator - Funding Mentorship Connections
Innovation Warehouse (IW) - the business growth platform in the City of London
Acceleprise
Accelerator - Business Incubator in London |
Greenstart
NewME Accelerator
Ventures - Cyhawk Ventures
Hub Ventures
Andreessen Horowitz
About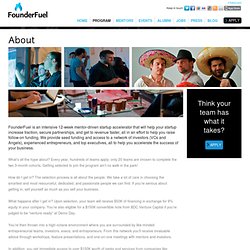 FounderFuel is an intensive 12-week mentor-driven startup accelerator that will help your startup increase traction, secure partnerships, and get to revenue faster, all in an effort to help you raise follow-on funding. We provide seed funding and access to a network of investors (VCs and Angels), experienced entrepreneurs, and top executives, all to help you accelerate the success of your business.
Extreme Startups - The most prolific ecosystem for entrepreneurs
GrowLab : Accelerating Startups in Vancouver | Accelerate your start-up in Vancouver. Apply to Growlab
Aaltoes.com - Aalto Entrepreneurship Society
The BizSpark Plus Program is an extension of the BizSpark program, Microsoft's signature program for startups.
BizSpark Plus Program