Accelerator
Noodlecrumbs | All Ideas. BoomStartup Accelerator - Funding Mentorship Connections. Innovation Warehouse (IW) - the business growth platform in the City of London. Springboard. Acceleprise. Accelerator - Business Incubator in London | Greenstart. Dreamit Ventures. Seedcamp. Le Camping | Kick-off for Start-ups.
NewME Accelerator. HackFwd. Ventures - Cyhawk Ventures. Wahooly - Rewarding Influence. Hub Ventures. Andreessen Horowitz. Home | rockstart accelerator. About. FounderFuel is an intensive 12-week mentor-driven startup accelerator that will help your startup increase traction, secure partnerships, and get to revenue faster, all in an effort to help you raise follow-on funding.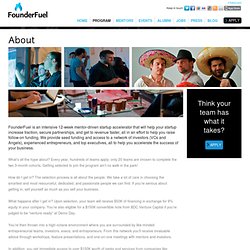 We provide seed funding and access to a network of investors (VCs and Angels), experienced entrepreneurs, and top executives, all to help you accelerate the success of your business. What's all the hype about? Every year, hundreds of teams apply; only 20 teams are chosen to complete the two 3-month cohorts. Getting selected to join the program ain't no walk in the park! How do I get in? Extreme Startups - The most prolific ecosystem for entrepreneurs. GrowLab : Accelerating Startups in Vancouver | Accelerate your start-up in Vancouver. Apply to Growlab.
Aaltoes.com - Aalto Entrepreneurship Society. BizSpark Plus Program. The Windows Azure for BizSpark Plus Offer helps cover a startup's cloud computing costs by providing a US $5K monthly credit on Windows Azure for 12 months.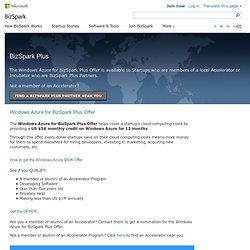 Through this offer, every dollar startups save on their cloud computing costs means more money for them to spend elsewhere for hiring developers, investing in marketing, acquiring new customers, etc. How to get the Windows Azure $60K Offer See if you QUALIFY: A member or alumni of an Accelerator Program Developing Software Less than five years old Privately Held Making less than US $1M annually.
---