Accelerator
Noodlecrumbs | All Ideas
BoomStartup Accelerator - Funding Mentorship Connections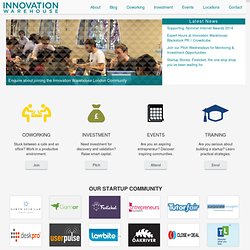 Innovation Warehouse (IW) - the business growth platform in the City of London
Enquire about joining the Innovation Warehouse London Community Startup Stories: Festicket, the one-stop shop you've been waiting for Pitch to us! Mentoring and Investment Opportunities for Startups Working together with the Information Technologists Company
Acceleprise
Accelerator - Business Incubator in London |
yerdle was launched on Black Friday 2012 with a simple premise – why buy new stuff when other people already have the stuff we need? The goal was audacious – shift 25% of consumption from new purchases to reuse over the next 10 years. The initial web launch proved that people would give and get stuff online without money. Yet, yerdle recognized that achieving their ambitious vision depended on doing something very hard – fundamentally changing the ingrained behavior of buying and selling goods.
Greenstart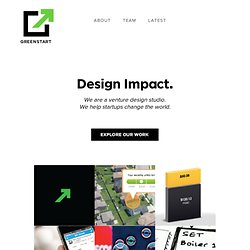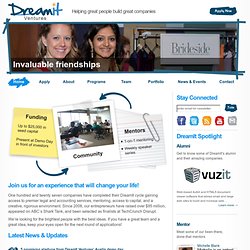 via Tom Cheredar of VentureBeat The second batch of companies to come out of DreamIt Ventures' Austin incubator program pitched to a full room of investors today. Nine companies presented as part of the demo day, which allotted founders seven minutes to make a convincing case for why their company will be successful. VentureBeat has rounded up the five most promising startups, which you can check out below.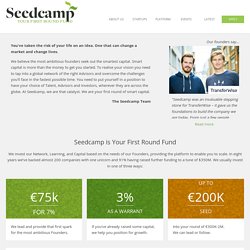 Seedcamp is Recruiting – Come Join our Awesome Team As many of you know Seedcamp has been a very lean operation from the earliest of days. We were 1 person, growing to 2 for a few years, and then became 4 recently.
Le Camping is the 1st startup accelerator in France and one of the main European leaders in the field. Its 4-month long very intensive program lifts young startups into accelerating their growth, expanding to an international level and meeting potential investors. At Le Camping, startup founders are not only constantly surrounded by talented mentors; they are also fully supported by a strong ecosystem really engaged in changing things as they are.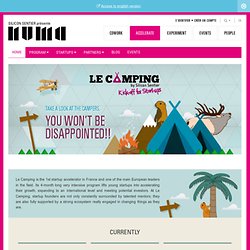 NewME Accelerator
Launched in June 2011, NewME speeds up your road to success by "digging in" and giving you the support you need to win. Our platform is a customizable way to plug into expertise, people, and resources right when you need it most. We transform cool ideas into great businesses. As a mission-driven company, accelerating underrepresented entrepreneurs around the world, our companies have raised over $9.3MM since our launch. Join in, on your terms… not theirs.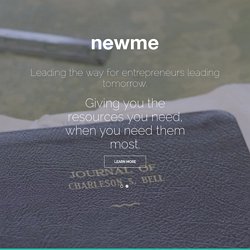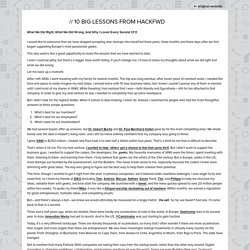 I would like to announce that we have stopped accepting new startups into HackFwd three years, three months and three days after we first began supporting Europe's most passionate geeks. This also seems like a great opportunity to share the lessons that we have learned to date. I wish I could be pithy, but there's a bigger story worth telling.
Ventures - Cyhawk Ventures
Hub Ventures
Photo: Ucumari BY SCOTT WEISS In many of the old war movies, every elite unit has at least one member that has the critical talent to make something out of nothing: the scrounge. You know this guy: when everyone is out of rations or ammunition and the truck is broken down, he quietly heads out. The next day, when all hope of completing the mission seems lost, the scrounge comes rolling up in a freshly repainted jeep, full rations, ammo, and, stereotypically, a case of cold beer. How did he do that? Where did it all come from?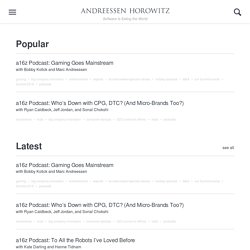 Andreessen Horowitz
About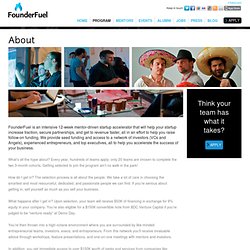 FounderFuel is an intensive 12-week mentor-driven startup accelerator that will help your startup increase traction, secure partnerships, and get to revenue faster, all in an effort to help you raise follow-on funding. We provide seed funding and access to a network of investors (VCs and Angels), experienced entrepreneurs, and top executives, all to help you accelerate the success of your business. What's all the hype about? Every year, hundreds of teams apply; only 20 teams are chosen to complete the two 3-month cohorts. Getting selected to join the program ain't no walk in the park! How do I get in?
Extreme Startups - The most prolific ecosystem for entrepreneurs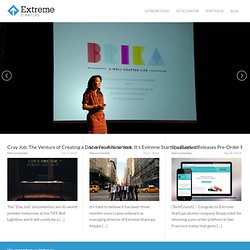 Menu Cray Job: The Venture of Creating a Doc on an Accelerator Marcus Daniels Oct 7, 2013 The "Day Job" documentary airs its world premier tomorrow at the TIFF Bell Lightbox and it will surely be a […] Live From New York, It's Extreme Startups Evolved
GrowLab : Accelerating Startups in Vancouver | Accelerate your start-up in Vancouver. Apply to Growlab
Aaltoes.com - Aalto Entrepreneurship Society
The Windows Azure for BizSpark Plus Offer helps cover a startup's cloud computing costs by providing a US $5K monthly credit on Windows Azure for 12 months. Through this offer, every dollar startups save on their cloud computing costs means more money for them to spend elsewhere for hiring developers, investing in marketing, acquiring new customers, etc. How to get the Windows Azure $60K Offer See if you QUALIFY: A member or alumni of an Accelerator Program Developing Software Less than five years old Privately Held Making less than US $1M annually
BizSpark Plus Program