Elements and trends paper
Apple and Closed Systems: Is Yesterday's Disadvantage Today's Advantage? When I began teaching software law in the 1980s, it seemed that there was a disproportionate number of cases involving Apple Computers (usually as the plaintiff).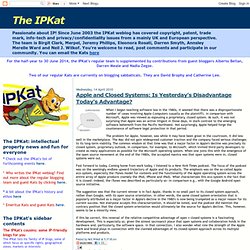 In comparison with Microsoft, Apple was viewed as espousing a proprietary, closed system. As such, it was not surprising that Apple was an active litigant in those days, in stark contrast to the emerging software behemoth from the Pacific Northwest. iPhone app plays flash video, but does it matter? Giz Explains: What's the Difference between GSM and CDMA? iPhone 4 vs. Droid X: A Head-to-Head Comparison - Page 2 - PCWorld. Retina display!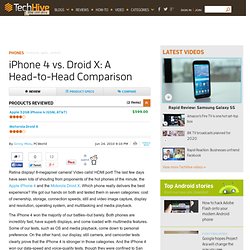 8-megapixel camera! Video calls! HDMI port! The last few days have seen lots of shouting from proponents of the hot phones of the minute, the Apple iPhone 4 and the Motorola Droid X. AT&T ads tout advantage over Verizon iPhone: Talking while browsing. iPhone Comparison Chart - iPhone Comparison - iPhone Features Comparison. Each successive generation of the iPhone has added new features and, in almost all cases, gotten better.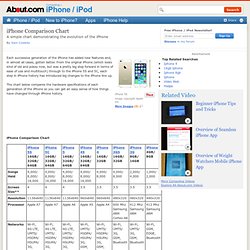 From the original iPhone (which looks kind of old and pokey now, but was a pretty big step forward in terms of ease of use and multitouch) through to the iPhone 5S and 5C, each step in iPhone history has introduced big changes to the iPhone line up. The chart below compares the hardware specifications of each generation of the iPhone so you can get an easy sense of how things have changed through iPhone history. Blog.netflix.com/2010/08/netflix-now-available-on-your-iphone.html.
Universal cell phone chargers coming soon | Mobile World Congress. Update: This story has been updated to clarify that Apple was not named in the list of handset makers that have agreed to use a new universal charger standard.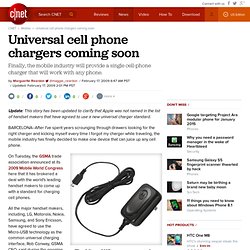 BARCELONA--After I've spent years scrounging through drawers looking for the right charger and kicking myself every time I forgot my charger while traveling, the mobile industry has finally decided to make one device that can juice up any cell phone. On Tuesday, the GSMA trade association announced at its 2009 Mobile World Congress here that it has brokered a deal with the world's leading handset makers to come up with a standard for charging cell phones.
All the major handset makers, including, LG, Motorola, Nokia, Samsung, and Sony Ericsson, have agreed to use the Micro-USB technology as the common universal charging interface, Rob Conway, GSMA CEO, said during the opening keynote speech Tuesday. By 2012, the GSMA promises, most cell phones will use the same kind of connector to charge their batteries. Verizon iPhone 4 preorders sell out on first day. By Josh Ong Initial demand for the Verizon iPhone is strong, as Apple and Verizon both appear to have run out of pre-sale stock of the new CDMA iPhone and are directing customers to wait until Feb. 9 to purchase the device online or Feb. 10 for in-store purchases.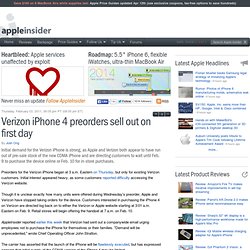 Preorders for the Verizon iPhone began at 3 a.m. Eastern on Thursday, but only for existing Verizon customers. Initial interest appeared heavy, as some customers reported difficulty accessing the Verizon website. How Many iPhones Have Been Sold Worldwide? Review: iPhone 3G Trades Battery Life for Interface, Software Awesomeness | Gadget Lab. iPhone 3G [Editor's note: We've spent an entire week testing every single nuance of the iPhone 3G and what follows is Wired's official, pull-no-punches, boiled-down, just-the-facts review.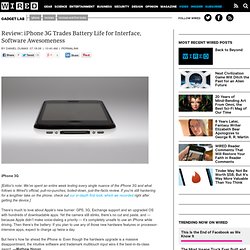 If you're still hankering for a lengthier take on the phone, check out our in-depth first look, which we recorded right after getting the device.] iPhone unlocked for other carriers: One method hardware-based, one software-based | iPhone Atlas. A Glen Rock teen has unlocked an iPhone for use on other carriers (he currently, allegedly, has it up and running on T-Mobile), posted instructions for doing so, and is selling the unlocked phone on eBay.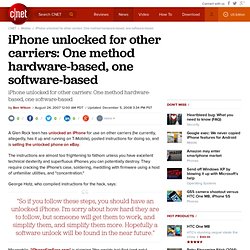 The instructions are almost too frightening to fathom unless you have excellent technical dexterity and superfluous iPhones you can potentially destroy. They require cracking the iPhone's case, soldering, meddling with firmware using a host of unfamiliar utilities, and "concentration. " George Hotz, who compiled instructions for the hack, says: "So if you follow these steps, you should have an unlocked iPhone. Apple's iPhone The Best-Selling Phone In U.S., Beats Motorola's Razr. iPhone More 'Intuitive' Than Other Devices, Usability Survey Shows -- iPhone -- InformationWeek. While some of the likes (music playing) were expected, there were some dislikes (Google Maps) that were a surprise, according to User Centric.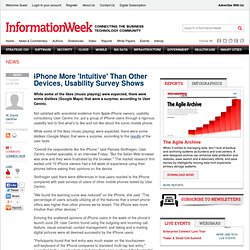 Not satisfied with anecdotal evidence from Apple iPhone owners, usability consultancy User Centric Inc. put a group of iPhone users through a rigorous usability test to find what's to like and not like about the iconic mobile phone. While some of the likes (music playing) were expected, there were some dislikes (Google Maps) that were a surprise, according to the results of the user tests. "Overall the respondents like the iPhone," said Pamela Stoffregen, User Centric market specialist, in an interview Friday. "But the Safari Web browser was slow and they were frustrated by the browser. " The market research firm waited until 10 iPhone owners had a full week of experience using their phones before asking their opinions on the device. Apple iPhone UI is so easy and intuitive even a baby can use it – seriously, a 1-year old baby. Apple's iPhone is a revolution.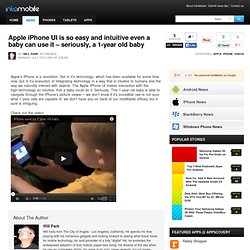 Not in it's technology, which has been available for some time now, but in it's execution of integrating technology in a way that is intuitive to humans and the way we naturally interact with objects. The Apple iPhone UI makes interaction with the high-technology so intuitive, that a baby could do it. Seriously. This 1-year old baby is able to navigate through the iPhone's picture viewer – we don't know if it's incredible (we're not sure what 1-year olds are capable of, we don't have any on hand at our IntoMobile offices) but it sure is intriguing. Check out the video! Apple iPhone Review. iPhone Privacy – Is your iPhone Spying on you? How to Fix it. Recently, there had been privacy concerns over Palm Pre.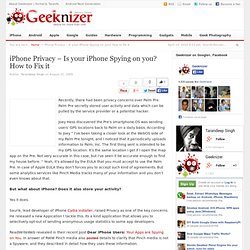 Palm Pre secretly stored user activity and data which can be pulled by the service provider or a potential hacker. Joey Hess discovered the Pre's smartphone OS was sending users' GPS locations back to Palm on a daily basis. According to Joey " I've been taking a closer look at the WebOS side of my Palm Pre tonight, and I noticed that it periodically uploads information to Palm, Inc. The first thing sent is intended to be my GPS location. iPhone's Impact on AT&T's Network. Estimating the Verizon iPhone Impact: Apple News, Tips and Reviews « Analysis: iPhone and the emergence of convergence | Phones. My comrades, welcome to the great day of the grand unification!
At last, all information will flow through the glorious Unity Pipeline to our homes and businesses! No more terrible decisions that rent nations apart, forced brother against brother, in choosing service plans! As you all well recall, the Great Sundering of the 1980s was finally made right on the first day of the New Devolution, which we count from Dec. 29, 2006, starting as Year 1 A.T. (ante telephonum). iPhone is the acid test for convergence - Patrick Dubroy's blog. January 10, 2007 ⋅ hci, design, usability ⋅ 2 Comments » I've had enough time now to wipe the drool off my keyboard and formulate some intelligent thoughts on the iPhone.
The iPhone is remarkable in a few different ways. Obviously the physical interface is big departure from the traditional cell phone interface. I'm not sure exactly how I feel about the touch screen, but if anyone can make it work, Apple can. To me though, the more interesting aspect is that it looks to be a make-or-break test for the theory of convergence. History of the iPhone. The Newton MessagePad was an early handheld device manufactured by Apple in the mid-1990s. Some of its concepts and functions have been incorporated into the iPhone. The history of the iPhone line of phones begins with a direction from Steve Jobs to Apple Inc.' S engineers, whereby he asked them to investigate touchscreens and a tablet computer, which later came to fruition with the iPad.[1][2][3][4] Also, many have noted the device's similarities to Apple's previous touch-screen portable device, the Newton MessagePad.[5][6][7][8] Like the Newton, the iPhone is nearly all screen.
Optimize your site for the iPhone.
---