Politics
Get flash to fully experience Pearltrees
A pair of House Democrats introduced legislation Tuesday to overturn the Supreme Court ' s 2010 Citizens United ruling that freed corporations to spend unlimited money on elections. Sponsored by Reps. John Conyers (Mich.), senior Democrat on the House Judiciary Committee, and Donna Edwards (D-Md.), the proposal would amend the Constitution to empower Congress and the states to limit corporate spending on political activities. " Last year, the Supreme Court overturned decades of law and declared open season on our democracy, " Conyers said in a news release. " It is individual voters who should determine the future of this nation, not corporate money. "
New Mexico Gov. Susana Martinez (R) New Mexico Gov. Susana Martinez (R) has long been known for her vitriolic rhetoric against undocumented immigrants.
The big Whitman-Brown California gubernatorial debate at Dominican College in San Rafael already has plenty of drama going — protesters from the California Nurses Association and other groups here in force. And Laura Wells, the Green Party candidate for governor, was arrested just minutes ago and put into a patrol car. Marnie Glickman, the spokeswoman for Wells, said that the two had tickets to the debate and were entering Angelico Hall, when they were pulled aside by authorities. She said that they were told that they could not enter because of her status as a gubernatorial candidate. Comrade Garofoli notes that "of course, this being the Bay Area, this isn't the first time that a Green Party candidate got arrested outside a major office debate.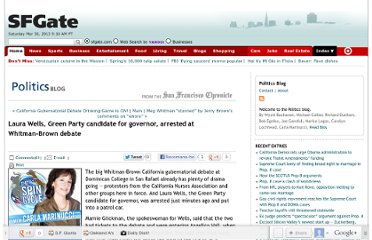 Democratic governor fires top environment official for not fast-tracking coal plant permit Kansas Environment Secretary Fired for Not Fast-Tracking Coal Plant Permit Apparently in Kansas, regulating coal-fired power plants is not what the state's top environment official is supposed to do.