Misc.
4 March 2014Last updated at 01:21 GMT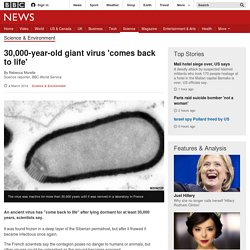 News - 30,000-year-old giant virus 'comes back to life'
10 Vestigial Traits You Didn't Know You Had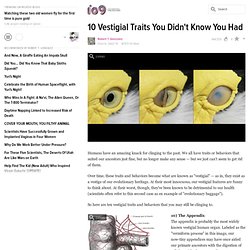 SExpand Humans have an amazing knack for clinging to the past. We all have traits or behaviors that suited our ancestors just fine, but no longer make any sense — but we just can't seem to get rid of them. Over time, these traits and behaviors become what are known as "vestigial" — as in, they exist as a vestige of our evolutionary heritage.
Bionic hand allows amputee to feel again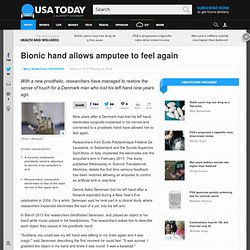 Nine years after a Denmark man lost his left hand, electrodes surgically implanted in his nerves and connected to a prosthetic hand have allowed him to feel again.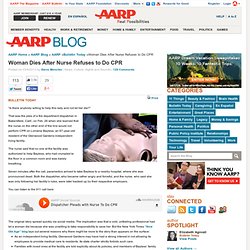 Bulletin Today | News Roundups
Woman Dies, Nurse Refuses to Give CPR, Independent Living Community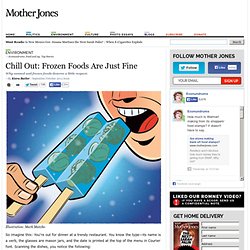 Chill Out: Frozen Foods Are Just Fine
Illustration: Mark Matcho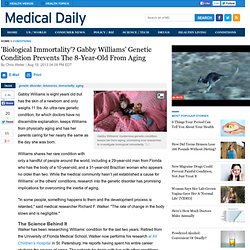 8-Year Old Doesn't Age Due to Rare Condition
Gabby Williams is eight years old but has the skin of a newborn and only weighs 11 lbs. An ultra-rare genetic condition, for which doctors have no discernible explanation, keeps Williams from physically aging and has her parents caring for her nearly the same as the day she was born. Williams shares her rare condition with only a handful of people around the world, including a 29-year-old man from Florida who has the body of a 10-year-old, and a 31-year-old Brazilian woman who appears no older than two.
State of U.S. health 'mediocre': report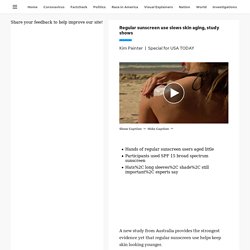 A new skin study published in the Annals of Internal Medicine confirms what doctors have long preached. Daily, year-round sunscreen use can significantly slow the skin's aging process by as much as 24 percent. (June 3) A new study from Australia provides the strongest evidence yet that regular sunscreen use helps keep skin looking younger. While dermatologists have long believed sunscreen fights wrinkling, the study published Monday in the Annals of Internal Medicine is the first to demonstrate it in a years-long human trial.
Regular sunscreen use slows skin aging, study shows
Colorado marijuana regulations signed into law
DENVER (AP) — A set of laws to govern how recreational marijuana should be grown, sold and taxed was signed into law Tuesday in Colorado, where Democratic Gov. John Hickenlooper called the laws the state's best attempt to navigate the uncharted territory of legalized recreational pot. The laws cover how the drug should be raised and packaged, with purchasing limits for out-of-state visitors and a new marijuana driving limit as an analogy to blood alcohol levels. Hickenlooper didn't support marijuana legalization last year, but he praised the regulatory package as a good first crack at safely overseeing the drug. "Recreational marijuana is really a completely new entity," Hickenlooper said, calling the pot rules "commonsense" oversight, such as required potency labeling and a requirement that marijuana is to be sold in child-proof opaque packing with labels clearly stating the drug may not be safe. Colorado voters approved recreational marijuana as a constitutional amendment last year.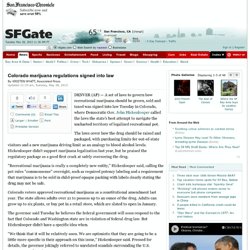 Family Medical Costs Still Rising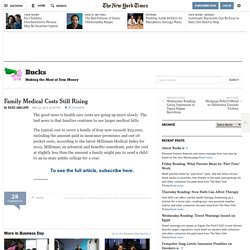 The good news is health care costs are going up more slowly. The bad news is that families continue to see larger medical bills. The typical cost to cover a family of four now exceeds $22,000, including the amount paid in insurance premiums and out-of-pocket costs, according to the latest Milliman Medical Index for 2013. Milliman, an actuarial and benefits consultant, puts the cost at slightly less than the amount a family might pay to send a child to an in-state public college for a year.
By Robert Christie | May 14, 2013 08:48 AM EDT 39-year old Colin Fielder from Victoria, Australia was clinically dead for 40 minutes—that is until a new resuscitation technique from The Alfred Hospital in Melbourne brought him back to life (Photo : REUTERS/Ivan Alvarado) 39-year old Colin Fielder from Victoria, Australia was clinically dead for 40 minutes—that is until a new resuscitation technique from The Alfred Hospital in Melbourne brought him back to life, according to Herald Sun . The new technique is one of two being performed by the hospital.
Australian Man Dead for 40 Minutes Brought Back to Life By New Resuscitation Technique : News : Headlines & Global News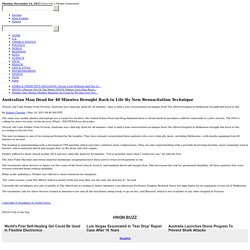 At the Human Performance Institute, Division of Wellness and Prevention, Inc., in Orlando, FL, our clients are high-performing professionals from a variety of industries. These men and women face incessant demands on their time, along with the pressure to perform at high levels and balance their careers and personal lives. From our work with elite performers, we have learned that managing energy is the key to sustaining high performance. However, when facing seemingly infinite demands, one's ability to manage and expand physical energy can be severely compromised.
HIGH-INTENSITY CIRCUIT TRAINING USING BODY WEIGHT: Maximum R... : ACSM's Health & Fitness Journal
13 May 2013Last updated at 13:00 GMT Over 2 billion people worldwide already supplement their diet with insects Eating more insects could help fight world hunger, according to a new UN report.
UN urges people to eat insects to fight world hunger
As part of the Obama administration's work to make our health care system more affordable and accountable, data are being released that show significant variation across the country and within communities in what providers charge for common services. These data include information comparing the charges for the 100 most common inpatient services and 30 common outpatient services. Providers determine what they will charge for items and services provided to patients and these charges are the amount the providers bill for an item or service. Please use the navigation bar to the left to view more information on the inpatient and outpatient analyses and to access the data for download. Data are being made available in Microsoft Excel (.xlsx) format and comma separated values (.csv) format.
Medicare Provider Charge Data - Centers for Medicare & Medicaid Services
Cut salt, add potassium, live longer, researchers say
If people cut their salt intake and increased their intake of potassium by eating more fruits and vegetables, millions of lives around the world could be saved every year, says research out today. These dietary changes would lower people's blood pressure, which would reduce their risk of having a stroke or heart attack, according to the findings published on bmj.com. To take an in-depth look at the topic, British researchers and other experts from around the world analyzed dozens of international studies on salt and potassium and high blood pressure. High blood pressure is defined as a reading greater than or equal to 140/90. STORY: High salt intake linked to high blood pressure in kids STORY: Millions of people don't have their blood pressure under control
Corrections Appended: February 26 and March 12, 2013 1. Routine Care, Unforgettable Bills When Sean Recchi, a 42-year-old from Lancaster, Ohio, was told last March that he had non-Hodgkin's lymphoma, his wife Stephanie knew she had to get him to MD Anderson Cancer Center in Houston.
Bitter Pill: Why Medical Bills Are Killing Us
FDA Requires Lower Doses for Sleep Drugs
US teen invents advanced cancer test using Google
New technology can print 3D blood vessels in mere seconds , AniNews.in
m3rat2WcOE1qeqr1mo1_1280.png (643×1920)
Testicles Of Yogurt-Eating Mice Shown Bigger, And Researchers Credit Probiotics
Chocolate Can Make You Thinner
Music training has biological impact on aging process
Susan G. Komen Pink Slips Planned Parenthood -- Who, What And Why?
Migration in America: The Great Human Capital Swap-Meet
Mystery skin disease Morgellons has no clear cause, CDC study says
Lifetime Medical Costs of Obesity: Prevention No Cure for Increasing Health Expenditure
High Fructose Corn Syrup By Any Other Name
Controversial BPA found in canned kids' foods - Health - Children's health
Radiation Overdose at the Airport
Edmonton - Study finds no cancer link with kids, cellphones - CTV News
South Korean scientists create glowing dog - report | Oddly Enough
Study Finds Benefits in Health Insurance for the Poor
Food Freezing Technology Preserves Human Teeth. Organs Next?
Ranking 37th — Measuring the Performance of the U.S. Health Care System | Health Policy and Reform
Ranking 37th — Measuring the Performance of the U.S. Health Care System | Health Policy and Reform
Cancer death rate gap widens based on education
Watching 'Jersey Shore' might make you dumber, study suggests
Why 'diet' food is so unsatisfying
Study: New discovery on how infertility occurs - and why caffeine plays a role - National Health News
Research holds promise of harnessing life-extending benefits of spartan diet -- on a full stomach
Praise the lard? Study links church to obesity - Health - Diet and nutrition
England 'healthier than the US'
A cure for the common cold may finally be achieved as a result of a remarkable discovery in a Cambridge laboratory - Science, News
Common weed petty spurge 'could treat' skin cancer
Life Expectancy Gains in U.S. Fail to Keep Pace With Peers
Vaccine study's author held related patent, medical journal reports
What the U.S. Can Learn from the Dutch About Teen Sex – TIME Healthland
Ecuadorean Villagers May Hold Secret to Longevity
Most Pesticide Laden Produce of 2010
Health | Masturbation 'cuts cancer risk'
Insurance commissioners to vote on medial loss ratio rule - Oct. 18, 2010