Meanwhile in the Bible Belt...
Black and white students at Wilcox County High School in south Georgia aren't allowed to go to the same prom.
Georgia Teens Fight for Racially Integrated Prom Because It's 2013, for Chrissakes
After Arkansas Republicans disavowed a book by state representative Jon Hubbard (R-AR) claiming slavery was "a blessing in disguise" for African Americans, Hubbard's colleague, state Rep.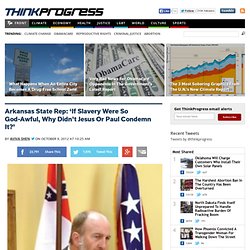 Arkansas State Rep: 'If Slavery Were So God-Awful, Why Didn't Jesus Or Paul Condemn It?'
The city of Gretna is the parish seat of Jefferson Parish, Louisiana , USA. [ 2 ] [ 3 ] Gretna is on the west bank of the Mississippi River , just east and across the river from uptown New Orleans .
Gretna, Louisiana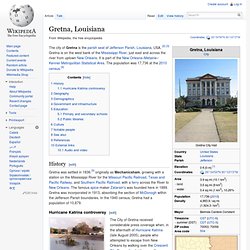 qaROY.png (1871×810)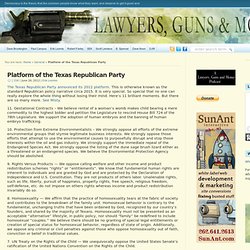 Platform of the Texas Republican Party
The Texas Republican Party announced its 2012 platform .
RICHMOND HEIGHTS, Mo. — Family members have hired an attorney after a homeless relative seeking treatment for a sprained ankle refused to leave a St. Louis hospital, was arrested for trespassing and then died in a jail cell.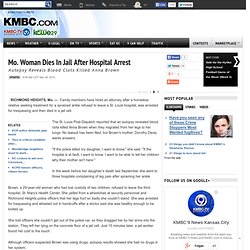 Mo. Woman Dies In Jail After Hospital Arrest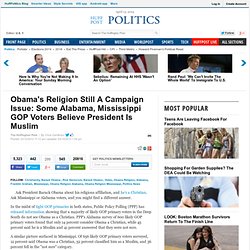 Ask President Barack Obama about his religious affiliation, and he's a Christian . Ask Mississippi or Alabama voters, and you might find a different answer.
Obama's Religion Still A Campaign Issue: Many Alabama, Mississippi Voters Believe President Is Muslim
The Dancing Boys Of Afghanistan | FRONTLINE
2UGFh.jpg (JPEG Image, 2676 × 4041 pixels) - Scaled (5
The home in Dayton, Texas. where 11 children were taken into Child Protective Services custody last month is seen in a Tuesday, Feb. 21, 2012 photo. / Johnny Hanson,AP Photo/Houston Chronicle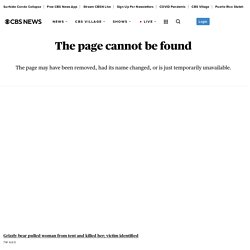 Authorities: 11 children removed from Texas home were restrained, confined to dark bedroom - Crimesider
Grandmother, stepmother charged in death of Ala. girl forced to run as punishment - Crimesider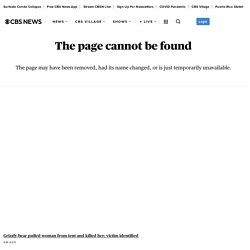 Savannah Hardin / AP Photo/Etowah County Sheriffs Office (CBS/AP) ATTALLA, Ala. - Authorities in northeastern Alabama say a 9-year-old girl died after she was forced to run for three hours as punishment for having lied to her grandmother about eating candy bars.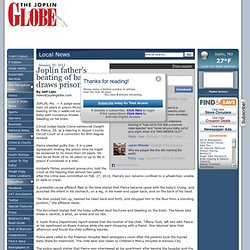 Joplin father's beating of baby draws prison term
JOPLIN, Mo. — A judge assessed a Joplin man 20 years in prison Monday for a violent beating of his 2-week-old son that left the baby with numerous broken bones and bleeding on his brain.
One Per Cent: FBI releases plans to monitor social networks
Jim Giles, consultant UPDATE: The FBI refused to answer specific questions from New Scientist, but did provide a statement on the scope and legality of the software it wishes to build: "The intent is to view publicly available open source, non-private social data that is readily available on the open internet.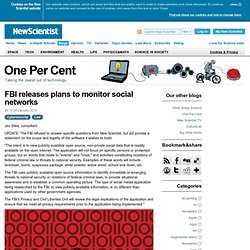 Tennessee state representative Richard Floyd Poll Should K-8 teachers be allowed to discuss homosexuality with students?
Anti-gay bill and Rep. Richard Floyd's remarks draw fire in Nashville
Mississippi amendment on 'personhood' divides Christians
NOTE: This post includes substantial material published earlier on this blog. It is published here as the electronic version of today's AJC column. After enacting House Bill 87, a law designed to drive illegal immigrants out of Georgia, state officials appear shocked to discover that HB 87 is, well, driving a lot of illegal immigrants out of Georgia.
Ga's farm-labor crisis playing out as planned | Jay Bookman
Judge blocks parts of Texas abortion law on sonograms
This year, the Georgia legislature considered a bill that would require women to prove their miscarriages "occurred naturally" and weren't secret abortions.
Pregnant Women Who Lose Babies Face Criminal Charges In Mississippi, Alabama
The death toll approached 300 on Thursday as rescuers dug through rubble from Mississippi to Virginia in the nation's deadliest natural disaster since Hurricane Katrina.
Nation & World | South staggers from deadliest natural disaster since Katrina
Katrina: August 29, 2005 – a Natural Disaster - The Los Angeles Sentinel
Mississippi River flooding: After levee blast, threat shifts to Memphis
An emergency procedure intended to prevent the Mississippi and Ohio Rivers from flooding several river towns appears to be working Tuesday, as river levels have fallen more than a foot. However, water levels are rising as far south as Memphis, Tenn. , where heavy rainfall could contribute to a river crest of 48 feet next Tuesday. Skip to next paragraph
Statistics and the South
9 Bills That Would Put Creationism in the Classroom
Missouri Legislature Poised To Repeal Puppy Mill Cruelty Prevention Referendum
SB222 - Modifies the child labor laws