Marijuana/Drug Legalization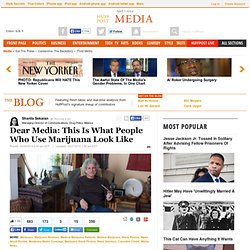 Global political and business leaders are talking seriously about ending marijuana prohibition everywhere from D.C. to Davos. Recent polls say a majority of Americans are in favor of legalizing marijuana -- and not just in the states you'd expect but even in Missouri, Indiana, Texas, Florida and Louisiana. In Washington State, Colorado and the country of Uruguay, marijuana is now legally regulated -- not to mention the twenty states and D.C. that have implemented medical marijuana laws since 1996. It would seem that marijuana has finally entered the mainstream of U.S. and international politics. However, someone has neglected to tell the many news outlets that continue to recycle the same old "Cheech & Chong" images that should have been retired decades ago. After all, half of American adults have tried marijuana and they can't possibly all look like stoner stereotypes.
Dear Media: This Is What People Who Use Marijuana Look Like | Sharda Sekaran
If you are pulled over on suspicion of drunken driving, the police officer is likely to ask you to complete three tasks: Follow a pen with your eyes while the officer moves it back and forth; get out of the car and walk nine steps, heel to toe, turn on one foot and go back; and stand on one leg for 30 seconds. Score well on all three of these Olympic events, and there's a very good chance that you are not drunk. This so-called standard field sobriety test has been shown to catch 88 percent of drivers under the influence of alcohol.
Driving Under the Influence, of Marijuana
Here's An Updated Tally Of All The People Who Have Ever Died From A Marijuana Overdose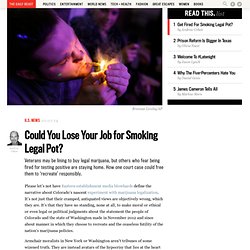 Could You Lose Your Job for Smoking Legal Pot?
Introducing "The Stacks" As we enjoy the current wave of expansive non-fiction writing—call it longform, takeouts, bonus pieces, what's in a name?—now is a fine time to revive stories that have been lost to us. Stories that are tucked away from our consciousness simply because they don't exist online, not because they don't hold up as pieces of writing.
Here Are All The People Who Have Died From A Marijuana Overdose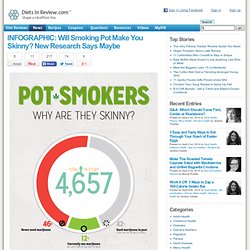 As seen at Number 1 on Visual.ly! Embed This Graphic! More than 4,600 people participated in the study. Waist circumference and other weight-related factors were assessed in those who currently are marijuana users, those who used but don't anymore, and those who never used.
Infographic - Why Are Pot Smokers Skinny? New Research on Weight & Marijuana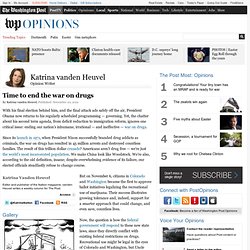 But on November 6, citizens in Colorado and Washington became the first to approve ballot initiatives legalizing the recreational use of marijuana. Their success illustrates growing tolerance and, indeed, support for a smarter approach that could change, and even save, countless lives. Now, the question is how the federal government will respond to these new state laws, since they directly conflict with existing federal restrictions on drugs.
Katrina vanden Heuvel: Time to end the war on drugs
Brits Want Marijuana Reforms, Drug Policy Review
According to a new Ipsos Mori poll, a majority of Britons favor either decriminalizing or legalizing marijuana and two-thirds support a comprehensive review of all the options for controlling drugs, from legalization to tougher enforcement. The poll found that 53% of those surveyed supported either decriminalization or one form or another of legalization. Legalization, whether under "strict," "moderate," or "minimal" control, was supported by 41%, and decriminalization by 12%. Only 35% favored the status quo (21%) or harsher treatment of marijuana (14%). Eight percent had no opinion and 4% said "I have never heard of this drug." Britain down-scheduled marijuana from a Class B to a Class C drug in 2004, but reversed course in 2008, placing it back on the more serious Class B amid rising fears of the dangers of "skunk" marijuana, Britain's generic term for high-potency, domestically-produced weed.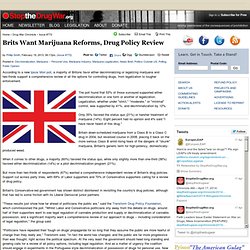 Homegrown. While the Obama administration is deliberating how to handle the newly approved marijuana legalization laws in Colorado and Washington State, one thing they will likely pay attention to is popular opinion. Regular Americans overwhelmingly see marijuana legalization as a states' rights issue and do not want the federal government to interfere with the will of the electorate in either state. A new Reason-Rupe Public Opinion poll found a majority of Americans do not want federal resources used to inhibit any aspects of the new legal marijuana system in these two states. The poll found 72 percent don't want the federal government to arrest people for using marijuana in these states, while only 24 percent want federal law enforcement deployment.
Americans Overwhelmingly Want Feds to Let States Move Forward With Marijuana Legalization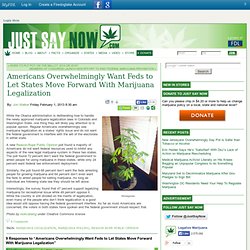 Molly Davies: A Letter to the President: My Husband Is Not the "Bigger Fish to Fry" in Your Drug War
President Barack Obama The White House 1600 Pennsylvania Avenue, NW Washington, DC 20500 Dear Mr. President: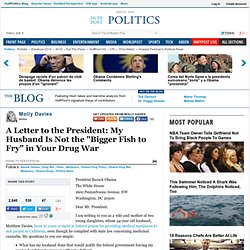 Washington state lights up as smoking marijuana becomes legal
Maria Santos Gorrostieta had been stabbed, beaten and burnedShe defied Mexico's powerful drug gangs, who twice tried to gun her downShe was kidnapped in broad daylight in front of her terrified daughter The former mayor leaves behind three children By Sam Webb PUBLISHED: 11:15 GMT, 26 November 2012 | UPDATED: 21:23 GMT, 26 November 2012 Brave: Dr Maria Santos Gorrostieta has been found beaten to death at the side of a road.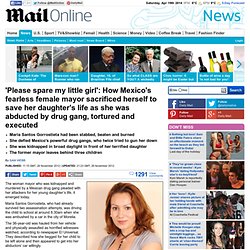 Maria Santos Gorrostieta 'executed' after surviving two assassination attempts
'The Fight Over Medical Marijuana'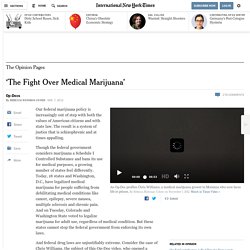 By Rebecca Richman Cohen The Fight Over Medical Marijuana: An Op-Doc profiles Chris Williams, a medical marijuana grower in Montana who now faces life in prison. Though the federal government considers marijuana a Schedule I Controlled Substance and bans its use for medical purposes, a growing number of states feel differently.
The Department of Justice's Office of Inspector General (OIG) released an audit of Drug Enforcement Administration (DEA) adoptive seizure process and equitable sharing requests. A couple of quick notes: 1.) Of instances involving federal adoption of assets seized, 65% of reported samples [41 of the 63 examined samples] required DEA headquarter approval to adopt the seizure because the instance lacked all of the following criteria:
OIG releases an audit of DEA adoptive seizure process and equitable sharing requests.
Texans can sleep more soundly at night knowing that Elisa Castillo, a grandmother and nonviolent first-time drug offender, is serving a life without parole sentence in Fort Worth. Yes, you read that right — the latest casualty of our War on Drugs is a grandmother who never even touched the drugs that sent her to prison. Though she may not look like public enemy No. 1, our persistently illogical criminal justice system has determined that this harsh punishment fits her crime. The truth, though, is that her fate was sealed, in large part because she didn't have a card to play when negotiating her sentence. Convicted in a drug-smuggling conspiracy, 56-year-old Castillo maintains that she didn't know she was being used as a pawn in a cocaine trafficking operation between Mexico and Houston.
Without a Card to Play, Texas Grandma Sentenced to Life Without Parole for First-Time Drug Offense
<p class="nojs"><strong>Warning:</strong> The NCBI web site requires JavaScript to function. <a href="http://www.ncbi.nlm.nih.gov/corehtml/query/static/unsupported-browser.html#enablejs" title="Learn how to enable JavaScript" target="_blank">more...</a></p> Sign in to NCBI PubMed US National Library of Medicine National Institutes of Health
Residual Effects of Cannabis Use on... [Exp Clin Psychopharmacol. 2012
Feds raid four reservation smoke shops
TONAWANDA RESERVATION (WIVB) - Agents seized thousands of dollars in merchandise in Thursday's early morning raids at the Tonawanda Seneca Reservation. Cigarettes in bags, counterfeit purses, and synthetic drugs all were seized from four smoke shops on the reservation. We tried finding information out from The Rez smoke shop, but as soon as we pulled in, the general manager walked out and said, "Yes, they were here, the ATF was here, but right now we're not speaking, if you want to leave your card." Fderal agents served search warrants on The Rez, ArrowHawk, Sacajawea, and Smoke Rings. From all four, DEA agents took away what they believe to be synthetic drugs. Resident DEA agent Dale Kasprzyk said, "The brand names are K-2, Spice, White Rhino, there's a variety of trademark names that they use.
"The House I Live In": New Documentary Exposes Economic, Moral Failure of U.S. War on Drugs
This is a rush transcript. Copy may not be in its final form. AMY GOODMAN: As the Republican presidential candidates challenge President Obama with competing visions for how to improve the struggling U.S. economy, a new documentary questions the amount of money this country spends on the so-called "war on drugs." Over the last 40 years, more than 45 million drug-related arrests have cost an estimated $1 trillion.
The Neuroscience of Pot: Researchers Explain Why Marijuana May Bring Serenity Or Psychosis
Light Pot Smoking Easy On Lungs
Parents' Minor Marijuana Arrests Lead to Child Neglect Cases
Gary Johnson: Yes, It Is time for Pot Legalization, Mr. President
Legalizing Marijuana Could Save Thousands of Lives - Megan McArdle - Business
Mexican crook: Gangsters arrange fights to death for entertainment | Top Story | Chron.com
Global war on drugs 'has failed' say former leaders
Olbermann Departs: Extreme Right 3, American People 0
David Henry Sterry: Mexican Drug Lord Officially Thanks American Lawmakers for Keeping Drugs Illegal
Harm reduction: Fighting drugs through jujitsu
McLean Hospital | News & Information : Press Releases
Former surgeon general calls for marijuana legalization
LA Sheriff Pledges to Bust People for Pot Even If Marijuana Is Legalized in California | Drugs