Environment
An Open Source Plastic-Recycling Machine, From the Inventor of Phonebloks | Design. Last fall, Dutch designer Dave Hakkens released Plonebloks, a concept for a modular phone that set the internet on fire.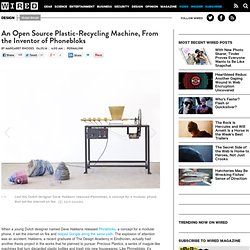 Dave Hakkens Hakkens, a recent graduate of The Design Academy in Eindhoven, actually had another thesis project that year: Precious Plastics. The series of magpie-like machines turn discarded plastic bottles and trash into new housewares. Precious Plastic consists of a shredder, plus three different kinds of small-scale manufacturing machines: a rotational molding device, an extrusion machine, and an injection molding machine.
Hakkens built them all from sheet metal and scrap parts. Big Freeze Triggered by Flood Path Reckon Climate Scientists : environment : NatureWorldNews. Nov 13, 2012 12:56 AM EST Scientists have come up with an explanation for the 1200-year-long ice up also called the big freeze, the last major cold age on Earth.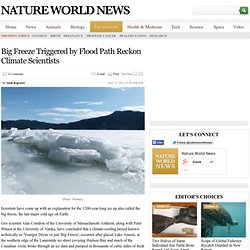 Geo scientist Alan Condron of the University of Massachusetts Amherst, along with Peter Winsor at the University of Alaska, have concluded that a climate-cooling period known technically as 'Younger Dryas' or just 'Big Freeze', occurred after glacial Lake Arassiz, at the southern edge of the Laurentide ice sheet covering Hudson Bay and much of the Canadian Arctic broke through an ice dam and pumped in thousands of cubic miles of fresh water into the ocean. "This episode was the last time the Earth underwent a major cooling, so understanding exactly what caused it is very important for understanding how our modern-day climate might change in the future," says Condron.
The flood flowed north into the Arctic down the Mackenzie River valley first. US Solar. Carbon emissions 'will defer Ice Age' 9 January 2012Last updated at 06:20 By Richard Black Environment correspondent, BBC News The climate, if not species, of an Ice Age "ought" to return within 1,500 years Human emissions of carbon dioxide will defer the next Ice Age, say scientists.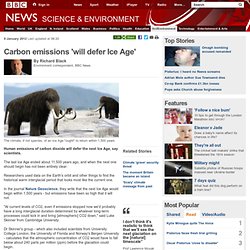 The last Ice Age ended about 11,500 years ago, and when the next one should begin has not been entirely clear. Climate Change: Study Says Dire Warnings Fuel Skepticism. While researching a feature for TIME.com recently, I had the chance to sift through TIME's decades of environment coverage.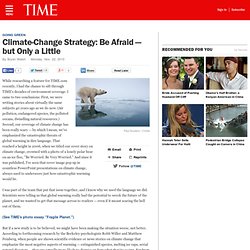 I came to two conclusions: First, we were writing stories about virtually the same subjects 40 years ago as we do now. (Air pollution, endangered species, the polluted oceans, dwindling natural resources.) Second, our coverage of climate change has been really scary — by which I mean, we've emphasized the catastrophic threats of global warming in dire language. Report: 97 percent of scientists say man-made climate change is real - Science Fair: Science and Space News.
Updated 2010-06-22 5:43 PM Forget the four out of five dentists who recommend Trident….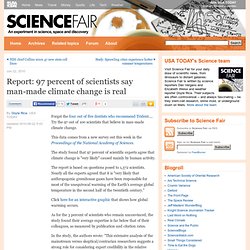 Try the 97 out of 100 scientists that believe in man-made climate change. This data comes from a new survey out this week in the Proceedings of the National Academy of Sciences. The study found that 97 percent of scientific experts agree that climate change is "very likely" caused mainly by human activity. The report is based on questions posed to 1,372 scientists. Old Military Planes to Drop 900,000 Tree-Bombs a Day. Image: a C-130 Hercules dropping something other than tree-bombs.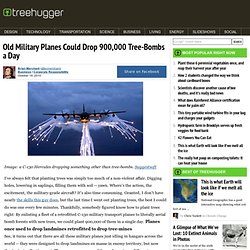 Suggestsoft I've always felt that planting trees was simply too much of a non-violent affair. Digging holes, lowering in saplings, filling them with soil -- yawn. Wik-Bee Leaks: EPA Document Shows It Knowingly Allowed Pesticide That Kills Honey Bees. The world honey bee population has plunged in recent years, worrying beekeepers and farmers who know how critical bee pollination is for many crops.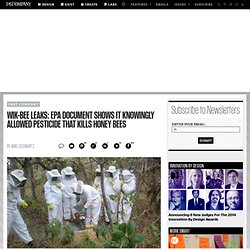 A number of theories have popped up as to why the North American honey bee population has declined--electromagnetic radiation, malnutrition, and climate change have all been pinpointed. Now a leaked EPA document reveals that the agency allowed the widespread use of a bee-toxic pesticide, despite warnings from EPA scientists. The document, which was leaked to a Colorado beekeeper, shows that the EPA has ignored warnings about the use of clothianidin, a pesticide produced by Bayer that mainly is used to pre-treat corn seeds. Climate Change Debate Unfolded. I intend to come back to this strip and rewrite some of the first half, in order to make the science clearer.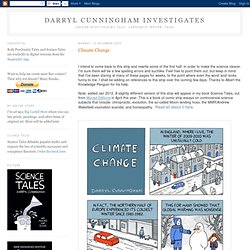 I'm sure there will be a few spelling errors and suchlike. Feel free to point them out, but keep in mind that I've been staring at many of these pages for weeks, to the point where even the word 'and' looks funny to me. I shall be adding on references to this strip over the coming few days.
---