Christianity
"The Revisionaries": Texas schoolbook battle — crazier than you thought!
Don McLeroy is a dentist in suburban Texas with the geeky, earnest manner of an American guy who has educated himself, however imperfectly, on a wide variety of topics. With his balding pate and high-waisted, pleated slacks, he makes Ned Flanders from "The Simpsons" look like Mick Jagger, circa 1969.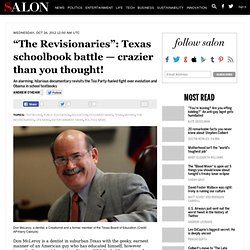 Calif. churches ask court to restore nativity displays
A federal judge Monday denied a bid by churches to force Santa Monica to reopen spaces in a city park to private displays, including life-sized Christmas Nativity scenes. The city shut down the six-decade tradition last year after a bitter dispute between religious groups and atheists , who overwhelmed the city's auction process for display sites, winning most of the 21 slots. U.S.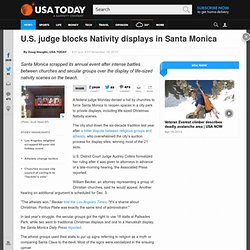 vRgib.png (762×721)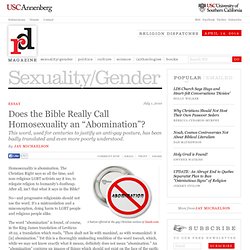 Does the Bible Really Call Homosexuality an "Abomination"? | Sexuality/Gender
Homosexuality is abomination. The Christian Right says so all the time, and non-religious LGBT activists say it too, to relegate religion to humanity's dustheap. After all, isn't that what it says in the Bible?
ubPQC.gif (476×8467)
2012-05-16.jpg (922×880)
How the Christian Right's Homophobia Scares Away Religious Young People | Belief
May 16, 2012 |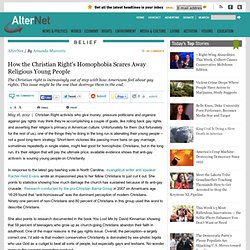 Archbishop Gianfranco Ravasi, head of the Pontifical Council for Culture, said while the Church had been hostile to Darwin's theory in the past, the idea of evolution could be traced to St Augustine and St Thomas Aquinas.
The Vatican claims Darwin's theory of evolution is compatible with Christianity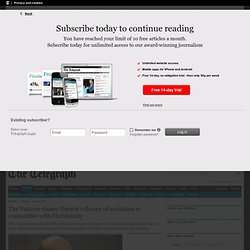 6m32D.png (PNG Image, 1280 × 720 pixels)
You Say, God Says...
September 8, 2011 | Like this article?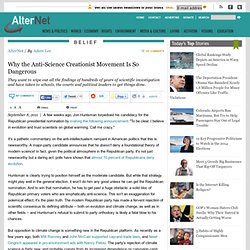 Why the Anti-Science Creationist Movement Is So Dangerous | Belief
6lpph.jpg (JPEG Image, 580x709 pixels)
_lnlyf1I3Uy1qbqt8go1_500.jpg (JPEG Image, 500x338 pixels)
The Treaty of Tripoli ( Treaty of Peace and Friendship between the United States of America and the Bey and Subjects of Tripoli of Barbary ) was the first treaty concluded between the United States of America and Tripolitania , signed at Tripoli on November 4, 1796 and at Algiers (for a third-party witness) on January 3, 1797. It was submitted to the Senate by President John Adams , receiving ratification unanimously from the U.S. Senate on June 7, 1797 and signed by Adams, taking effect as the law of the land on June 10, 1797.
Treaty of Tripoli - America NOT a Christian nation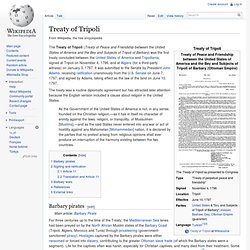 Friendly Atheist » Which States Ban Atheists from Holding Public Office?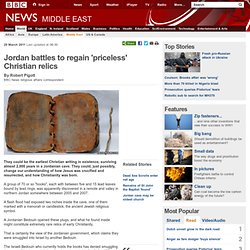 Jordan battles to regain 'priceless' Christian relics
29 March 2011 Last updated at 01:30 ET By Robert Pigott BBC News religious affairs correspondent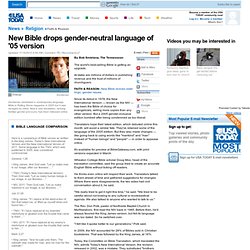 New Bible drops gender-neutral language of '05 version
By Bob Smietana, The Tennessean
Nailed: Ten Christian Myths That Show Jesus Never Existed at All
Did Jesus really exist?
Spiritually Unfit- FORCED to hear about Jesus from Chaplains | Rock Beyond Belief
I just received this chilling letter from a Soldier who recently took the mandatory Soldier Fitness Tracker test, shared to me with permission, from the Military Religious Freedom Foundation ( MRFF ). The name has been withheld out of fear, but I'm assured that this matter is being worked very hard.
Robert Bentley, the new Republican governor of Alabama, delivered an oddly exclusionary message on Martin Luther King Jr.
Governor: Only Christians are my brothers - War Room
Relevant
As a predominantly Christian people, Westerners think they know the Bible pretty well.
Meanwhile in the Bible Belt...