China
Hong Kong's cage homes: Tens of thousands living in 6ft by 2ft rabbit hutches. By Damien Gayle Updated: 15:16 GMT, 11 January 2012 Hong Kong, one of the world's richest cities, is abuzz with a luxury property boom that has seen homes exchanged for record sums.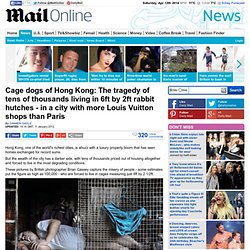 But the wealth of the city has a darker side, with tens of thousands priced out of housing altogether and forced to live in the most degrading conditions. These pictures by British photographer Brian Cassey capture the misery of people - some estimates put the figure as high as 100,000 - who are forced to live in cages measuring just 6ft by 2 1/2ft. Yan Chi Leung is mentally ill and lives in the 6ft by 2.5ft wire cage at the bottom of this stack of three Kong Sui Kao, 64, sits in his home in a room with 19 other cages.
China paper tells U.S. not to play with fire over Taiwan. Ex-Bush Official Col. Lawrence Wilkerson: "I am Willing to Testify" If Dick Cheney is Put on Trial. This is a rush transcript.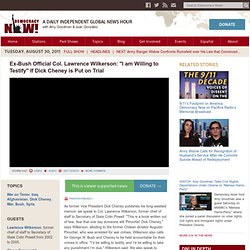 Copy may not be in its final form. AMY GOODMAN: Today marks the official launch of one of most anticipated memoirs of any top Bush administration official. I'm talking about former Vice President Dick Cheney's 576-page memoir, In My Time: A Personal and Political Memoir. China announces plans to boost secret detention powers. Top Chinese gymnast found begging on the street. Car Accidents | China | Economy. Please support our site by enabling javascript to view ads.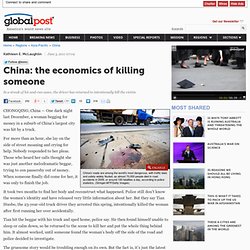 CHONGQING, China — One dark night last December, a woman begging for money in a suburb of China's largest city was hit by a truck. For more than an hour, she lay on the side of street moaning and crying for help. Tiananmen protesters still jailed in China, 22 years on. By Sui-Lee Wee BEIJING, June 3 (Reuters) - Twenty-two years after China's bloody crackdown on pro-democracy protests, at least five people remain in jail for joining in the tumult.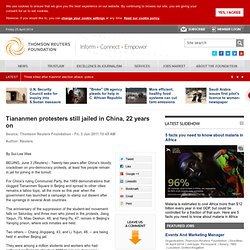 For China's ruling Communist Party, the 1989 demonstrations that clogged Tiananmen Square in Beijing and spread to other cities remains a taboo topic, all the more so this year when the government has launched a campaign to stamp out dissent after the uprisings in several Arab countries. The anniversary of the suppression of the student-led movement falls on Saturday, and three men who joined in the protests, Jiang Yaqun, 75, Miao Deshun, 48, and Yang Pu, 47, remain in Beijing's Yanqing prison, where sick inmates are held. Eight Out Of China's Top Nine Government Officials Are Scientists. Eight of the nine top Chinese government officials are scientists.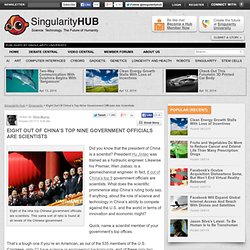 This same sort of ratio is found at all levels of the Chinese government. Did you know that the president of China is a scientist? President Hu Jintao was trained as a hydraulic engineer. Likewise his Premier, Wen Jiabao, is a geomechanical engineer. Chinese business: When fund-raising is a crime. Scallywag & Vagabond » Savage Predator » Google's Satellite Images Reveal Chinese 'Ghost Cities' 5 Myths About the Chinese Communist Party - By Richard McGregor. "China Is Communist in Name Only.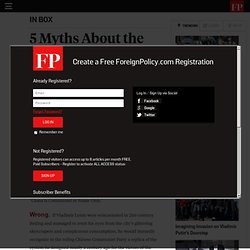 " Wrong. If Vladimir Lenin were reincarnated in 21st-century Beijing and managed to avert his eyes from the city's glittering skyscrapers and conspicuous consumption, he would instantly recognize in the ruling Chinese Communist Party a replica of the system he designed nearly a century ago for the victors of the Bolshevik Revolution. One need only look at the party's structure to see how communist -- and Leninist -- China's political system remains. Sure, China long ago dumped the core of the communist economic system, replacing rigid central planning with commercially minded state enterprises that coexist with a vigorous private sector. Yet for all their liberalization of the economy, Chinese leaders have been careful to keep control of the commanding heights of politics through the party's grip on the "three Ps": personnel, propaganda, and the People's Liberation Army.
---