Strickanleitungen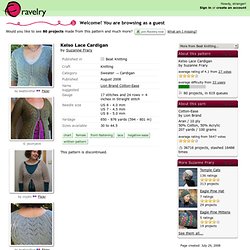 Kelso Lace Cardigan pattern by Suzanne Frary
The Kelso Cardigan features an allover horseshoe lace pattern with eyelet trim at the front and raglans. It is knit seamlessly from the bottom up, with body and sleeves worked in one piece from the yoke. The bodice is designed to fit with 0-3 inches negative ease. Don't be afraid to knit this with the maximum negative ease; the lace is very stretchy. Cardigan pictured is worn with 3 inches negative ease through the chest. The sleeves have a comfortable standard fit.
Nevada City Windows pattern by Ginger Luters
Andrea's Magic of Spring pattern by Andrea Baron
Stained Glass Magic pattern by Hypercycloid Designs
Magic Lace Cardigan pattern by Angela Juergens
Creepy Cute Expansion Pack #6: Viking | NeedleNoodles: Crochet Patterns, Knit Patterns, Amigurumi Awesomeness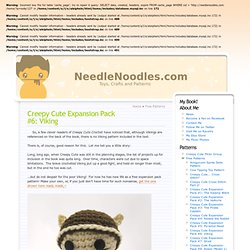 So, a few clever readers of Creepy Cute Crochet have noticed that, although Vikings are referenced on the back of the book, there is no Viking pattern included in the text. There is, of course, good reason for this. Let me tell you a little story: Long, long ago, when Creepy Cute was still in the planning stages, the list of projects up for inclusion in the book was quite long. Over time, characters were cut due to space limitations. The brave crocheted Viking put up a good fight, and held on longer than most, but in the end he too was cut.
"Lace n More"
Cascade Yarns -Cascade 220 ® Patterns
Wendy Knits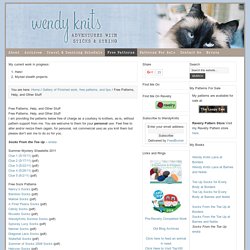 Free Patterns, Help, and Other Stuff