Baby
Strickrezepte « Socks Street. Hier findet Ihr den Weg zu den Anleitungen, die ich mal in meinem Blog aufgeschrieben habe.Einfach die Bilder anklicken, wenn nix da steht !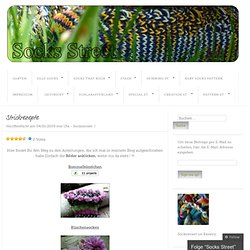 !!! Bommelbündchen Rüschensocken. FREE Baby Patterns from Knitting Daily. Everything about these free baby knitting patterns is perfect for the little bundle of joy in your life!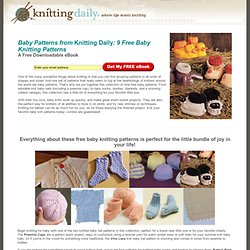 Begin knitting for baby with one of the two knitted baby hat patterns in this collection, perfect for a brand new little one or for your favorite charity. The Preemie Caps are a perfect quick project, easy to customize using a heavier yarn for warm winter wear or soft linen for your summer knit baby hats. Or if you're in the mood for something more traditional, the Vine Lace knit baby hat pattern is stunning and comes in sizes from preemie to toddler. Baby Booties "Frühling" & "Ostern" Da hab ich doch dem Osterhasen grade noch ein Schnippchen geschlagen und zwei Videos für ganz einfache BabyBooties untergebracht >;o) Die bunten sind natürlich die "Frühlingsbooties" und die violett-grünen stehen für das Ende der Fastenzeit und die Freude über neues Leben… Ich wünsche Euch allen noch ein glückliches Rest-Ostern und freu mich schon auf weiteres Stricken & Häkeln mit Euch!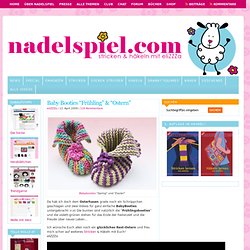 EliZZZa Gestrickt mit Nadeln 3,5 mm und dem Garn hp No.31 von Lana Grossa Basics, bestellt bei Wollbay. Die Nadeln kamen wie immer blitzartig von Natascha Elmer, WolleundGarne.at (danke Natascha, hat wieder super geklappt). Sea Creature Baby Bootie. Needs~Size "G" Crochet hook.Baby or Sport yarn(I used Lion Brand Microspun in Turquoise.)Large Eye needle for sewing heel.Sew-on-eyes (or what you have on hand.)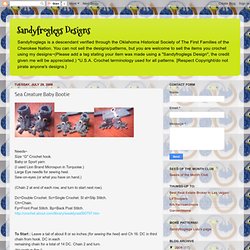 (Chain 2 at end of each row, and turn to start next row). Dc=Double Crochet. Free pattern friday::bumpy jacket & hat. Time for some fall knitting!
This baby jacket and hat set uses an old-fashioned looking stitch pattern for an elegant look in a relatively simple pattern. Suitable for a boy or girl, the Bumpy Jacket uses organic cotton and is knit all in one piece for quick finishing. Use some vintage buttons for the perfect touch. I called it "Bumpy" both because the stitch pattern has a bumpy surface, but also because it got off to a bumpy start. Patterns from "Fairy Tale Knits" Steggie Kids' Dinosaur Cardigan - Knitty, Spring 2009. BACK Using smaller needles and MC, CO 58[62, 68, 72] sts.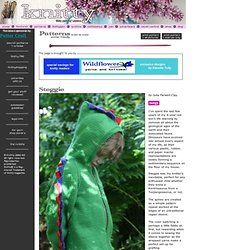 Work in Seed Stitch until work measures 1.5 inches, ending with a WS row. For size S only, increase 1 st when working next row: 59 sts. Batbaby and Sidekick Cuddle Critter Cape Sets - Newborn Prop pattern by Elisabeth Spivey. Gaia Dress pattern by Niki Anders. Inspired by Mother Nature, the Gaia Dress is a sweet, feminine frock with a full skirt embossed with stem and leaf lace.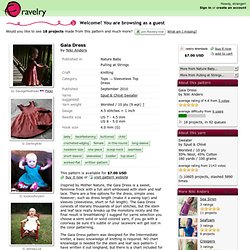 There are a few options for the dress, simple ones however; such as dress length (make it a swing top!) And sleeves (sleeveless, short or full length). The Gaia Dress consists of literally thousands of purl stitches, but the stem and leaf lace really breaks up the monotony nicely and the final result is breathtaking! Impress dress. We´ve made this dress before (see the post under this), and decided to make more sizes and use a different yarn.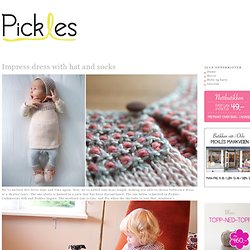 Pickels Silk Sorbet is great for this project; it is shiny, soft and silky, and it falls just great.We´ve also made socks and hat for the two smallest sizes. The picture show the newborn size, and the length of the dress is made pretty short to be more practical. The larger sizes have more length. The dress knitted in Pickles Extra Fine Merino. Violet Dress Pattern. This seamless dress is worked from the top down, with garter stitch straps and hem, and decorative eyelet increases at the center front and back.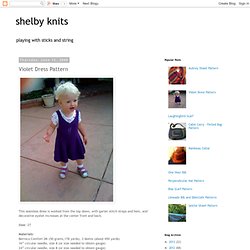 Size: 2T Materials: Berroco Comfort DK (50 grams,178 yards), 3 skeins (about 450 yards)16" circular needle, size 8 (or size needed to obtain gauge)24" circular needle, size 8 (or size needed to obtain gauge)8 stitch markers. A little present for my faithful readers! I had a request today for the vintage pattern I used to make these cutie booties, back in May this year: As it's out of print and out of copyright, I am happy to provide it below.
Happy Christmas :)) Vintage Booties Originally published in Girl's Own, volume 2 UK: Use DK yarn and 3.75mm needles. Baby_projects - Pumpkin Baby Hat. There is no more cute thing than a baby in a hat! Pumpkin Baby Hat is a great simple project for Halloween. Tons of patterns exist on the web. Mine is step-by-step and available for free. Perfect for beginner knitter. It may seem a bit long but really easy to follow. Tığişi Bebek Patiği (Crochet Baby Booties) İp: Bravo Bebe Tığ: 2 no plastik tığ Bu patikler takımın bir parçasıydı ama detaylarını eklemeyi unutmuşum pardon kızlarr. Bu patikleri aşağıdaki şemaya göre ördüm. Şema üzerinde işaretleri ve bölümlerini yazdım. Yaparken resimleme fısatım olmamıştı malesef. Baby wrap-cardigan : It's a Stitch Up: Adventures in handmade… knitting, sewing, jewellery, spinning, dyeing,crafting. Instructions Body Baby wrap cardigan. Baby_projects - Stay-On Baby Booties.
This is just a good recipe containing a photo tutorial. These booties will not fall away from your baby's feet. Each is knitted bottom up as one piece without yarn cut. Two types of matching bumpers are available. Rib 2x2 or garter stitch bumber. If supplied with a ribbon or an I-cord tie the booties will perfectly fit baby foot and will stay on in any case.
Ugg booties revisited. These differ from the original suede booties. They are a bit bigger, have a flatter sole (less of a slipper look), and are a bit taller. Size 3-6 months MATERIALS 1 skein of each makes many booties 1 – Lion Suede, coffee Color A 1 - Lion Suede, mocha Color B 1- Patons Divine, Icicle white or other similar bulk (5) wt sheepskin look yarn Notions: Crochet Hook size G, Tapestry needle, thin cord elastic. Stricken lernen * Babystiefelchen "Lily" 1 * Krauses Bünchen zweifarbig, Schaft. Baby Sock Pattern. DROPS Hasenschuhe in "Baby Merino" und "Kid-Silk. Woolly Owl Hat Pattern - Slugs on the Refrigerator. Stricken lernen * Babyschuhe "Eli" 3 * Schaft und Bündchen. Knit Monster Baby Booties | needyl.
---