Web Tools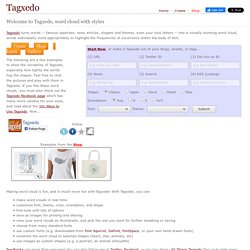 Tagxedo turns words -- famous speeches, news articles, slogans and themes, even your love letters -- into a visually stunning word cloud, words individually sized appropriately to highlight the frequencies of occurrence within the body of text. Create Shop Learn Gallery The following are a few examples to show the versatility of Tagxedo, especially how tightly the words hug the shapes.
Used by productive people and teams at: Drag & Drop Drag and drop files right from your desktop or web browser. Your files will be automatically uploaded to the cloud. Watch the video… Collaborate with your team
Home | Dropmark® — Organize, collaborate, and share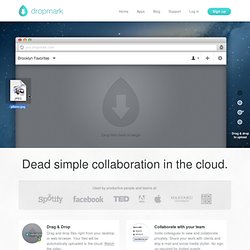 The educational wikis on this page are listed in alphabetical order. They are awesome and we invite you to add your educational wiki to our list! You may also add the name of your country and a mini flag. Thank you!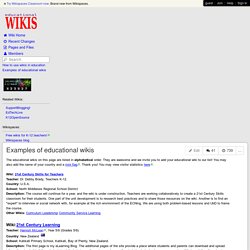 Peg it up, Move it Around, Get it Done.
It became a catch phrase across Skype as we built Pegby: let's go to the Board . Using an unlimited number of Boards , you can collaborate with friends, family, co-workers and even strangers...if you like that sort of thing. We've seen boards with twenty Columns , which is no big deal for Pegby. With sweet minimization and drag and drop capability, create as many Columns as you'd like but focus on the ones that matter to you in the moment.
It's a free community. Ask questions. Give help. Earn medals. Make friends. 1 million students + 160 countries + 190 study groups = Serious Fun Get live help Need help?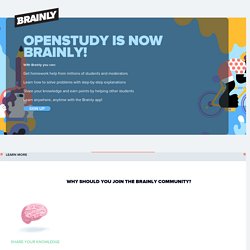 The Wordle of this list! (Click image to enlarge) One of the most popular posts on Edudemic in 2010 was The 35 Best Web 2.0 Classroom Tools Chosen By You and I felt it might be time for an update to that list for 2011. In order to put together a list of the best Web 2.0 classroom tools, I polled my Twitter followers, Facebook fans (are they still called fans?
Five Best Online File Storage Services | Digital Tools and Education | Scoop.it
SpiderOak not only protects your privacy more so than Dropbox, with SpiderOak you can get up to 50GB free through referring friends. Additionally, you have the ability to create multiple backup/sync'ed folders and configure them differently for different devices, and if you're looking to buy additional storage, SpiderOak is half the price. At the core, SpiderOak is heads and tails above Dropbox. Now, Dropbox is more popular and more well known, and that has led to its use in more 3rd party applications.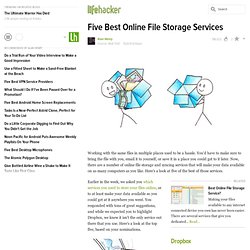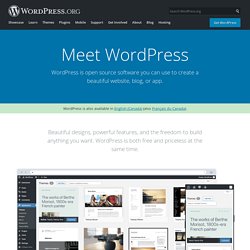 WordPress is web software you can use to create a beautiful website or blog. We like to say that WordPress is both free and priceless at the same time. The core software is built by hundreds of community volunteers, and when you're ready for more there are thousands of plugins and themes available to transform your site into almost anything you can imagine. Over 60 million people have chosen WordPress to power the place on the web they call "home" — we'd love you to join the family. Ready to get started? Download WordPress 3.8.1
Free Technology for Teachers
Login Community Create and share your digital world Create a gorgeous free website in minutes, bringing together your social media updates, photos, videos and more into a unified web presence. Get started for free