Podcasts
The Nerdbastards Christmas List- The Stuff You Want, The Things You Need and Everything You Can't Have. Twas the morning of Christmas and all through the house,Shredded wrapping paper, lay, like a ripped teenage prom, blouse,The stockings were plundered, the treats were laid bare,Santa's half eaten cookies and milk, sat just over there,The children were worn out, as still as the dead, While visions of next Christmas, danced in their heads We've all been there.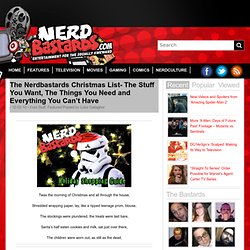 Christmas morning, shredded wrapping paper litters the floor around you. Your fingers throbbing from paper cuts while you stare at the pile of presents in front of you as that last trickle of Christmas excitement sweat rolls down your back. Socks, Underwear, a box of betamax movies bought at a yard sale by your aunt because, "You like movies," ten non-consecutive issues of Rom-Spaceknight, and a wall calendar that features "Cats throughout history." The Tome Show. RPPR Actual Play | Role Playing Public Radio's recorded RPG sessions. Role Playing Public Radio. RPPR Episode 98: I GM Therefore I Am News: Caleb and I will be at Fear the Con this year!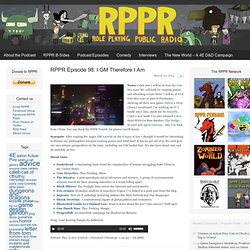 We will both be running games and attending events there. I will be at PAX East this year, as part of Pixelscopic, showing off their new game, Delver's Drop. (Have I mentioned I'm working on it? I totally am!) The Linux Link Tech Show MP3 Feed. Forensic 4cast. CyberSpeak's Podcast. The Bear Swarm! Podcast. Geekson! The Linux Link Tech Show MP3 Feed. Technolust since 2005 » Episode 607 – Build a free SSL VPN on Linux or Windows. This time on the show, bypass restrictive firewalls with a free and open source virtual private network server for windows and linux that will have you connecting back to the home or office with just a web browser!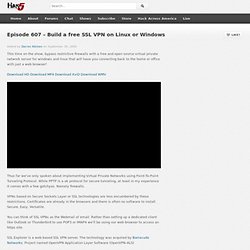 Download HD Download MP4 Download XviD Download WMV Thus far we've only spoken about implementing Virtual Private Networks using Point-To-Point Tunneling Protocol. While PPTP is a ok protocol for secure tunneling, at least in my experience it comes with a few gotchyas.
---