Ipads in classrooms
Get flash to fully experience Pearltrees
How Students Benefit From Using Social Media 14.60K Views 0 Likes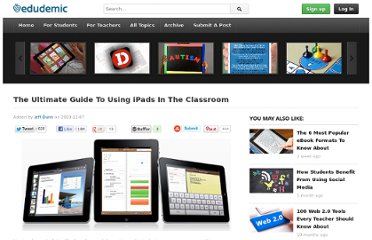 iPads are cool. iPads are fun. And iPads are amazing tools for personal entertainment and productivity. But are they worthwhile tools for you to use in your classroom?
What happens when you take a classroom of students, add 24 iPads as well as sound recording gear and then throw in a live band? A pretty catchy song that gives you hope for the future of music in the digital age.
If you're ever unsure about the working status of a well known website such as Twitter or Facebook, check out Down Right Now to see if it's up or having technical issues. It's a great resource to keep you in the know instead of sitting there refreshing or wondering if your network is having issues.