Interesting Links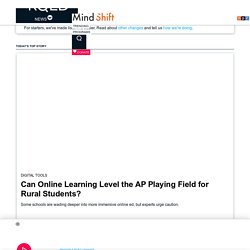 How Educators Can Protect Students' Data from Security Breaches Every day, teachers are responsible for maintaining numerous logins, passwords, data, and other private information about their students. With so many tools, security and privacy are often an afterthought despite the increasing number of websites that fall victim to data breaches and security vulnerabilities each day.
We are delighted to say that our Soundcloud group for iPad using musicians is still very active. There are some really fun, creative and sometimes quite bonkers tracks being shared by Soundclouders, if you haven't visited the group before please check it out. Here are a few original tracks that have caught our attention in recent weeks and this time we've gone for a Rock theme: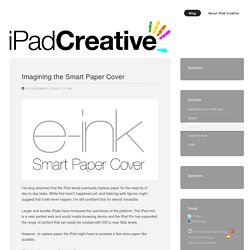 Top 7 iPad Apps for Music Teachers | Midnight Music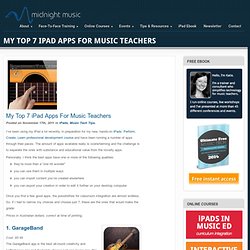 Posted on November 17th, 2011 in iPads, Music Tech Tips. I've been using my iPad a lot recently, in preparation for my new, hands-on iPads: Perform, Create, Learn professional development course and have been running a number of apps through their paces. The amount of apps available really is overwhelming and the challenge is to separate the ones with substance and educational value from the novelty apps.
Writing Prompts seems to have been a recurring conversation on twitter recently so I wanted to investigate what was available for teachers. I was surprised to see just how many apps designed for writing prompts there were. What is nice, is how many of these can be used for all grades. I really like the interface of some of these and I think your kids will too.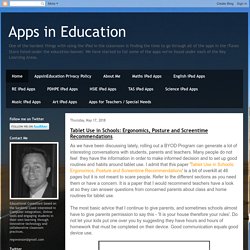 Mus Tech Alley
出会いたくて出会い系サイトを利用するわけですから、出会えるために出来る事はすべきです。ですから、サイト選びでは安心して利用することが出来る優良サイトを見つけて登録をしなくてはいけないわけです。 もちろん優良サイトや恋愛成就率の高い出会いサイトに登録できたとしても、確実に会えるということもないわけです。そして、登録しただけでは出会えるチャンスを手に入れることも難しいわけです。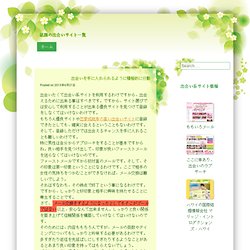 Professional Learning Network for Music Educators | MusicPLN.org
Music apps – a music teacher's perspective « Brave new world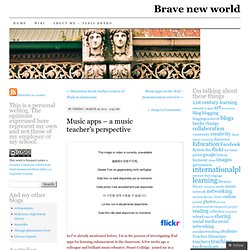 As I've already mentioned before, I'm in the process of investigating iPad apps for learning enhancement in the classroom. A few weeks ago a colleague and brilliant music educator, Stuart Collidge, joined me in a meeting with our Deputy Principal (Curriculum) and a few other leaders in the school, to put forward a case for the use of iPads in the school, specifically for learning enhancement. I asked Stuart to write up how he sees the use of the iPad in the music classroom. Recently, Tania asked me to speak with some of the decision-making powers that be at school to pitch the use of iPads as learning tools. This was something that Tania and I had reflected on a little and saw some potential in so I was more than happy to make the pitch. After borrowing Tania's iPad to have a play on (I am not yet one of the iPad collective L), I worked my way through a few possible applications and uses.
Wright-Stuff Music | Music Education & Technology
Need a quality virtual synth for the iPad? Look no further. Yonac has you covered. Introducing Magellan, which boasts six oscillators, dual filters, a step sequencer, arpeggiators, and more. This comprehensive synth is capable of producing some great sounds.
iPad Music Apps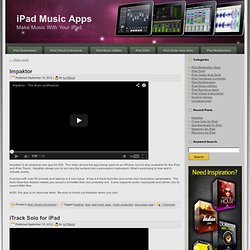 Super Round-Up: iPads in Music Education Posted on July 19th, 2011 in iPads, Music Tech Tips.Back in April, I was lucky enough to get my first iPad. I've had an iPhone for a couple of years now, but the iPad – with its large screen – really opens up possibilities for use in the classroom. I soon discovered there are lots of music apps (of varying quality) and I'm still testing many out to create my list of favourites.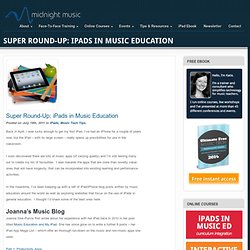 Super Round-Up - iPads in Music Education | Midnight Music
ClassroomWindow - Where The Best Solutions Win
iPad and Technology in Music Education
Did you know that Apple has a featured section of video and photo apps on sale right now? No? Me either, until I stumbled across it on the app store today! I usually get all my apps because of other people or blogs. I'm glad I explored today.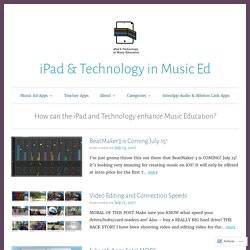 ClassroomWindow - Where The Best Solutions Win