Artists
ROA Creates A Giant Lanticular in London - StumbleUpon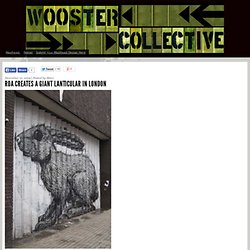 Woo ster (Noun) A street in the Soho section of New York City. Col lec tive (Noun) Of, relating to, characteristic of, or made by a number of people acting as a group: a collective decision.
Salvador Dali
Edvard Munch
For the 1974 film, see Edvard Munch (film) . Edvard Munch ( Norwegian: [ˈɛdvɑʁd ˈmʉŋk] ; [ 1 ] 12 December 1863 – 23 January 1944) [ 2 ] was a Norwegian painter and printmaker whose intensely evocative treatment of psychological themes built upon some of the main tenets of late 19th-century Symbolism and greatly influenced German Expressionism in the early 20th century. One of his most well-known works is The Scream of 1893. [ edit ] Life [ edit ] Childhood Edvard Munch was born in a rustic farmhouse in the village of Ådalsbruk in Løten , to Christian Munch, the son of a priest.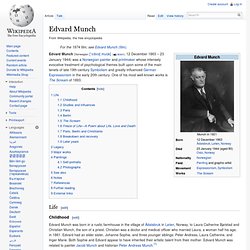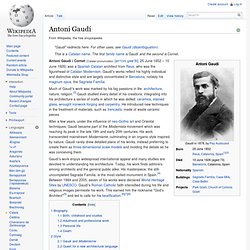 Antoni Gaudí i Cornet ( Catalan pronunciation: [ənˈtɔni ɣəwˈði] ; 25 June 1852–10 June 1926) was a Spanish Catalan architect and figurehead of Catalan Modernism . Gaudí's works reflect his highly individual and distinctive style and are largely concentrated in the Catalan capital of Barcelona , notably his magnum opus , the Sagrada Família . Much of Gaudí's work was marked by his big passions in life: architecture , nature, religion. [ 3 ] Gaudí studied every detail of his creations, integrating into his architecture a series of crafts in which he was skilled: ceramics , stained glass , wrought ironwork forging and carpentry . He introduced new techniques in the treatment of materials, such as trencadís , made of waste ceramic pieces. After a few years under the influence of neo-Gothic art and Oriental techniques, Gaudí became part of the Catalan Modernista movement which was reaching its peak in the late 19th and early 20th centuries.
Expressionism was a modernist movement , initially in poetry and painting, originating in Germany at the beginning of the 20th century. Its typical trait is to present the world solely from a subjective perspective, distorting it radically for emotional effect in order to evoke moods or ideas. [ 1 ] [ 2 ] Expressionist artists sought to express meaning [ 3 ] or emotional experience rather than physical reality. [ 3 ] [ 4 ] Expressionism was developed as an avant-garde style before the First World War. It remained popular during the Weimar Republic , [ 1 ] particularly in Berlin.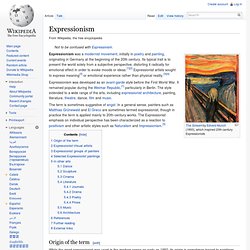 Jean-Michel Basquiat : The Radiant Child-- TRAILER.m4v
Jean Michel Basquiat Interview New York (1980)
Basquiat
Doze Green @ Jonathan Le Vine Galery