Artists
ROA Creates A Giant Lanticular in London - StumbleUpon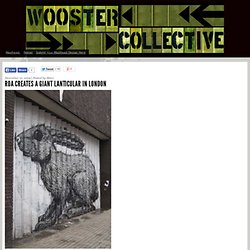 Wooster(Noun) A street in the Soho section of New York City. Collective(Noun) Of, relating to, characteristic of, or made by a number of people acting as a group: a collective decision.
Salvador Dali
Edvard Munch
Edvard Munch (Norwegian: [ˈɛdvɑʈ muŋk] ( Life[edit] Childhood[edit] Edvard Munch was born in a rustic farmhouse in the village of Ådalsbruk in Løten, Norway, to Laura Catherine Bjølstad and Christian Munch, the son of a priest. Christian was a doctor and medical officer who married Laura, a woman half his age, in 1861. Edvard had an elder sister, Johanne Sophie, and three younger siblings: Peter Andreas, Laura Catherine, and Inger Marie.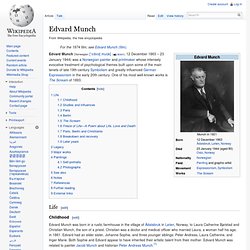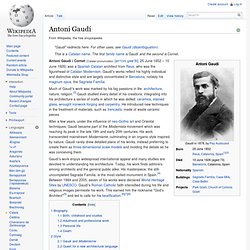 Antoni Gaudí i Cornet (Catalan pronunciation: [ənˈtɔni ɣəwˈði]; 25 June 1852 – 10 June 1926) was a Spanish Catalan architect from Reus, who was the figurehead of Catalan Modernism. Gaudí's works reflect his highly individual and distinctive style and are largely concentrated in Barcelona, notably his magnum opus, the Sagrada Família. Much of Gaudí's work was marked by his big passions in life: architecture, nature, religion.[3] Gaudí studied every detail of his creations, integrating into his architecture a series of crafts in which he was skilled: ceramics, stained glass, wrought ironwork forging and carpentry. He introduced new techniques in the treatment of materials, such as trencadís, made of waste ceramic pieces. After a few years, under the influence of neo-Gothic art and Oriental techniques, Gaudí became part of the Modernista movement which was reaching its peak in the late 19th and early 20th centuries.
Expressionism was a modernist movement, initially in poetry and painting, originating in Germany at the beginning of the 20th century. Its typical trait is to present the world solely from a subjective perspective, distorting it radically for emotional effect in order to evoke moods or ideas.[1][2] Expressionist artists sought to express meaning[3] or emotional experience rather than physical reality.[3][4] Origin of the term[edit]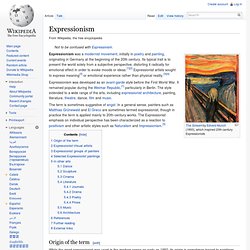 Jean-Michel Basquiat : The Radiant Child-- TRAILER.m4v
Jean Michel Basquiat Interview New York (1980)
Basquiat
Doze Green @ Jonathan Le Vine Galery