DC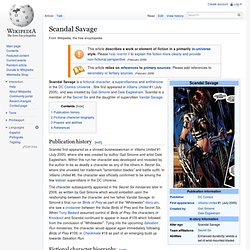 Scandal Savage is a fictional character , a supervillainess and antiheroine in the DC Comics Universe . She first appeared in Villains United #1 (July 2005), and was created by Gail Simone and Dale Eaglesham . Scandal is a member of the Secret Six and the daughter of supervillain Vandal Savage . [ edit ] Publication history
Scandal Savage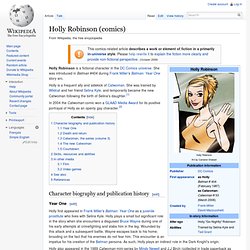 Holly Robinson (comics)
Holly Robinson is a fictional character in the DC Comics universe . She was introduced in Batman #404 during Frank Miller 's Batman: Year One story arc. Holly is a frequent ally and sidekick of Catwoman . She was trained by Wildcat and her friend Selina Kyle , and temporarily became the new Catwoman following the birth of Selina's daughter. [ 1 ] In 2004 the Catwoman comic won a GLAAD Media Award for its positive portrayal of Holly as an openly gay character. [ 2 ]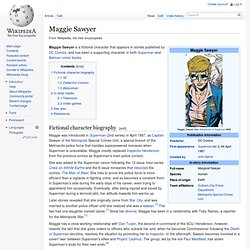 Maggie Sawyer
Maggie Sawyer is a fictional character that appears in stories published by DC Comics , and has been a supporting character in both Superman and Batman comic books . [ edit ] Fictional character biography Maggie was introduced in Superman (2nd series) in April 1987, as Captain Sawyer of the Metropolis Special Crimes Unit, a special branch of the Metropolis police force that handles superpowered menaces when Superman is unavailable. Maggie mostly replaced Inspector Henderson from the previous comics as Superman's main police contact.
Foxglove (DC Comics)
Foxglove ( Donna Cavanagh ) is a fictional character from the Sandman graphic novels , written by Neil Gaiman . She first appears in Sandman #32 (November 1991), though she is first mentioned by her real name in Sandman #6 (June 1989). [ edit ] Fictional character biography Foxglove was born Donna Cavanagh. As a young woman she has a tumultuous relationship with Judy, which ends badly.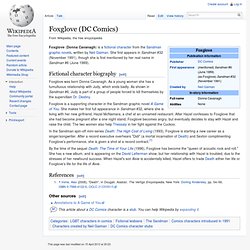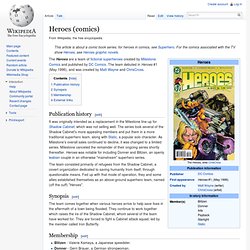 Heroes (comics)
This article is about a comic book series; for heroes in comics, see Superhero . For the comics associated with the TV show Heroes , see 9th Wonders! or Heroes graphic novels . The Heroes are a team of fictional superheroes created by Milestone Comics and published by DC Comics .
Batwoman is a fictional character, a superheroine who appears in comic books published by DC Comics . In all incarnations, Batwoman is a wealthy heiress who—inspired by the notorious superhero Batman —chooses, like him, to put her wealth and resources towards funding a war on crime in her home of Gotham City . The identity of Batwoman is shared by two heroines in mainstream DC publications; both women are named Katherine Kane , with the original Batwoman commonly referred to by her nickname Kathy and the modern incarnation going by the name Kate. Batwoman was created by Bob Kane and Sheldon Moldoff with writer Edmond Hamilton under the direction of editor Jack Schiff, as part of an ongoing effort to expand Batman's cast of supporting characters .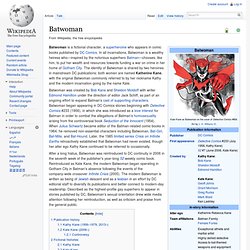 Kathy Kane
Salu Digby
Shrinking Violet ( Salu Digby ), also known as Atom Girl , is a fictional character , a superhero and Legion of Super-Heroes member in the DC Universe 's 30th and 31st centuries. She comes from the planet Imsk . She was created by writer Jerry Siegel , the co-creator of Superman , and artist Jim Mooney . She has the power to shrink to tiny size, as do all Imsk natives. [ edit ] Pre-Zero Hour In the original pre- Zero Hour continuity, she was the thirteenth person to join the Legion of Super-Heroes.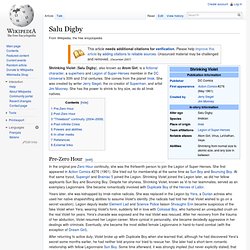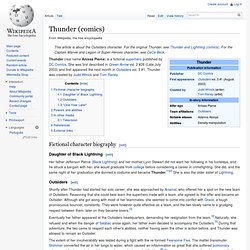 Thunder (comics)
Thunder (real name Anissa Pierce ) is a fictional superhero published by DC Comics . She was first described in Green Arrow vol. 2 #26 (Late July 2003) and first appeared the next month in Outsiders vol. 3 #1. Thunder was created by Judd Winick and Tom Raney . [ edit ] Fictional character biography [ edit ] Daughter of Black Lightning Her father Jefferson Pierce ( Black Lightning ) and her mother Lynn Stewart did not want her following in his footsteps, and he struck a bargain with her: she would graduate from college before considering a career in crimefighting.
Black Canary
Black Canary is the name of two fictional characters , DC Comics superheroines created by writer Robert Kanigher and artist Carmine Infantino . The character debuted in Flash Comics #86 ( August 1947 ). One of DC's earliest superheroines, she has featured on many of the company's flagship team-up titles, including both Justice Society of America and the Justice League of America . Since the late 1960s, she has often been paired romantically and professionally with the archery-themed superhero Green Arrow .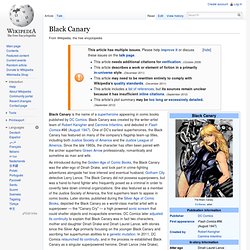 Zatanna
Zatanna Zatara is a fictional character in the DC Comics universe . Created by writer Gardner Fox and artist Murphy Anderson , Zatanna first appeared in Hawkman vol. 1 #4 (October–November 1964). The character, both a stage magician and a real magician like her father Giovanni "John" Zatara , is known for her involvement with the Justice League , her retconned childhood association with Batman , and her crossing of the Vertigo line with characters such as romantic partner John Constantine and protégé Timothy Hunter .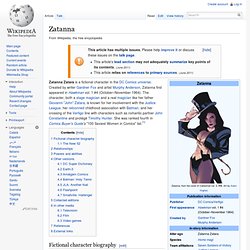 Batwoman
Gotham Girls
Gotham Girls is an American Flash animation series about the females of Gotham City , created and produced jointly by Warner Brothers and Noodle Soup Productions in 2002. Episodes starred Harley Quinn , Poison Ivy , Batgirl , Catwoman and Zatanna in short stories of varying length about the daily lives of the characters (from the DC Comics universe). It is also the name of a related comic book series. [ edit ] Flash animation series Gotham Girls is one of the few series of Flash animations made by a professional publisher of mainstream cartoons, and features professional voice-acting by the same actresses and actors as those who voiced the television series.
Renee Montoya
Renee Montoya is a fictional comic book character published by DC Comics . The character was initially created for Batman: The Animated Series , and was preemptively introduced into mainstream comics before the airing of her animated debut in 1992. [ 1 ] The character has developed significantly over the years. Renee Montoya is initially a police detective from the Gotham City Police Department , assigned to the Major Crimes Unit who comes into frequent contact with the masked vigilante , Batman .