Wolf News Coverage
The importance of protecting wolves. Isle Royale wolves may go extinct. Isle Royale National Park's gray wolves, one of the world's most closely monitored predator populations, are at their lowest ebb in more than a half-century and could die out within a few years, scientists said Friday.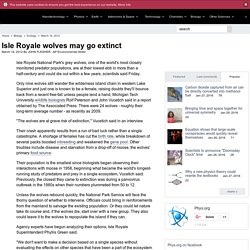 Only nine wolves still wander the wilderness island chain in western Lake Superior and just one is known to be a female, raising doubts they'll bounce back from a recent free-fall unless people lend a hand, Michigan Tech University wildlife biologists Rolf Peterson and John Vucetich said in a report obtained by The Associated Press. There were 24 wolves - roughly their long-term average number - as recently as 2009. "The wolves are at grave risk of extinction," Vucetich said in an interview. Their crash apparently results from a run of bad luck rather than a single catastrophe.
NBCs Today: Don't Poison Tar Sands Wolves – Watch. From Wildlife Promise Gray Wolf in Glacier National Park by Susan A.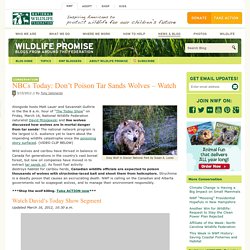 Locke.