Tech.
New Camera Lets You Focus Photos After the Fact | 80beats
Tech News : Computers, Green Energy, Inventions
Video: Dutch inventors build flying car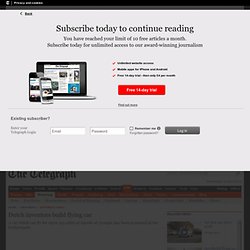 "If you want to fly over a mountain you can do that and then drive at the other end and go to your destination or fly over water or past a traffic jam of course," said PAL-V CEO and co-founder Robert Dingemanse. "All those kind of things are possible now." PAL-V said the machine is quieter than a helicopter due to the slower rotation of the rotor. The company says it takes off and lands with low speed, cannot stall, and is very easy to control, making it one of the safest types of aircraft. PAL-V said it meets regulations to be operated in the air and on the roads, though to fly one a customer must hold a private pilot's licence, requiring 20 to 30 hours of flying lessons.
Internet Tech - IP Address Locator
080229-N-8053S-036.jpg (3000×1147)
Old Hong Kong Airport