Music
Allegro Molto in C Major: Hear a lost Mozart piece performed on the composer's piano (VIDEO)
On Friday, the BBC reported on a newly uncovered composition by Wolfgang Amadeus Mozart, "found in a notebook in an attic." As the History Blog explains, that attic belonged to a band leader who lived "in the Lech Valley of the Austrian Tyrol," and the notebook, dated 1780, had belonged to an Austrian born in 1765 named Johannes Reiserer. Reiserer sang in the Salzburg Cathedral's choir, "which had famous composers and musicians on staff"—including Mozart's father, Leopold. Today, Open Culture flagged the YouTube video of the composition's world premiere—conducted on a piano that belonged to Mozart and still resides in his childhood home.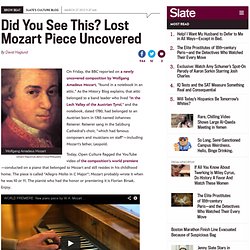 Last Updated: 12/30/2013 10:32 PST Music is such an important part of most people's lives, and the advent of the Internet and iTunes has really changed the way we interact with our music. Whether we're in the car, at the gym, or relaxing after a hard day of work, music can work magic.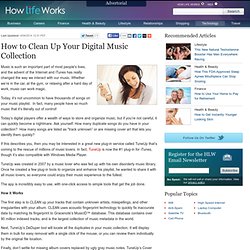 How to Clean Up Your Digital Music Collection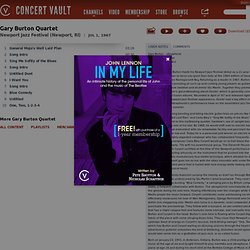 Gary Burton Quartet | Newport Jazz Festival | Newport, RI | Jul 1, 1967
Gary Burton - vibraphoneLarry Coryell - guitarSteve Swallow - bassStu Martin - drums Vibraphonist Gary Burton made his Newport Jazz Festival debut as a 21-year-old wunderkind sideman to tenor sax giant Stan Getz at the 1964 edition of George Wein's annual clambake on Narragansett Bay.
► Be Our Guest by Beauty & The Beast | whistle while you work | ezmoed | 8tracks
► Man of la Mancha (I, Don Quixote) by Linda Eder | Stage and Screen Musicals! | kproctor87 | 8tracks
oldies but goodies | ameeelia | 200+ likes | 1,979 listens
Music - Cross Road by Bon Jovi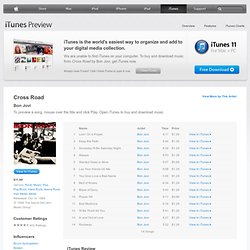 iTunes Review Bon Jovi was the epitome of mainstream arena rock during the second half of the 1980s, and by appealing to teens and adults alike, they stayed on top longer than many others who tried to imitate their sound and commercial success. A potent combination of memorable melodies, strong hooks, and pin-up good looks, the New Jersey band delivered a long string of hits that received massive radio airplay. Cross Road contains all of their best singles, including fist-pumping anthems ("You Give Love a Bad Name," "Living On a Prayer,"), power ballads ("Wanted Dead or Alive," "Always"), and pop gems ("Runaway," "Keep the Faith"), along with one of Jon Bon Jovi's solo efforts, "Blaze of Glory," and "Prayer '94," a stripped-down version of "Living On Prayer."
The Monkees | Daydream Believer | Aug 31, 2001