DIY
50 Creative Ways to Repurpose, Reuse and Upcycle Old Things. If you're like me, you probably have a lot of old stuff just lying around your house.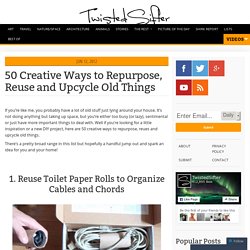 It's not doing anything but taking up space, but you're either too busy (or lazy), sentimental or just have more important things to deal with. Well if you're looking for a little inspiration or a new DIY project, here are 50 creative ways to repurpose, reues and upcycle old things. There's a pretty broad range in this list but hopefully a handful jump out and spark an idea for you and your home! 1. Quilling paper - crafts ideas - crafts for kids - 2/2. Modern quilling book, kids craft ideas Modern quilling book, kids craft ideas 2. 3. 4. 5. 6. 7. 8. 9. 10. 11. 12. 13. 14. 15. 16. 17.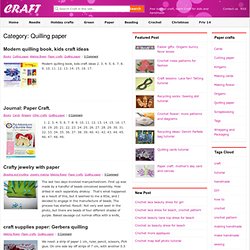 Journal: Paper Craft. 1. 2. 3. 4. 5. 6. 7. 8. 9. 10. 11. 12. 13. 14. 15. 16. 17. 18. 19. 20. 21. 22. 23. 24. 25. 26. 27. 28. 29. 30. 31. 32. 33. 34. 35. 36. 37. 38. 39. 40. 41. 42. 43. 44. 45. 46. 47. 48. 49. Crafty jewelry with paper The last two days involved manyachestvom. Useful Life Hacks. Soap Making Instructions | Soap Making Recipes and Tutorials | Teach Soap. Origami For Everyone. To make all of these Instructables, download this collection of How To's as an ebook.
Download » Origami for Everyone gives you full step-by-step instructions for 30 awesome origami projects for everyone from beginners to experts. Learn how to make flowers, masks, and the ubiquitous paper crane! All projects come from Instructables.com, are written by paper folding experts, and contain pictures for each step so you can do it yourself. Happy folding! 25 Things You Can DIY With Corks. 41 Easy Things To Do With Mason Jars. 31 Insanely Easy And Clever DIY Projects. Living Room Improvement | Free DIY Home Improvement. 10 Most Popular DIY Sites | PartSelect.com. By Steve Ash Got a project?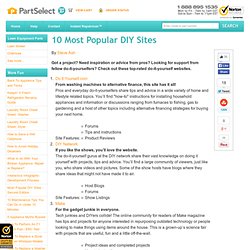 Need inspiration or advice from pros? Looking for support from fellow do-it-yourselfers? 11 Unusual Household Uses For Food Items That Will Save You Money. Photo: charles chan * The next time you find yourself in need of a household product like stain remover, shower cleaner or ant deterrent, check the pantry before heading to the store.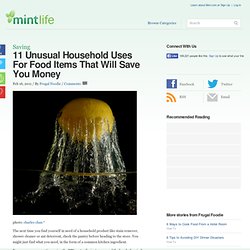 You might just find what you need, in the form of a common kitchen ingredient. From a green perspective, going the DIY route eliminates some of the harsh chemicals in your home, reducing your family's exposure to them. Kitchencheatsheet.gif (900×5870) What You Wish You'd Known Before Your Job Interview. What You Wish You'd Known Before Your JOB INTERVIEW Common nonverbal mistakes made at a job interview From a survey of 2000 bosses 21% - Playing with hair or touching face 47% - Having little or no knowledge of the company is the most common mistake job seekers make during interviews 67% - Failure to make eye contact Lack of smile 38% Bad posture 33 % 21% - Crossing arms over their chest 9% - Using too many hand gestures 26% - Handshake that is too weak 33% - Fidgeting too much.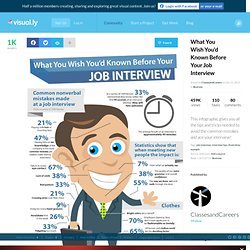 Self Made Scholar - Free Self Education Classes Online. 50 Life Hacks to Simplify your World. Jan 16, 2013 Life hacks are little ways to make our lives easier.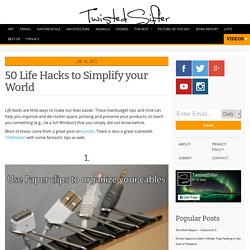 These low-budget tips and trick can help you organize and de-clutter space; prolong and preserve your products; or teach you something (e.g., tie a full Windsor) that you simply did not know before. Most of these came from a great post on tumblr. There is also a great subreddit 'r/lifehacks' with some fantastic tips as well. Helpful Hints, Home Remedies - Texas Gardening Forum. Found this on another forum: 1.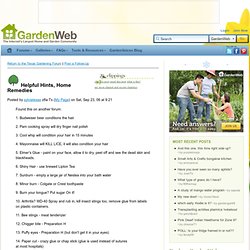 Budweiser beer conditions the hair 2. Basic Knots | How to Tie Basic Knots | Animated Basic Knots. Basic knots Welcome to Basic Knots The eight knots in this section are the most basic knots - the building blocks of knot tying.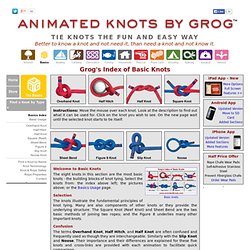 Select the knots from: the index above left; the pictures above; or the Basics Usage page. Selection. Craftgawker | look to inspire. 1-2-3- weeeee! let's build a garden... Budget Blooms -- Savings Experiment. Carly Cylinder of FlourLA.com offers tips on how to make inexpensive flowers look chic and last longer.
Fresh flowers make beautiful additions to any room, but bouquets can add up. Not to worry, though -- there are ways to use blooms to brighten up your home without breaking the bank. Carly Cylinder of FlourLA.com says flowers don't have to be a luxury. One idea is to buy inexpensive pre-made bouquets from your local supermarket or flower shop and then deconstruct them. Group flowers of the same variety together and then rearrange them using color blocking. Growing A Greener World | Learn, Create and Grow a Greener World. Preserving Fruit Flavors in Alcohol: Homemade Liqueurs | Growing A Greener World. When we discuss food preservation, we are usually talking about canning, dehydrating, freezing or fermenting.
But did you know that you can also preserve fruit in alcohol, such as brandy or vodka? It is a way of preserving the flavor or essence of the fruit for later use. This method consists of steeping fresh or frozen fruit in alcohol for several weeks. Garden Guides, Your Guide to Everything Gardening. 15 houseplants to improve indoor air quality. Easy vegetables to grow. Planting a garden doesn't have to be a huge undertaking. But the fear of failure keeps many a gardener-wannabe from spending time and energy on planting backyard crops. Knowing the easy vegetables to grow for your region — in addition to when and where to plant them — is the best way to ensure success. When planning your crops, try to space out the planting of foods that have a short harvest season. An ideal garden will always have something to put on the table, rather than an abundant period and then a dry spell with nothing growing.
How to Forecast Weather | Ever wondered how to forecast the weather without actually using instruments? Check the Clouds: Clouds can tell us a lot about the weather. For example, they can tell us if it's going to be warmer on a particular night by simply being there. That's because they prevent heat radiation from escaping. 7 Great Ways To Beat The Airlines At Their Own Game. The airline industry has a serious image problem as many reports have shown it ranks towards the bottom of customer satisfaction surveys. The industry can blame high fuel costs for rising airfares, but they have no one but themselves to blame for the way their quality has gone down as they have antagonized their customers with a variety of fees that are constantly increasing. In response, travelers have been thinking of themselves less as customers and more as adversaries in a battle over their scarce business or vacation budget. Out of this new relationship emerges seven innovative ways to minimize your travel expenses while circumventing customer hostile policies. 1.
9 Things to Do Before the Interview. Got an interview coming up in a few days? Now's the time to prepare. Sure, you can just wing it, and you might be fine—but taking the time to get yourself ready will put you a step ahead of the applicants who didn't. Bucket List: 225 Things to Do Before You Die | Lifed | Page 15. How to Fix a Scratched CD (with pictures) Save by Shopping for Drugstore Finds Online -- Savings Experiment. 10 Grocery Savings Tips From Store Managers. Grow plants from your groceries, like ginger root and pineapple! Growing Herbs - How To Grow Herbs. How to win Rock-paper-scissors every time. Top Bloggers Favorite DIY Projects. How to Start an Organic Garden. How to Build a Pergola - DIY Building a Pergola.
25 Clever Ideas to Make Life Easier. Five Changes You Can Make Now To Save Money On Gas. Alternative energy Forum at permies. Rocket stove mass heater. Latest. Let Your Spring Cleaning Savings Bloom -- Savings Experiment. 24 Quick Actions You Can Do Today That Can Change Your Financial Life Forever. Photo Effects and Photo Editing with One Click - BeFunky.com.
How to Clean Every Room in Your Home with Items You Already Have. Planting A Pineapple.
---