Love, romance, and relationships
Girls are like... - StumbleUpon. A Love Story About Getting Tangled Up, Emotionally and Literally - Kasia Cieplak-Mayr von Baldegg - Video. Rhiannon Evans's Heartstrings is an amazingly expressive short animation about two little creatures falling in and out of love.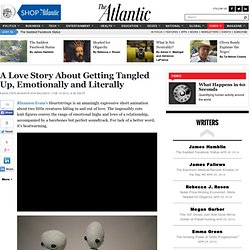 The impossibly cute knit figures convey the range of emotional highs and lows of a relationship, accompanied by a barebones but perfect soundtrack. For lack of a better word, it's heatwarming. Stills from the video For more work by Rhiannon Evans, visit her Vimeo channel. Via Vimeo Staff Picks. 10 Truths To Keep Your Relationship Healthy | Psychology Today - StumbleUpon. I think it's easy to make things more complicated than they need to be.
Here are some basic rules of the relationship road that will keep you headed in the right direction 1. 742 Ways to say I LOVE YOU -- A Must Read&-&Mia Carmel - StumbleUpon. Love Quotes - StumbleUpon. Love How You Love Me Love Quotes Passionate love is a quenchless thirst....Kahlil Gibran.
Love is made by two people, in different kinds of solitude. Three Words That Make Relationships Better | Three Words That Make Relationships Better Inspirational &Motivational Message from Pravs World.
---