Marketing
Steinbeis. Das Familienunternehmen Bussmann besteht seit 1898 und wird heute in dritter Generation geführt.
Das Stammunternehmen, die Hermann Bussmann GmbH, begreift sich als Speditions- und Logistikdienstleister, operiert von seinem Stammsitz Vreden in Westfalen aus und bedient Kunden europaweit. Als mittelgroße Kapitalgesellschaft befindet es sich auf stetigem Wachstumskurs. 2012 beschäftigte die Hermann Bussmann GmbH 160 Mitarbeiter und verfügte über eine Flotte von 90 eigenen Lkw-Zügen. Am Beispiel der Hermann Bussmann GmbH hat Markus Bussmann eruiert, wie die Instrumente des ERM in einem KMU eingesetzt werden können, welche Hürden eine Implementierung zu nehmen hat und ob neben operativen Fragestellungen auch strategische Fragestellungen wirkungsvoll unterstützt werden können. The inspiring heroism of Aaron Swartz | Glenn Greenwald. (updated below)Aaron Swartz, the computer programmer and internet freedom activist, committed suicide on Friday in New York at the age of 26.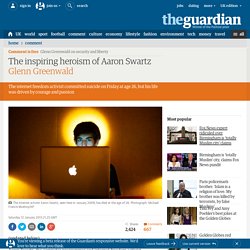 As the incredibly moving remembrances from his friends such as Cory Doctorow and Larry Lessig attest, he was unquestionably brilliant but also - like most everyone - a complex human being plagued by demons and flaws. For many reasons, I don't believe in whitewashing someone's life or beatifying them upon death. Why Many Links On Facebook Don't Get Click-Throughs. Social Media Marketing. Marketing. Social Proof Is The New Marketing. Editor's note: This guest post is written by Aileen Lee, Partner at venture firm Kleiner Perkins Caufield & Byers, where she focuses on investing in consumer internet ventures.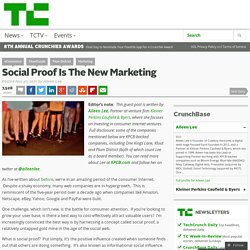 Full disclosure: some of the companies mentioned below are KPCB-backed companies, including One Kings Lane, Klout and Plum District (both of which count Lee as a board member). You can read more about Lee at KPCB.com and follow her on twitter at @aileenlee. As I've written about before, we're in an amazing period of the consumer Internet. Despite a shaky economy, many web companies are in hypergrowth. This is reminiscent of the five-year period over a decade ago when companies like Amazon, Netscape, eBay, Yahoo, Google and PayPal were built.
"Weil Österreich die feigsten aller Politiker hat" - Konsum. Heinz Kammerer (63) hat mit Teppichen und Fliesen ("Ikera") gehandelt, bevor er 1993 die Weinhandelskette Wein & Co gründete.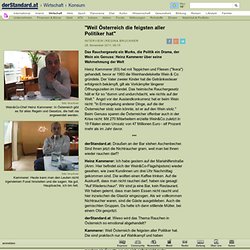 Der Vater zweier Kinder hat die Getränkesteuer erfolgreich bekämpft, gilt als Vorkämpfer längerer Öffnungszeiten im Handel. Das heimische Rauchergesetz hält er für so "dumm und undurchdacht, wie nichts auf der Welt. " Angst vor der Auslandkonkurrenz hat er beim Wein nicht: "In Ermangelung anderer Dinge, auf die der Österreicher stolz sein könnte, ist er auf den Wein stolz. " Beim Genuss sparen die Österreicher offenbar auch in der Krise nicht: Mit 270 Mitarbeitern erzielte Wein&Co zuletzt in 19 Filialen einen Umsatz von 47 Millionen Euro - elf Prozent mehr als im Jahr davor. UnMarketing. #016: From Toy Cars to Google Glass Podcast: Play in new window | Download | Embed Subscribe on iTunesRSS Feed On this episode of the UnPodcast, we start off with a great feel-good story about a project that involves a 10-year-old boy, a toy, and people from around the world that range from celebrities to homeless people.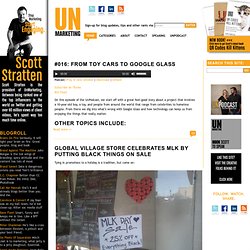 (20) Andy Johns (ibringtraffic) Twitter Reach Report Results for profschat. When Content Strategy Meets Social Activation – A #ProfsChat Review. Review" data-via="BrennerMichael" > Review" data-url=" data-via="BrennerMichael"> People often ask, "which comes first the channel or the content?"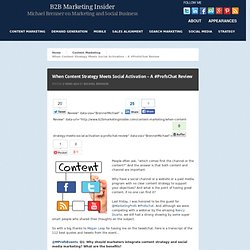 And the answer is that both content and channel are important. Why have a social channel or a website or a paid media program with no clear content strategy to support your objectives? And what is the point of having great content, if no one can find it? Home - General Assembly. List Management. Tlists – search, curate and join Twitter lists tlists allows you to search, curate, join and follow Twitter lists, a tool that is needed to make lists useful.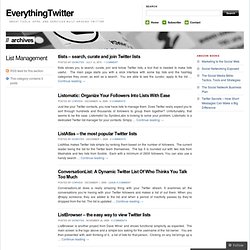 The main page starts you with a slick interface with some top lists and the hashtag categories they cover, as well as a search. You are able to see the curator, apply to the list … Continue reading Listomatic: Organize Your Followers Into Lists With Ease Just like your Twitter contacts, you now have lists to manage them. Marketing | Marketing.
---