Nine Inch Nails
FIGHT CLUB Writer to Script Trent Reznor's YEAR ZERO Miniseries at HBO. Last September, we learned that Nine Inch Nails frontman and composer Trent Reznor was going to turn his lyrics and music from his band's album Year Zero into a TV series.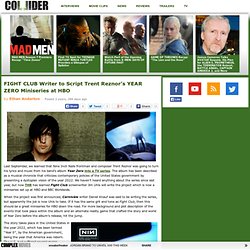 The album has been described as a musical chronicle that criticizes contemporary policies of the United States government by presenting a dystopian vision of the year 2022. We haven't heard anything about the series since last year, but now THR has learned Fight Club screenwriter Jim Uhls will write the project which is now a miniseries set up at HBO and BBC Worldwide. When the project was first announced, Carnivàle writer Daniel Knauf was said to be writing the series, but apparently the job is now Uhls to take. Year Zero : le scénariste de Fight Club planche sur la minisérie adaptée de l'album de NIN.
HBO et BBC Worldwide Productions ont choisi Jim Uhls, le scénariste de 'Fight Club' pour développer la minisérie, 'Year Zero', adaptée de l'album conceptuel éponyme de Trent Reznor de Nine Inch Nails, sorti en 2007.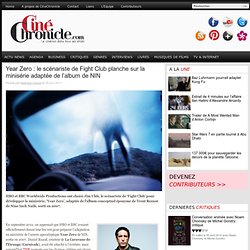 Celui qui a récemment décroché un Oscar avec Atticus Ross pour la bande originale de The Social Network continue donc de convertir le tout-Hollywood à son univers. Il poursuit en parallèle sa collaboration avec David Fincher et se charge actuellement de la bande son de l'adaptation du premier volet de la trilogie de Stieg Larsson, Millenium l'homme qui n'aimait pas les femmes, qui sera écrite par Steven Zaillian (La Liste de Schindler, American Gangster). Dans le trailer dévoilé début juin sur la toile, on découvrait un premier aperçu de son nouveau travail avec Karen O. de Yeah Yeah Yeahs sur la reprise d'Immigrant Song de Led Zeppelin (voir notre article). Articles sur le même thème. Nin.com [the official nine inch nails website]
Nine Inch Nails iPhone App | Media Tonic. Sometimes it isn't necessity that breeds invention, but boredom.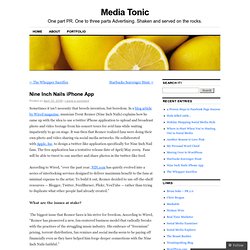 In a blog article by Wired magazine, musician Trent Reznor (Nine Inch Nails) explains how he came up with the idea to use a twitter iPhone application to upload and broadcast photo and video footage from his concert tours for avid fans while waiting impatiently to go on stage. It was then that Reznor realized fans were doing their own photo and video sharing via social media networks. He collaborated with Apple, Inc. to design a twitter-like application specifically for Nine Inch Nail fans.
The free application has a tentative release date of April/May 2009. NIN Google Earth: In The Drain Pipe. What a night!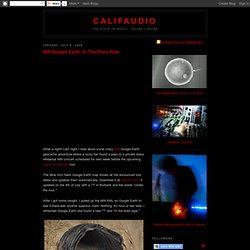 Last night I read about some crazy NIN Google Earth geocache adventure where a lucky fan found a pass to a private dress rehearsal NIN concert scheduled for next week before the upcoming Lights In The Sky tour. The Nine Inch Nails Google Earth map shows all the announced tour dates and updates them automatically. Download it at tour.nin.com. It updated on the 4th of July with a "? " TTRNIN - Tapulous - Social Apps for iPhone.
---