Fashion
The Beauty Model
Rubber Soul
étonnant
heykarli: My friends mom is 4'9 and her dad is 6'5. Whenever she is mad at him, she grabs a chair to yell in his face.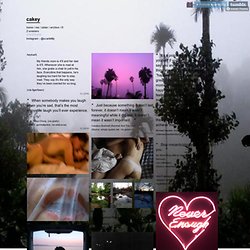 If only you would let me be
hello beautiful
unnamed pearl
Society, you're a crazy breed
Five Condos located at 5 St. Joseph Street in Toronto, Canada is a new condominium development currently under construction by Greywood Developments Ltd and Mod Developments Inc. Five Condos will be a modern point tower that will rise to 48 storeys high inter mixed with historical integration at 5 St Joseph. The high rise building is architect by Hariri Pontarini [...] Miss Vogue Australia Sudanese model Ajak Deng covers issue no 15 of Miss Vogue Australia photographed by Justin Ridler, fashion styling in looks from Givenchy and more by Mark Vassallo. Ajak's hair and make up was done by Kylie O' Toole , the lovely photos were captured at the Botanical Gardens Melbourne.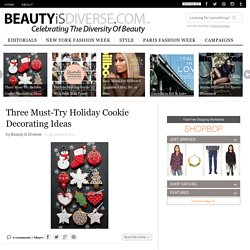 Beauty Is Diverse
Fashion Llingerie
Lingerie
vast-sea
Fashion Overdose
Femme Rouge
Red Lip
Caked On
Lipstick Ideas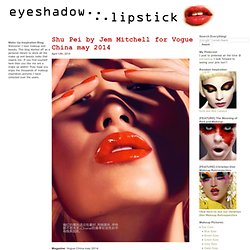 Shu Pei by Jem Mitchell for Vogue China may 2014 April 13th, 2014 Magazine: Vogue China may 2014Beauty Editorial: Orange HoneyPhotographer: Jem MitchellModel: Shu PeiStyling: Ida WangHair: Neil MoodieMakeup: Jeanine LobellNails: Alicia Torello Monochrome beauty editorial in orange! Alina Fitsai by Chuan Looi fr Harper's Bazaar Magazine April 2014
Afraid of the Dark
void*
Per la Moda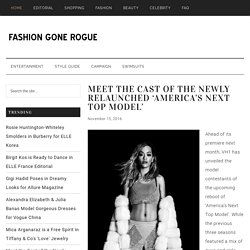 Karlie Kloss Wears Wings (and Little Else) in Victoria's Secret "Heavenly" Fragrance Ad Heavenly Scent—Marking her first time as the face of a Victoria's Secret fragrance, Angel Karlie Kloss poses for the lingerie brand's... Iggy Azalea Serves Up 90s Chic for REVOLVE Clothing Summer Campaign I.G.G.Y. for REVOLVE--Heating up the summer 2014 campaign from REVOLVE Clothing, Australian rapper Iggy Azalea stars in the clothing retailer's new... Hana Jirickova Rocks Curly Hair in Numero Russia Spread by David Roemer Wild Style--Letting loose, model Hana Jirickova rocks a curly mane for the May cover shoot from Numero Russia.