Fashion
The Beauty Model
Rubber Soul
étonnant
heykarli: My friends mom is 4'9 and her dad is 6'5. Whenever she is mad at him, she grabs a chair to yell in his face.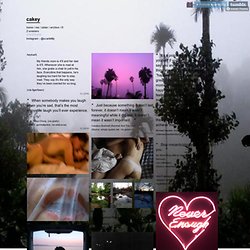 If only you would let me be
hello beautiful
unnamed pearl
Society, you're a crazy breed
Model : Saki W Publication : 74 Magazine Photographer : Denver Rodrigues Stylist : Lydia Chan and Photo assistant : Raquel Simoes Image Design Scene Model : Daria Werbowy Campaign : Balenciaga Photographer : Steven Klein www.balenciaga.com Best motion picture, drama • "12 Years a Slave" -- WINNER • "Captain Phillips" • "Gravity" • "Philomena" • "Rush" Best actress in a motion picture, drama • Cate Blanchett, "Blue Jasmine" -- WINNER • Sandra Bullock, "Gravity" • Judi Dench, Philomena" • Emma Thompson, "Saving Mr. Banks" • Kate Winslet, "Labor Day" Best actor in a motion picture, drama • Chiwetel [...] Charlize Theron wore a black Givenchy dress to the 3rd annual Sean Penn & Friends HELP HAITI HOME Gala benefiting J/P HRO presented by Giorgio Armani at Montage Beverly Hills.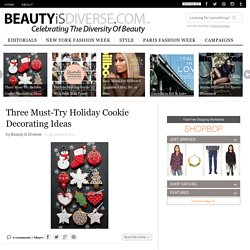 Beauty Is Diverse
Fashion Llingerie
Lingerie
vast-sea
Fashion Overdose
Femme Rouge
Red Lip
Caked On
Lipstick Ideas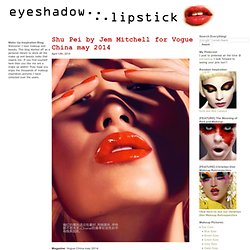 Shu Pei by Jem Mitchell for Vogue China may 2014 April 13th, 2014 Magazine: Vogue China may 2014Beauty Editorial: Orange HoneyPhotographer: Jem MitchellModel: Shu PeiStyling: Ida WangHair: Neil MoodieMakeup: Jeanine LobellNails: Alicia Torello Monochrome beauty editorial in orange! Alina Fitsai by Chuan Looi fr Harper's Bazaar Magazine April 2014
Afraid of the Dark
void*
Per la Moda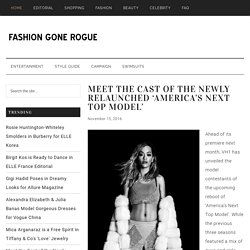 More Photos of Daria Werbowy in Balenciaga's Spring Ads On the Vine--Following up a preview last week, Balenciaga has released even more images from its spring-summer 2014 campaign featuring Daria... Tao Okamoto Wears Calvin Klein for Prestige Singapore by Wee Khim Tao in CK--Japanese model Tao Okamoto graces the January cover of Prestige Singapore, posing in a fringe-embellished dress. Photographed by Wee... Poppy Delevingne Poses for Stylebop British Designer Exclusive Collection