Videos
Granny O'Grimm's Sleeping Beauty - Full HD. The boy with the Incredible brain.... Savant autism Clip 1. Norwegian boys do something incredible with a train. Rolling Through the Bay with Scott Weaver: Maker Faire. The Cat Piano. - StumbleUpon. Water ink - BDDP Unlimited and Solidarités International. Shapeshifting Octopus, amazing camouflage.
SUPER VIDEO the Burning Flower - Video - StumbleUpon. How to turn "water" into marbles. The Only Pair of Matching Singing Bird Pistols, Attributed to Frères Rochat | Watches | Video. Description Aurel Bacs, International Head of the Watch Department, shares his passion and knowledge of the only known matching pair of gold and enamel singing bird pistols, to be offered at Christie's Hong Kong Important Watches sale on 30 May 2011.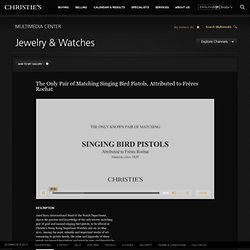 Among the most valuable and important works of art remaining in private hands, the value and ingenuity of these pistols are beyond description and must be seen and heard to be truly appreciated.
---