Developer
Instagram. 5 Steps to publish on a facebook wall using php | TheUnical Technologies Blog. Since Facebook has stopped supporting Java we need to use PHP for now to post on a wall.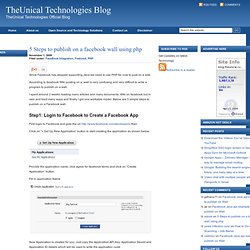 According to facebook Wiki posting on a wall is very confusing and very difficult to write a program to publish on a wall. I spent around 2 weeks reading many articles and many documents, Wiki on facebook but in vein and tried many ways and finally I got one workable model.
Seo
Fixes. Helpers. Symphony. WebPagetest. Html5. Php. ImageOptim – Optymalizator grafik PNG/JPEG/GIF dla Mac OS X. ImageOptim zmniejsza rozmiar plików na dysku przez dobranie optymalnych parametrów kompresji oraz usuwanie niepotrzebnych informacji z plików, jak komen­tarze, informacje EXIF i profile kolorów.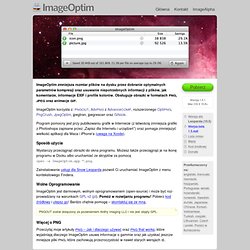 Obsługuje obrazki w formatach PNG, JPEG oraz animacje GIF. ImageOptim korzysta z: PNGOUT, AdvPNG z AdvanceCOMP, rozszerzonego OptiPNG, PngCrush, JpegOptim, jpegtran, jpegrescan oraz Gifsicle. Program pomocny jest przy publikowaniu grafik w Internecie (z łatwością zmniejsza grafiki z Photoshopa zapisane przez "Zapisz dla Internetu i urządzeń") oraz pomaga zmniejszyć wielkość aplikacji dla Maca i iPhone'a (uwaga na Xcode).
WatchScript - test prędkości ładowania stron www. Page Speed Online.
---