Tech
PASSWORD HACKING | Go Hacking - StumbleUpon. Need to hack someone's Facebook password?
Well, you're at the right place! In this post I'll show you some of the possible ways to hack Facebook password. Also, at the end of this post, I will be discussing. Use a 64-Bit PC? Instead of Firefox, Try Waterfox 9.0. Earlier this year I wrote about Pale Moon, a version of Mozilla's popular Firefox browser that's optimized for extra speed on Windows.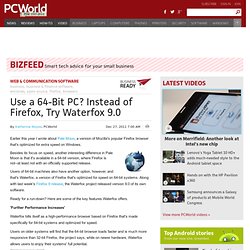 Besides its focus on speed, another interesting difference in Pale Moon is that it's available in a 64-bit version, where Firefox is not--at least not with an officially supported release. Users of 64-bit machines also have another option, however, and that's Waterfox, a version of Firefox that's optimized for speed on 64-bit systems. Along with last week's Firefox 9 release, the Waterfox project released version 9.0 of its own software. Ready for a run-down? Social Folders.
iPad
---