Think Tanks & Politics
Get flash to fully experience Pearltrees
December 14, 2012 Item: U.S. Senator Jim DeMint (R-SC) resigns from Congress to become president of the Heritage Foundation Item: Former House Majority Leader Dick Armey resigns as chairman of FreedomWorks over $12 million in secret cash payments to the organization, leaves with $8 million payout. These two items illustrate an important phenomenon now taking place in Washington: the end of the think tank as we know it. Rather than being institutions for scholarship and research, often employing people with advanced degrees in specialized fields, think tanks are becoming more like lobbying and public relations companies.
A little-known fact about Richard Perle, the leading advocate of hardline policies at the Pentagon, is that he once wrote a political thriller. The book, appropriately called Hard Line, is set in the days of the cold war with the Soviet Union.
On May 17th, a black-tie audience at the Metropolitan Opera House applauded as a tall, jovial-looking billionaire took the stage. It was the seventieth annual spring gala of American Ballet Theatre, and David H.
American Enterprise Institute
Council on Foreign Relations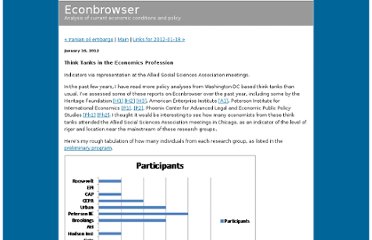 « Iranian oil embargo | Main | Links for 2012-01-18 »