The "War on Drugs"
So who's winning the war on drugs? Presented with a crime, it is reasonable to ask who benefits from it.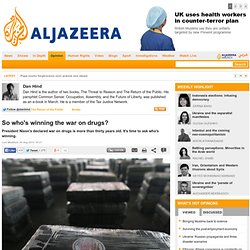 Material gain is a motive, after all. This much is familiar to anyone who watches crime drama or reads crime novels. Perhaps, then we should apply this principle to the millions of crimes that together constitute what the American government calls the War on Drugs. The standard account goes something like this. The War on Drugs - Latin America. Victims of U.S. "Drug War" Mount as Media Yawns. Last week, you would have been lucky to find even a small blurb in a few newspapers about but another journalist killed in post-coup Honduras — the 19th in the last two years, making Honduras by far the most dangerous country in the world to be a journalist.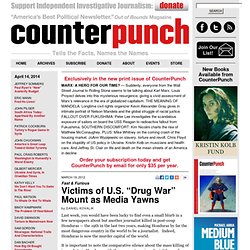 Indeed, Honduras is now the murder capital of the world. It is important to note the comparative silence about the mass killing of journalists in Honduras with the mass outpouring of grief the media showed for the two Western journalists (Marie Colven & Remi Ochlik) killed in Syria recently, with the photo of Ms.
At what cost? Resources. To sort... The War on Drugs is a War on You. By Michael Boldin The drug war is based on a repugnant assertion: that you do not have ownership over your own body; that you don't have the right to decide what you'll do with your body, with your property and with your life.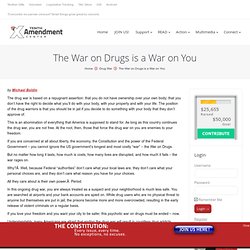 The position of the drug warriors is that you should be in jail if you decide to do something with your body that they don't approve of. This is an abomination of everything that America is supposed to stand for. ... Global war on drugs 'has failed' say former leaders. 2 June 2011Last updated at 09:30 Opiate use rose by 35% worldwide from 1998-2008, in spite of anti-drug efforts The global war on drugs has "failed" according to a new report by a group of politicians and former world leaders.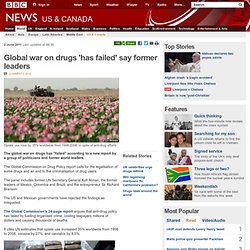 The Global Commission on Drug Policy report calls for the legalisation of some drugs and an end to the criminalisation of drug users. The panel includes former UN Secretary General Kofi Annan, the former leaders of Mexico, Colombia and Brazil, and the entrepreneur Sir Richard Branson. The US and Mexican governments have rejected the findings as misguided.
War on drugs - curators..
Diplomatie hors-série n°11 Géopolitique mondiale de la drogue. Curieux objet géopolitique que celui des drogues.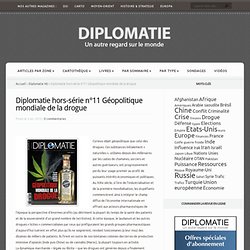 Ces substances initialement « naturelles », utilisées depuis des millénaires par les castes de chamanes, sorciers et autres guérisseurs, ont progressivement perdu leur usage premier au profit de puissants intérêts économiques et politiques. Au XIXe siècle, à l'ère de l'industrialisation et de la première mondialisation, les stupéfiants commencèrent ainsi à intégrer le champ diffus de l'économie internationale en offrant aux acteurs pharmaceutiques de l'époque la perspective d'énormes profits (au détriment la plupart du temps de la santé des patients et de la souveraineté d'un grand nombre de territoires). À cette époque, le laudanum et les autres drogues « licites » commercialisées par ceux qui préfiguraient les grands groupes pharmaceutiques d'aujourd'hui tuèrent en effet plus qu'ils ne soignèrent, rendant toxicomanes (à leur insu) des dizaines de milliers de patients. The global drug war and the Nixon connection. On June 2, a report form the prestigious Global Commission on Drug Policy told the world what it already knew: the decades-long war on drugs has been a spectacular failure.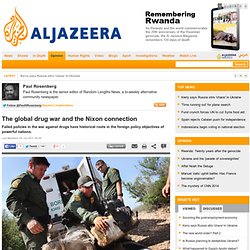 "The global war on drugs has failed, with devastating consequences for individuals and societies around the world," said the report in its executive summary, "fundamental reforms in national and global drug control policies are urgently needed." As one indication of how badly the war on drugs has failed, the report cited UN data showing a 34.5 per cent increase in opiate use from 1998 to 2008, along with a 27 per cent increase in cocaine and an 8.5 per cent increase in cannabis. It went on to highlight counter-productive aspects of the war on drugs, noting that "repressive efforts directed at consumers impede public health measures to reduce HIV/AIDS, overdose fatalitiesand other harmful consequences of drug use".
Dying to cover the drug war - Features. Pedro Torres doesn't have the air of a man who stares down death on a daily basis.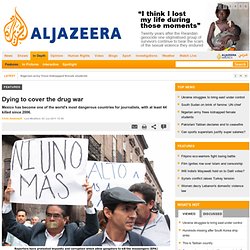 He is a mild mannered reporter during the day, and at night. But just showing up for work at El Diario newspaper in Juarez, one of the world's most dangerous journalism jobs, could be considered a heroic feat. "This is what I like to do, I have been here for 25 years," Torres says during an interview in his office. Harvest of Hypocrisy? UK opium poppy farming kept hush-hush. Freedom from Pain - People & Power. For much of the Western world, physical pain ends with a simple pill.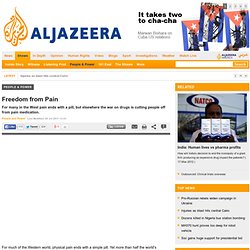 Yet more than half the world's countries have little to no access to morphine, the gold standard for treating medical pain. Freedom from Pain shines a light on this under-reported story. "For a victim of police torture, they will usually sign a confession and the torture stops," says Diederik Lohman of Human Rights Watch in the film.
---